Asian Arts Initiative celebrates past 25 years, new transition
The Asian Arts Initiative has made socially engaged art for 25 years. Now its original director is moving on.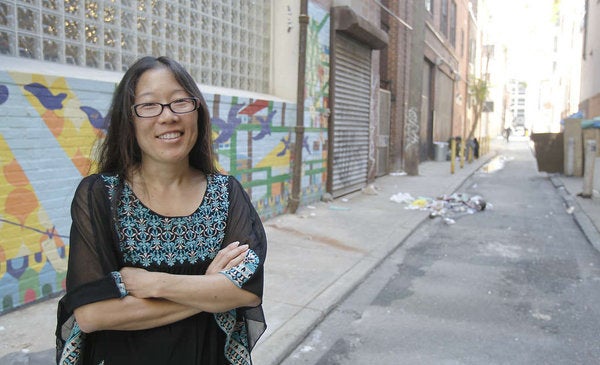 Back in 1993, a group of artists approached the Painted Bride — a performance venue in Old City — with a concern about race relations in Philadelphia as tensions were rising between the black and Asian communities. The Painted Bride responded with a program it hoped would lift the profile of Asians in the city.
Gayle Isa, a political science student at Swarthmore College, joined the newly minted Asian Arts Initiative as an intern.
"When we first started, there were really no pan-Asian-American organizations that were doing arts and culture as a primary thing," said Isa.
She dug in. When the Asian Arts Initiative split off from the Painted Bride to be its own nonprofit, Isa became its first director — and has steered the ship ever since. Now, after 25 years, she will be leaving that position,
"I didn't start out thinking I wanted a 25-year career as an arts administrator," she said. "I wanted to be a community organizer."
From the beginning, the organization has used art to mobilize neighbors and Asian-Americans across the city. Isa admitted that, sometimes, she has used very broad terms to define art.
"Now, there's a field called 'social practice' that's all about community engagement," she said. "Now it has a fancy name, but it describes the work we as an organization have always done."
This weekend the Asian Arts Initiative celebrates its 25 anniversary with exhibitions, installations, and performances all over the city.
The hub is AAI's building at 12th and Vine streets, where the exhibition "Then and Now" shows off some of the hundreds of pieces commissioned over the last quarter-century along with new pieces.
Jean Shin's "Chinatown In/Flux," from 2005, is a series of large panels meant to be placed over storefront windows, fit with found eyeglasses that act as peepholes into the sometimes obscured lives and businesses of Chinatown residents. (Shin currently has another, unrelated exhibition at the Philadelphia Museum of Art.)
A new commission is "Activist Songbook," a series of songs written by Aaron Jafferis and Byron Au Yong. They spent months interviewing residents of Chinatown, asking what kind of songs would be useful.
"They said things like, 'We could use a know-your-rights rap or chant that would help people remember what to do if ICE comes to your door, especially if you're undocumented, and to do it in different languages,' " said Jafferis.
They wrote lyrical ballads about the struggle of immigrant ancestors and simple protest songs that could be picked up by a crowd of people at a rally and easily modified to their cause.
Au Yong said he drew from labor union songs of the 1930s, songs of the midcentury civil rights movement that became political beacons, and more contemporary activist music.
"When people come together and sing together, there's a sacred element," said Au Yong. "An interviewee said, 'Don't forget the sacred.' There is a sacred power in people singing together."
"The Activist Songbook" will be performed in AAI's building over in the weekend and onboard a shuttle tour to the other temporary art installations around the city this weekend.
WHYY is your source for fact-based, in-depth journalism and information. As a nonprofit organization, we rely on financial support from readers like you. Please give today.