City council hears about pedestrian access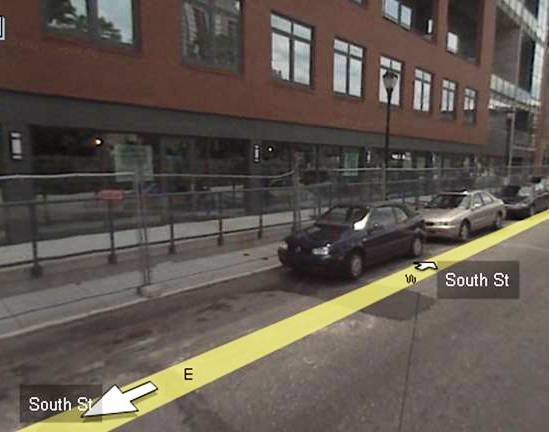 1352 South Street

April 3
By Thomas J. Walsh
For PlanPhilly
Armed with a continuously running slide show of barricaded city sidewalks and isolated pedestrians and bicyclists, Philadelphia City Councilman Jim Kenney on Wednesday said that ubiquitous sidewalk closures are dangerous, unsightly and costly, and called for a revision of the city's building code.
Kenney's efforts came before a hearing of the Council's Committee on Streets and Services, bringing together representatives from the Planning Commission, Streets Department, Licenses and Inspections, the New York City Buildings Department, advocates for the blind, a private developer and a prominent real estate lawyer and others.
At issue are perceived abuses of the existing Philadelphia Building Code for sidewalks closed for overly long periods of time, particularly when projects are on indefinite hold. In opening remarks before the committee, Kenney said that overuse of sidewalk closures is not only dangerous to pedestrians, but hampers vehicular traffic as well.
"You can't walk around here without being inconvenienced and without being in danger," Kenney said, in trying to clarify his purpose after testimony from several city representatives. "All I want is for people to walk down the street in safety, and I don't want people taking up parking lanes or bicycle lanes for their own convenience, for parking or storage."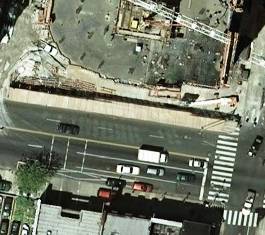 Murano overview

Falling debris or bus?
Kenney said a recent three-day trip to Manhattan was illustrative of how the building code could be amended. At no time during his walking tour of New York was he forced to cross a street to avoid construction, Kenney said – and there is no place in the country where more construction can be found than in New York City. He added that he assumed construction workers in New York, if they drive to work, must park where everyone else does. That's not the case in Philadelphia, he said, and called for greater enforcement of codes along with revision.
"There are additional standards in place in other cities," Kenney said. Sidewalks closed off by a cyclone fence a hand-painted sign are not acceptable, he said, as many people simply walk in the street rather than cross to the opposite sidewalk. "Now I have people who might not get knocked out by a falling piece of concrete, but who might get run over by a bus."
Testimony returned several times to the issues of "load limit" for enclosed walkway shelters, or the Streets Department's ability to impose fees for sidewalk closures. Regarding the former, Philadelphia's required 150-pound per square foot load design on sidewalk shelters is half that of the limit in place in New York and other cities. For the latter, there are currently no fees in place, and Streets Department Chief Engineer David Perri said he'd like to implement them through new regulations.
Testifying at the invitation of Kenney was Derek Lee, an expert on sidewalk sheds with the New York City Buildings Department and a Queens Borough commissioner. He detailed various forms of standard shelters, and noted that in 2007, 152 linear sidewalk miles of the five New York boroughs were protected by shelters – the distance from New York to Philadelphia and halfway back again. With shed requirements in place since the 1920s, New York's fees are fixed for a certain amount of space, with incremental fees for incremental amounts of space, plus filing fees.
Lee's testimony about New York's standards was so complete that two committee members admitted to being embarrassed about Philadelphia's situation.
"Our enforcement agents are part of the sheriff's department and do affect arrests," replied Lee. "So they are very respected in the community."
18th and Sansom
Inconvenient historic streets
Because streets and sidewalks in Philadelphia – owing to their age and the way the colonial city was laid out – are narrower than most other cities, the Streets Department tends "to err on the side of public safety and issue sidewalk closure permits rather than order the placement of sidewalk shelter platforms," said David Perri, chief engineer for the Streets Department.
But Perri said his department supports increased use of shelters as long as their load limit is increased to 300 pounds per square foot. He also wants to charge fees for sidewalk and road closures. "We do not wish to impose unnecessary costs on responsible development," he said. "Rules that allow Department of Streets the discretionary authority and flexibility to order sidewalk closures and require a higher live load design standard for sidewalk shelter platforms is the most desired outcome."
It was not made clear how tougher standards resulting in presumably more expensive shelters would result in more of them and less sidewalk closures. Also advocating the increased load standard was Otis Haigler, Jr., director of legislative affairs for the city's Department of Licenses and Inspections.
Deborah Schaaf, a transportation planner with the City Planning Commission, gave a sobering statistic: Pedestrian deaths account for one-third of all traffic fatalities in the city, compared with a 12 percent figure nationwide. Among a number of new studies targeting pedestrian and bicycle safety with open space policies, she said that construction disruption has been identified as one of the most important.
"There is a legitimate need to close streets and sidewalks at times, but the permission to do so is abused when contractors use the closures as storage and parking areas," Schaaf said. The imposition of fees based on the duration of sidewalk and street closures would be "an excellent starting point," she said, citing the city of Phoenix, where heavy fines for illegal closures generate enough income to support 11 staffers who process permits and enforce them.
Several council members, including committee chair Frank DiCicco, peppered the hearing with anecdotes of closures in their own districts that have been ongoing, annoying and dangerous.
5th and Market
More to come
Neil Sklaroff, an attorney representing the current 10 Rittenhouse Square development, urged restraint from onerous revisions of the building code that would burden developers, echoing Perri's remarks about the size of streets like Sansom Street, where the roadway is only 20 feet wide, with 10-foot sidewalks. In such a space, sidewalk closures are practically unavoidable, he said.
DiCicco agreed, but said change was definitely needed. Said Kenney, "My problem is not with you … it's with the city not having standards."
Frank Baxter, director of safety for L.F. Driscoll Co., a Bala Cynwyd-based construction manager, testified that Driscoll and other local members of the General Building Contractors Association were "concerned" about the effort to curtail the number of closures in the city. He said safety was the priority, and cited several accidents, one dating back to construction of one of the Liberty Place towers two decades ago.
"New York, Washington [D.C.] and San Francisco have street configurations that are much wider," Baxter said. "We do not have a Sixth Avenue or a Broadway" equivalent.
Kenney seemed exasperated at Baxter's remarks. "New York seems to have this down to a science," he said. "Are you telling me that a properly constructed pedestrian shed is more dangerous than walking in the street?"
Members of the L&I and Streets departments were asked during the hearing several times for more information that could be compared to other cities' standards, particularly New York's. DiCicco continued the hearings until a later date.
Two representatives of the Pennsylvania Council of the Blind also testified for tighter restrictions on closed sidewalks, along with Sarah Clark-Stuart of the Bicycle Coalition of Greater Philadelphia. Scheduled as a witness but not present was Paul Levy, president and CEO of the Center City District.
Contact the reporter at thomaswalsh1@gmail.com
WHYY is your source for fact-based, in-depth journalism and information. As a nonprofit organization, we rely on financial support from readers like you. Please give today.