ZCC ready for first major step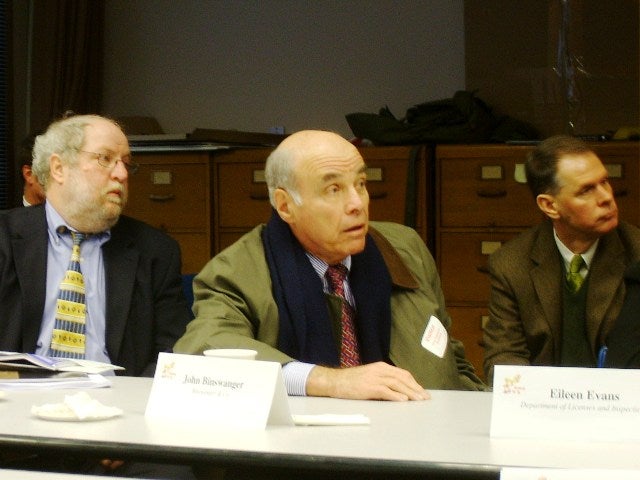 ZCC member John Binswanger is eager for the commission to act.
March 26
By Matt Blanchard
For PlanPhilly
It's easy to look down the crowded table of the Zoning Code Commission and wonder how the work will all get done. Few of the 31 members have planning degrees, and zoning isn't the kind of skill you pick up overnight.
Thankfully, there's a population of technocrats who roam the country overhauling codes and remapping cities. They're called zoning consultants, and on Wednesday the ZCC finally auditioned two firms who might lead the rezoning of Philadelphia.
"Big city zoning can be fixed, and it feels great when you get it done," proclaimed Don Elliott of Clarion Associates, a consultant on rezonings of Pittsburgh, Austin and Detroit.
The consultants provided a glimpse of how all the work will get done – including likely pitfalls – as well as zoning tales of triumph and woe from cities as remote as Anchorage. The ZCC is ready to hire such a firm by the end of May. It's an action which should temper growing impatience both on and off the six-month-old commission.
Kirk Bishop of Duncan Associates, a consultant noted for his recent work in Chicago, predicted a "lumpy" process ahead, one with periods of great excitement and apparent silence. He outlined the a set of likely steps, starting with (1) initial public outreach and (2) drawing up a document stating the "big ideas" for change.
"We must be careful to define the problem before we try to define a solution," Bishop said.
Later phases include (3) preparing a draft, (4) running public workshops, (5) revising, and (6) adoption of the new code. Even after the code is adopted, Bishop urged (7) training programs and a (8) pre-planned legislative check-ups to fix glitches in the code.
"A document of this size is almost never perfect right out of the box," Bishop said.
The Form-Based Debate
It was just four weeks ago that the ZCC was urged to embrace a revolutionary approach to zoning called the SmartCode. Sandy Sorlien, editor of the code, celebrated the benefits of this form-based code over Philadelphia's old use-based code, saying it was vastly superior at protecting historic neighborhoods from suburban-style intrusions and ugliness in general.
On Wednesday, however, both consulting firms urged caution: "We'd probably say don't jump on the bandwagon," said Elliott, a feeling echoed by Kirk Bishop of Duncan Partners.
When Detroit planners set out to rewrite their code, Elliott said, they wanted every new zoning tool they'd read about in planning magazines. But Detroit ended up creating a hybrid code, one that used form-based zoning to ensure pedestrian-friendly streetscapes along major transit corridors, but kept use-based code chapters that weren't broken.
"It's very tempting to say let's throw the whole thing out, but if parts of the code works, use those parts as building blocks," he said.
What's more, Elliott argued that Miami's ballyhooed attempt to replace its old code with a new form-based code, dubbed "Miami21", has run into political trouble and might fall through.
"Form-based codes can be helpful, but they shouldn't be the only tool you use," Elliott said. "It is just too complex to manage those intense standards in a city of this size."
At the back of the room, however, was Sorlien of the SmartCode: "You really do have to have some kind of form-based controls in every neighborhood," she countered, illustrating her point with a block of Manayunk where new garages and driveways were chopping up the 19th century streetscape.
As for Miami, Sorlien described a "political glitch" was to blame for the hold up. "I think it's going to be fine," she said.
Contact the reporter at blanchard.matt@gmail.com
WHYY is your source for fact-based, in-depth journalism and information. As a nonprofit organization, we rely on financial support from readers like you. Please give today.