First day of business for new PCPC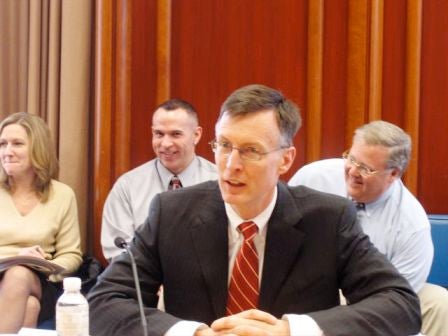 Acting Chairman Duane Bumb
Feb. 8
By Thomas J. Walsh
For PlanPhilly
As mandated by the city's Home Rule Charter, the new members of the Philadelphia City Planning Commission were sworn in Friday afternoon, followed by a brief outline and recommendation by the planning staff for the city's next six-year capital program and budget (fiscal years 2009 through 2014).
"With the mayor's outspoken advocacy of planning, I welcome you," said Gary Jastrzab, the commission's acting executive director and a 27-year veteran of the staff.
Commissioner and City Acting Director of Commerce Duane Bumb was nominated and elected unanimously to be chairman.
Bumb handed things off to Alan Urek, director of strategic planning and policy, who presented an overview of the first year "capital budget" and the ensuing five years of programming. Urek said the six-year plan was "really the plan for the city's infrastructure."
The $2.65 billion capital program and budget is getting a particular large infusion from the city itself for the coming fiscal year – $127.9 million, the largest city commitment since 2002, Urek said. That includes $50.8 million in new city tax-appointed funds, $40.3 million in pre-financed loans from PICA (Pennsylvania Intergovernmental Cooperation Authority) and, perhaps most importantly, $36.8 million in pre-financed loans left over from completed projects that came in under-budget.
Historically, Urek said, the city's "true capital needs" have been regularly underfunded.
With the Planning Commission's approval, the capital program moves on to Mayor Nutter to present to City Council later this month. Council will hold hearings on it in March. After council's approval and the mayor's final signature, spending is enabled for the Spring, with funding via loans needing voter approval at the Spring or Fall elections.
After the meeting adjourned, Camille Cates Barnett, a new commissioner and the city's new managing director, said the capital budget was setting a solid foundation for the commission's work going forward.
"One of our goals is economic development," she said. Another is "vibrant neighborhoods," adding that the two concepts are not mutually exclusive.
Other members sworn in today:
• Rob Dubow, director of finance, City of Philadelphia
• Patrick J. Eiding, president, Philadelphia Council AFL-CIO
• Alan Greenberger, AIA, principal at MGA Partners
• Bernard Lee, Esq., partner at Wolf, Block, Schorr and Solis-Cohen LLP
• Natalia Olson de Savyckyj, transportation planner and project manager at the Delaware Valley Regional Planning Commission
• Joe Syrnick, president and CEO of the Schuylkill River Development Corp.
• Nilda Iris Ruiz, president and CEO of Asociación de Puertorriqueños en Marcha, Inc.
Contact the reporter at thomaswalsh1@gmail.com
WHYY is your source for fact-based, in-depth journalism and information. As a nonprofit organization, we rely on financial support from readers like you. Please give today.