All concerned parties get dig information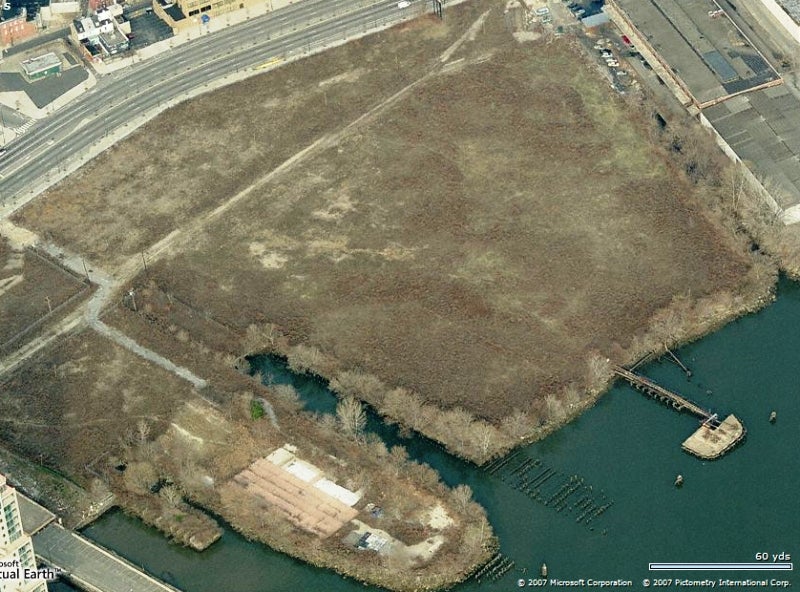 Jan. 18
By Kellie Patrick Gates
For PlanPhilly
Everyone attending a historical review session for the SugarHouse project – including casino representatives – agreed a British Revolutionary War fort once stood on the 22-acre site.
But no conclusions were reached at Friday's mostly informational meeting about the amount of digging needed to either recover artifacts from the time of the occupation or declare that there are none left to be found.
The meeting of representatives from the Army Corps of Engineers, the Pennsylvania Historical and Museum Commission, SugarHouse and a group of interested consulting parties was required by law. SugarHouse needs a special federal permit because it intends to build into the river. The Army Corps issues that permit, but federal law requires they take pains to preserve any historic artifacts on the site. Here, this is done with the guidance of the Historical and Museum Commission. The consulting parties – including several local historians and preservationists – applied to also have an advisory role.
"There seems to be at least a general agreement on where the fort was located within the property," said Douglas Mooney, an archeologist and member of the Philadelphia Archaeological Forum.
In a preliminary report, SugarHouse archaeology consultant A.D. Marble has stated they have found no physical evidence of the fort so far, and that chances of recovering any artifacts from the fort are slim because anything that might have been there was removed or destroyed during the industrial period that affected the property.
"That's one possibility that you have to be willing to consider, as much as I'd like something to be there," Mooney said. "But for a resource potentially this important, it's worth spending a little time and effort. It's entirely possible that all traces of the fort have been removed from the property, but I think that hasn't been conclusively demonstrated yet."

Both the consulting parties and SugarHouse representatives were largely satisfied with the first meeting, which they called a productive first step.
SugarHouse archaeologists find discussions like the one at the meeting extremely helpful, said spokeswoman Leigh Whitaker, who attended. "They are looking to recover things of historical significance. This was helpful in us doing the best we can to preserve any historical resources that may exist."
Local historian Torben Jenk said he left hopeful that the Historical and Museum Commission sees the significance of the site, which he has been passionately researching, and that they and the Army Corps would "do the right thing" and require broader and deeper digging.
During A.D. Marble's presentation, company representatives said they had been digging down about three feet, Jenk said. But he thinks the fill deposited on that part of the site for more than a century means both that artifacts have been protected and that they are located further down in the soil.
There was one dust-up, between Jenk and Terry McKenna, project executive for Keating Consulting, SugarHouse's general contractor.
Jenk was detailing the site's past, including the ownership history, when McKenna said, "Enough with the history lesson."
Jenk, taken aback, insisted the outburst be part of the official minutes of the meeting.
Whitaker said that Jenk had been speaking for some time when, during a pause, an Army Corps official told him that there was no debate that the site had a lot of history, but it was not the mission of the review process to catalog it, only to preserve any artifacts that might remain.
It was after Jenk continued his detailed account that McKenna interjected. "His point was to allow other consulting parties to express their concerns," she said.
Jenk said understanding the history of the site is essential, as it is the history that tells archaeologists what they could dig up.
He and other history buffs have been skeptical of Marble's historical research because the company's first archaeological report did not mention the fort at all. A subsequent report said the first phase was completed before they learned of it.
The full Phase II report, which was originally expected for the meeting, will be finished sometime next week, and distributed to the entire group, Whitaker said.
Marble's presentation, which took up about half of the two-plus hour meeting, included slides of artifacts that have already been recovered.
Mooney and Jenk were fascinated.
"The Native American stuff was from 1500 B.C., and they found a spear point right on the surface of the soil," Jenk said.
"There was a drill – a small stone tool used to punch holes into leather or wood," Mooney said.
Flakes – pieces of stone left behind from the carving of tools – were also found, Mooney said, as were fire-cracked rocks.
"When you heat rock in or close to a fire, there's always water bound up in it, and the heating makes the rock crack," Mooney explained.
Sometimes fire-cracked rocks were part of a fire ring, but the ones found on the site were not arranged that way, he said. Fire-cracked rocks are also evidence of cooking, he said, as Native Americans would sometimes heat rocks in a fire, and then plunge them into water to make the water boil.
"I was intrigued with some material they found dated to the 1750s – like redware," Jenk said.
The site work that's already happened has concerned some observers who worry it could have damaged artifacts.
Mooney said he's not worried, based on what he saw. "It seems like they've done a pretty careful job and have been pretty cautious," he said.
The date for the next meeting has yet to be set, but an Army Corps spokesman said it would be within the next month or so.


WHYY is your source for fact-based, in-depth journalism and information. As a nonprofit organization, we rely on financial support from readers like you. Please give today.