Trump, Penn Treaty towers closer to reality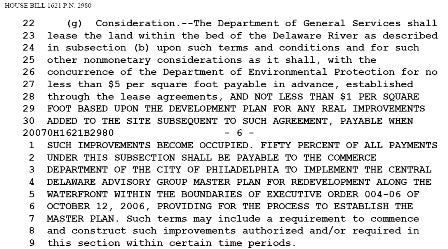 Dec. 20
By Kellie Patrick Gates
For PlanPhilly
Two Delaware River waterfront developments have moved closer to approval while the State General Assembly simultaneously told the Philadelphia Commerce Department to mind its own business.
The Senate and the House have approved bills granting the right to use riverbed lands – also called riparian lands – to Donald Trump's VTE Philadelphia, which plans to build Trump Tower Philadelphia on Pier 35 1/2, and NCCB Associates, which plans to build Penn Treaty Tower on Pier 53. Language in both bills changed in the Senate, so the House will need to take concurrence votes after the holiday recess, but the bills are expected to pass.
This legislative process is the way riparian rights have traditionally been granted in Pennsylvania. But in November, the Philadelphia Commerce Department gave them to SugarHouse Casino, after the casino's attorneys found a 1907 law that they said gave the Commerce Department that right, and the city solicitor agreed with that assessment.
This angered Rep. Michael O'Brien and Sen. Vince Fumo, who did not intend to introduce a riparian rights bill for SugarHouse without an agreement between the casino and the neighborhood associations – something that is far off, at best, since many of the associations have united to fight the casinos. But it also grabbed the attention of other legislators from across the state, as many of them also have riparian lands within their districts.
Earlier this month, the House unanimously passed a resolution asserting that the ability to grant riparian rights rests with the legislature. And both of these bills do the same. "The general assembly hereby affirms its existing, sole and exclusive authority to consider and specifically authorize the conveyance of any title, easement, right-of-way or other interest in common-wealth owned lands," they read in part.
Both Fumo and O'Brien have pledged to appeal the Commerce Department decision, and O'Brien said the language in the bills would put a finer point on the legislature's position for the judges.
The bills are also a way to assert that it's the General Assembly that gets to say how much riparian rights should cost. Both go along with a Department of General Service's recommendation that riparian lease holders pay $5 per square foot of riparian land, but the bills also tack on an additional fee.
VTE and NCCB would each also have to pay $1 for each square foot of their proposed buildings. This money would be split, with half going into the state's general fund and the other going to Philadelphia's Commerce Department to be used to implement the Central Delaware Waterfront vision plan. This plan was developed by PennPraxis over the past year, after much public input. PlanPhilly.com is affiliated with PennPraxis and covers the waterfront visioning as well as other planning and design topics in Philadelphia.
While there's a development plan in place, the city doesn't have extra money laying around to make it happen, said Brian Abernathy, aid to City Councilman Frank DiCicco. "The idea is to provide additional capital funding for public spaces – things like parks, walkways, or a public boat launch," Abernathy said.
The city administration would decide what projects to fund, Abernathy said. "But they would have limitations – it would have to be similar to what PennPraxis has proposed."
O'Brien said the intent is that every riparian bill for properties along the Central Delaware would include a fee to fund the plan. Each fee would be decided individually, however. Trump's tower includes a public park at the end of pier, and NCCB Associates will provide lighting and a first-floor, public restroom for Penn Treaty Park, he said, so they are already giving something to the public and the $1 fee reflects that.
WHYY is your source for fact-based, in-depth journalism and information. As a nonprofit organization, we rely on financial support from readers like you. Please give today.