The Cult of the Grid in Jersey
Jersey activists like Ron Hine fight hard for the grid.
Nov. 14
By Matt Blanchard
For PlanPhilly
With the Daily News giving out promotional t-shirts that read "Grid is Good", we might have a first in local freebee history: The "people paper" is hyping an urban design abstraction.
And it gives occasion to wonder: Is the grid good? Don't we have enough city streets? Why does the Praxis plan for the Delaware riverfront insist that Philadelphia extend its street grid to the very shore – and then along that shore? Wouldn't a nice bike path be enough?
To understand the cult of the grid, we journeyed north to New Jersey's "Gold Coast," eight towns facing Manhattan, from Bayonne up to the George Washington Bridge. Over the last 15 years, billions have gone into new buildings, parks and esplanades here – some much more successful than others.
Two towns, Hoboken and Jersey City, offer a glimpse of Philadelphia's possible future. At the risk of severe oversimplification, we'll say it plain:
If we extend the public street grid along the waterfront and control the scale of development, we may end up like Hoboken.
If we settle for a bike path, we're headed for Jersey City.
The Backdoor Waterfront: Jersey City
New buildings on Jersey City's waterfront.
Back in the 1980s, the state of New Jersey stepped in to set a simple rule for waterfront development along the Hudson: Any developer of waterfront land has to provide a 30-foot pedestrian path, complete with pavers, benches, a railing and (sometimes) trees.
That's where Jersey City left it, and the results are striking.
While the general redevelopment of Jersey City's downtown is a miraculous site to behold – there are acres of new homes and offices served by modern street trolleys – and the view of Manhattan is peerless, the narrow path along the Hudson is awkward, disjointed and, after nightfall, a little scary.
Because there's no street along the river, many buildings face their main entrances away from the esplanade, leaving the pedestrian feeling alone, edgy, and unsure of whether he's trespassing.
In the words of local waterfront activist Ron Hine, Jersey City is a "back-door waterfront."
Nice sections of the Jersey City waterfront feel private…
…while regrettable sections, like this parking garage, feel downright dangerous.
"Unless you put streets at the waterfront, you'll get back doors, ambiguous situations," says Hine, who's been fighting for open street grids along the Gold Coast since 1990.
"Jersey City is a good example of a backdoor waterfront, because it was basically developer-driven: huge parking garages, missing streets, high-rise buildings. It's a real missed opportunity."
Without a public street, even a public esplanade can gradually become private, says Hine. In the town of Edgewater, homeowners whose units fronted on the esplanade got sick of snoopers and one day fenced it off. The state had to file suit in order to reopen the trail.
"People who understand how urban areas work, they know streets are good," Hine says. "Put the streets at the river and you get a front door, with ground-floor retail that makes that street come alive."
The Front-Door Waterfront: Hoboken
Maxwell Place in Hoboken faces a public street separating private space from a public waterfront park.
Hoboken never settled for a 30-foot biking path, and nowhere is the cult of the grid stronger.
By the time developers Daniel Gans and George Vallone proposed a housing project out on a Hudson pier in 1999, it was clear Hoboken had drawn a line on public access to the waterfront.
"Not building right on the waterfront was a huge issue in the community," Gans recalls. "Both candidates for mayor got behind not building on the piers."
So the project, called Maxwell Place, had to change. A traditional street grid was laid across the property. Buildings were pulled inland behind a public street. Along the river, Gans deeded prime land directly to the city for a public park with boathouse, beach and playground.
Weirder still, this developer wouldn't have it any other way.
"I'm very happy with what was done there by accepting the grid and allowing traffic to flow through," Gans said recently.
He also likes the idea of keeping private development on the inland side of a public street – in Hoboken's case, the new Frank Sinatra Drive.
"People want open space along the river, and I think it's great," Gans said. "If you do have buildings out there (right on the water) it makes for a very different feel. The public access becomes private. It's not as comfortable. You feel like you're in somebody's back yard."
Development model from 1990s shows new buildings (in white) on a traditional grid.
Hoboken's cult of the grid started in 1989, when, as in Philadelphia, departing industry had left the waterfront a blank slate.
And just as in Philadelphia, mega-projects were proposed to fill the gap. A plan by the Port Authority of New York and New Jersey would've slapped a 30-story office tower out on Hoboken's Pier A, and several other high rises behind it.
Activists like Hine, who loved Hoboken's 19th century scale, fought back, winning a public referendum against the plan, and then won a second public referendum before it finally died.
Emerging from the dust was a broad consensus that Hoboken's waterfront should look like Hoboken. With the city inactive, Hine's non-profit, The Fund for a Better Waterfront, hired their own planner and produced a plan that kept all buildings facing the water and all land along the river itself public space.
"You need a plan," Hine says. "If the developers get involved before you have your plan in place, well… they're used to building a certain way.
New buildings on Hoboken's south waterfront face the esplanade. At left, the new "W" hotel is under construction.
London Plane trees shade the simple but generous esplanade.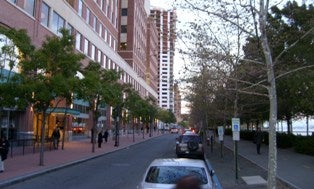 A riverfront street allows for shopping, parking and police patrols.
The resulting waterfront, with tree-lined paths and the stirrings of a café district, lacks the bombast of Jersey City's waterfront Oz. But it's fine enough to attract the swanky and stylish "W" hotel chain, which is right now building an outpost along the Hoboken esplanade.
And Hoboken passes a more basic test: People use it.
Will Philadelphia be able to say the same?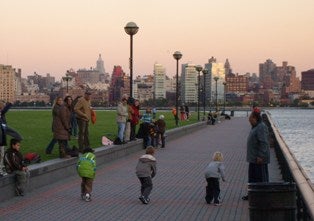 Children foot race on Pier A, once destined for over-development.
Matt Blanchard is a former Philadelphia Inquirer reporter. Contact him at blanchard.matt@gmail.com
WHYY is your source for fact-based, in-depth journalism and information. As a nonprofit organization, we rely on financial support from readers like you. Please give today.