Developers say warehouses will be saved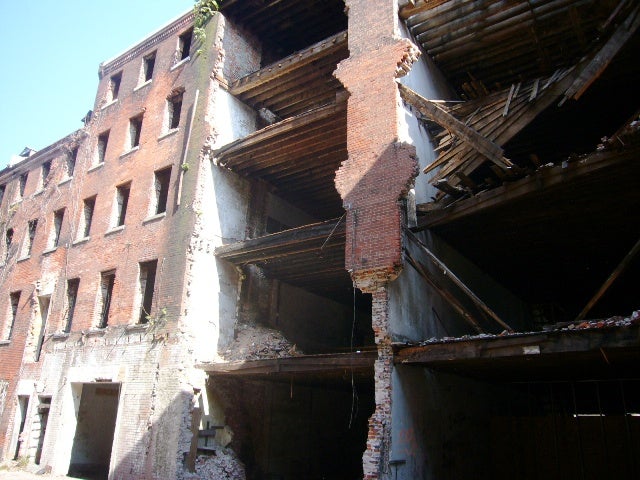 Oct. 09
By Alan Jaffe
For PlanPhilly

The developers who had been renovating the historic Girard Estate Warehouse buildings in Old City say they are now working to stabilize portions of the structure that are collapsing.

Geoff Flournoy, a co-founder of BRP Development Corp., said the company's plan is "to restore the property to its historic integrity, as approved by the [City of Philadelphia] Historical Commission originally."

Members of the Old City Civic Association raised alarm bells last week when it was apparent that portions of the upper floors of two of the buildings at 20-30 Front Street were tumbling down, following the collapse of the back walls of those buildings some time earlier.

"They are in dangerous condition, and we're furious," Rich Thom, an architect who chairs the OCCA developments committee, told PlanPhilly. The association has been concerned that the developer would seek permission to demolish the building and erect new structures on the site.

Early 19th century buildings a few blocks away, at Front and Chestnut Streets, had suffered such a fate in September, bulldozed to make way for new parking lots.

In a conference call with BRP's other co-founder, Meredith Marshall, this afternoon, Flournoy said the company does not know what caused the collapse of the rear walls, which he said occurred several months ago. "The structure had been vacant, and it had just deteriorated to a point that it was unstable," he said.

The collapse led to the filing of a violation by the city Department of Licenses and Inspections, Flournoy said. "The first effort was to remove the violation issue by L&I," which meant providing an engineering report on how to remedy the problem, he said. The report has been submitted to the city, and work has begun "to stabilize the property and to rebuild the back wall."

The New York-based developer has planned to transform the property into the Old City Mercantile Condominiums. Flournoy said today the building will be "either condos or apartments, depending on the marketplace."
Over the summer, Thom said very little work was going on at the site, and no stabilization measures were put in place, except in window openings. The floor structure is still exposed in the rear of the building and there have been no steps to shore them up, Thom said. "That can snowball into more collapses. The floor structure is just hanging there – it's a holy mess."
A visit to the site on Monday confirmed there was heavy structural damage to the rear end of the warehouses; many lintels on the Church Street side and back of the buildings were missing; old bricks were strewn about the site and sidewalks; and sections of the site that posed a safety hazard were not cordoned off.

Thom said he does not believe the developer understood what could happen at the aging structure, nor did the developer foresee the slowing of the condo market. He is worried that the developer may now seek the demolition of the property.

"There's nothing more valuable in a historic district than vacant, empty property surrounded by other historic buildings," he said.

Ted Newbold, a neighbor of the Girard property, said the developer and officials from L&I and the Historical Commission had visited the site and secured front windows and doors and took measures to keep bricks from falling.

Repeated requests for comment from the Historical Commission were not returned. L&I said they would only comply to a Freedom of Information request. PlanPhilly has filed.

Shipping magnate and banker Stephen Girard himself may have built the properties in the late 1820s to early 1830s. They were used to store goods that arrived at the Delaware River docks. The buildings are listed as "significant" structures on the Philadelphia Historic Register, appear on the National Register of Historic Places, and have been documented by the Historical American Building Survey, said City Planning Commissioner Laura Spina.
"That block is such an icon. It shows up when you look at many old etchings of the city," said Liz Blazevich, advocacy associate at the Preservation Alliance of Greater Philadelphia, which had worked with BRP Development when it submitted plans for the luxury condo project to the city Historical Commission.

The buildings are important to the waterfront's history, Thom said. "They are the last intact Girard warehouses that faced the waterfront. They go back to him personally and his family," and goods imported by the Girards were brought from the ships docked on the Delaware and stored in those buildings.

About five years ago the property was sold to Philadelphia developer Dan Katz, Blazevich said.

But when Katz proposed a 10-story tower at the site, the Old City group rejected it.

Katz then sold the property to Tom Stafford, who is still believed to be the deed holder, but the property is owned by BRP.

BRP's plan for the site was "great," in keeping with height and profile of surrounding structures, Blazevich said.

The Old City Civic Association and the Historical Commission were "thrilled" with the BRP proposal, Thom said. "We had a wonderful presentation from these guys, and the OCCA fully embraced it." His committee, however, remained "skeptical."

"We didn't think they understood the condition of these buildings – the 50 years of neglect, the water coming in, the floors deteriorating…"

Construction began last spring, Thom said. In late May, two rear walls fell in a "precipitous collapse. They're in that condition now. The ownership went back to the Historical Commission in early June and said they'd restore it." The commission signed off on emergency steps the developers requested, Thom said.

Since Girard's death in 1831, the warehouse buildings had been under the care of the Girard Estate. Ken Snyder, a public relations consultant for the estate, said today that the Front Street properties had not been neglected in the years leading up to their sale. "They were not being developed, but were they being protected? Yes. Were they being maintained in their current state? Yes."

The Girard Estate properties throughout Philadelphia are under the supervision of the City Board of Trusts, which also oversees many other city trusts. The properties were still maintained by the Girard Estate up until their sale.

And, Snyder said, the site was not neglected. "When we owned it, it was in a heck of a lot better shape" than it is now, he said.

There was a desire on the part of the property's neighbors to see the buildings developed, Snyder said. In 1997, the estate conducted a feasibility study to see if it would be worthwhile to redevelop the site, but the decision was made to sell it in as-is condition.

Before putting it on the market, the estate did "significant repair work, including putting on a new roof, for a total cost of $450,000," Snyder said. The windows in the front were boarded up and painted as faux windows, and the buildings had been sealed from rain and water damage "to preserve what remained of them."

The site was sold in January 2000 to developer Katz for about $2 million, Snyder said.

Katz's proposal to build a 10-story tower at the site was rejected by OCCA. Katz then sold the property. The current owner, Flournoy said, is 20-30 North Front Street LLC, a partnership that includes the development company.

In related news see Inquirer architectural critic Inga Saffron's column on the property http://changingskyline.blogspot.com