2016 Rewind: 15 stories we hope you didn't miss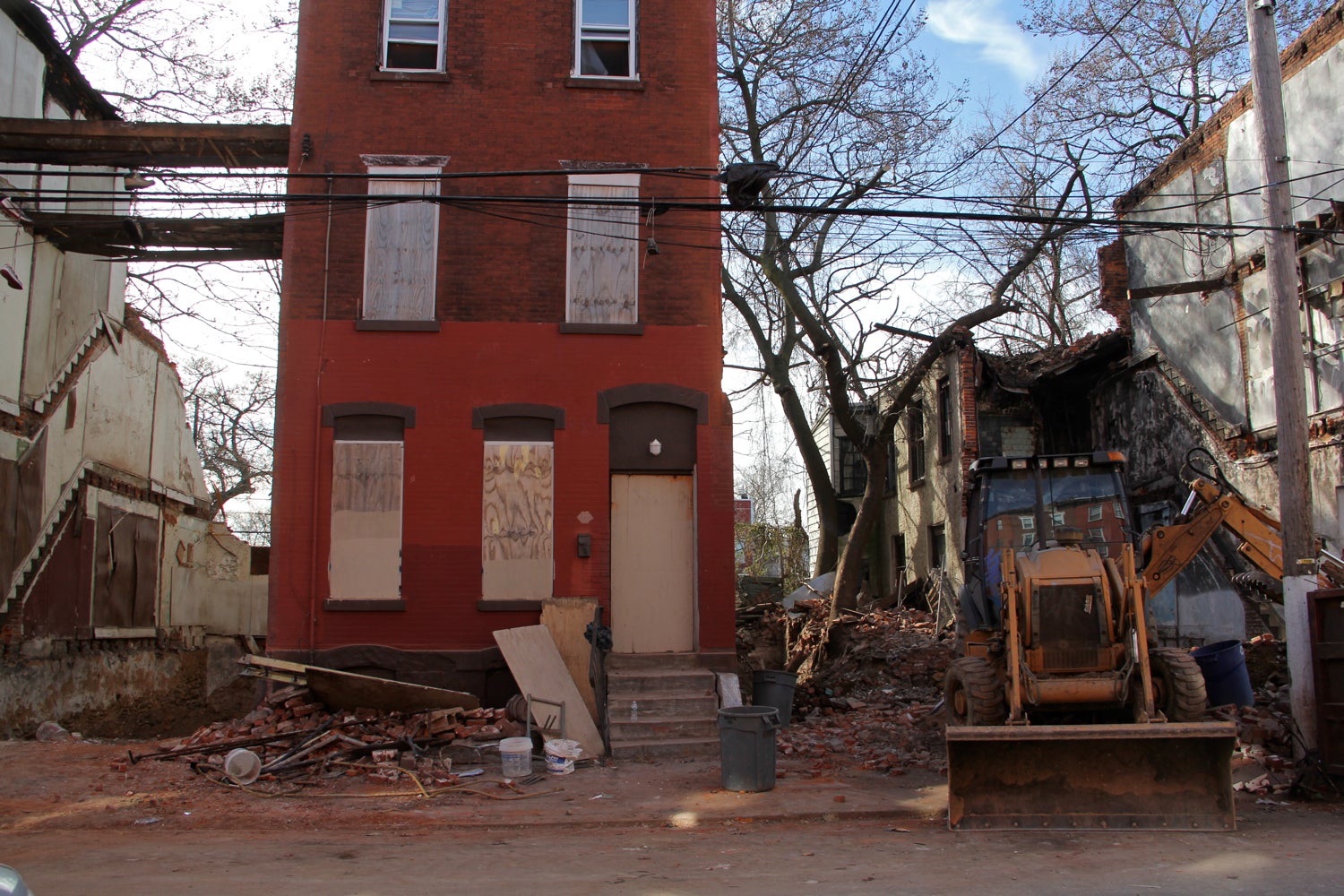 This week we're looking back at the year that was through our stories. In 2016 PlanPhilly published more than 700 pieces. (How many did you read? If you read PlanPhilly regularly, please consider supporting our work by making a year-end, tax-deductible donation. Every dollar counts and goes toward our journalism.) Today we've got 15 stories worth reading in case you missed them the first time around.
Stories about gardens facing down development run on repeat, particularly in neighborhoods where development interest simmers. La Finquita is a 28-year-old community farm operated by Philadelphia Catholic Worker, which made an adverse possession claim in March to establish its clear ownership of the land. It's an increasingly rare community green space in a rapidly changing neighborhood, where recent and longtime residents can find common ground and help produce affordable fresh food for the neighborhood.
Buzz about the innovation neighborhood planned for Schuylkill Yards' ignites imaginations about a new future for University City, a multibillion-dollar vision that also promises to change nearby Mantua and West Powelton too. Jim Saksa explains, "Schuylkill Yards isn't just a big development deal; It's a social experiment deliberately designed to thwart displacement and the negative consequences of gentrification."
Dozens of residents in Sharswood have been displaced through eminent domain, clearing a path for the Philadelphia Housing Authority's sweeping plans to transform the neighborhood through demolition and ultimately reconstruction. For our series Remaking Sharswood, reporter Ryan Briggs caught up with residents affected by eminent domain about their experiences and the road ahead. At the time of this writing in March, demolition at the Norman Blumberg Apartments was a few days away.
We spent a lot of time reporting on the Housing Authority's work to replace old public housing and use of eminent domain in Sharswood. We looked back to its MLK project in Hawthorne in the 1990s, where a public housing complex was razed, private properties were taken by eminent domain, and in their place a new mixed-income neighborhood rose. In many respects the neighborhood is better off, but the same cannot be said for some former residents. Max Marin shared the story of the Latimore family, which lost five properties to eminent domain, the compensation offered could never make up for the buildings, hopes, and community they lost in the process.
Every year PlanPhilly helps organize Jane's Walk PHL, a weekend of city walks founded to honor the legacy of urbanist and writer Jane Jacobs. 2016 marked Jacobs' 100th birthday. To mark all of these occasions we looked back at how Jacobs compared the lives of Philadelphia's four original park squares – Washington, Rittenhouse, Logan, and Franklin – in a chapter of "The Death and Life of Great American Cities" devoted to what makes some parks more successful than others.
Avenue of the Arts promised to unify Broad Street with arts-based development and public improvements. South Broad got the vast majority of attention, funding, and development as work to unify the corridor as a whole lagged. South Broad got streetscape improvements and the Kimmel Center. North Broad recently got light masts that no one really seemed to want. Ryan Briggs unpacks how dreams of a unified Avenue of the Arts on both sides of City Hall broke in two and what North Broad Renaissance is doing to pick up work on the north side.
At Perry World House an historic gothic cottage collides with brashly contemporary architecture. The project is, emphatically, not preservation. It's not fetishy facadism. It's not a building where the addition is subservient to the historic elements. It's more like the design equivalent of a mythical beast whole formed from different animals. "The relationship is contrast," University Architect David Hollenberg explained.
On the 1700 block of Pine Street architects Laura Blau and Paul Thompson are trying for a Philly first: a radical retrofit of an historically designated rowhouse into a passive house, which will use dramatically less energy than conventional buildings. More than 60 percent of the city's emissions come from energy used to power buildings, from single-family houses to skyscrapers. Blau and Thompson are trying to walk the tightrope of past and future to craft an enduring building that shows an alternative path toward true sustainability.
In Queen Village there's a rare attempt to bridge community divides between affluent residents and tenants of an affordable housing complex by organizing around neighborhood kids: summer programs, support for public schools, and tenant representation on the civic association. Is it working? Jake Blumgart checked in on the process of building a more inclusive neighborhood.
11 seasons into producing Shakespeare in Clark Park, Samantha Maldonado looked at how its focus on radical community engagement helps create bonds to the park and among neighbors. "I truly believe that theater can be a force for changing communities and the way that we interact with one another. The communal act of coming together with your neighbors to listen to story is magical," Artistic Director Kittson O'Neill told PlanPhilly. "The neighborhood is not place, it's people, and Shakespeare in the Park has become an event that lets people express who they are, which is a community."
Philly is the block-partying-est city in the nation and it's very much a part of our city's culture. We mapped what that looks like, showing what neighborhoods, times of year, and types are most popular.
Autonomous vehicles are coming. Actually, they're already on Pennsylvania roads. Jim Saksa explains how a state task force is paving the way for testing driverless vehicles and the very real possible consequences of an AV future, including how disruptive driverless trucking will be for jobs in that industry – "this isn't just a transportation concern, but a societal concern. Something our public institutions need to be thinking about," PennDOT Policy Director and Task Force Co-Chair Roger Cohen said.
Harris Steinberg reflects on the progress made in the 10 years since the executive order to create a Civic Vision for the Central Delaware and lessons to keep in mind going forward: trust the process, resist the temptations to make expedient deals, there are no silver bullets, keep raising the bar, and take action. Among the policy suggestions: "It's time for the city and the DRWC to ensure that the waterfront is as walkable as the rest of Philadelphia: plat the street grid to the river, showing developers unequivocally the type of development we deserve. But it's also a reminder that what's untenable now is commonplace tomorrow. Let's keep pushing to put Philadelphia ahead of the curve on issues like transit, shared streets, historic preservation, and progressive development."
As the Redevelopment Authority launches an effort to redevelop blocks destroyed by the MOVE bombing in 1985, Jake Blumgart looks at what it means to rebuild in the wake of trauma left behind. "As the owners and stewards of that property, as the public sector, it's our job to make sure the developer that is selected respects the history," said Gregory Heller, executive director of the Philadelphia Redevelopment Authority. "These aren't just any blocks with some abandoned houses, this is a neighborhood with a really significant history that needs to be understood and kept in mind as we work with the community on its process of revitalization and healing."
Artists Shira Walinsky and Laura Deutch documented stories of commuters on the 47 bus, particularly the immigrant and refugee communities it connects along its route and wrapped a bus with their stories of migration and community. As Deutch told Catalina Jaramillo "The bus is still like one of these few dying quasi-public spaces where people are forced to be together, and I just think that there are fewer and fewer of those spaces and more ways to opt out of being in those spaces… I hope people might kind of take the route and see what is like to be in that experience where you see things in a language that you don't understand or you're around people that otherwise you are not interacting with."
WHYY is your source for fact-based, in-depth journalism and information. As a nonprofit organization, we rely on financial support from readers like you. Please give today.