Drexel lecture series scrutinizes Philly's future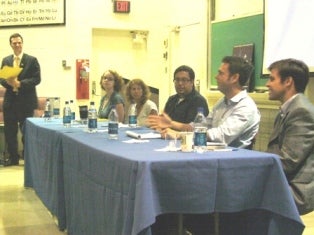 Aug. 28
On Monday afternoon about 100 college students and concerned citizens gathered in a Drexel University lecture hall to listen to and engage with a panel of bloggers, reporters and academics who were conducting a rambling, roundtable discussion about the type of future which lies is store for Philadelphia.
The free-flowing event was the final piece of a 10-week-long lecture series, co-sponsored by the Next American City magazine and the Great Works Symposium, that examined many facets of Philadelphia's physical and political infrastructure.
While Monday's discussion had its share of tough critiquing of Philadelphia's failure to keep pace with other cities in terms of urban planning, design and service sector improvements, the city was also identified as a pleasant place to live, a comfortable, affordable oasis that is an easy day trip from the country's financial and political capitals.
The panelists: author Daniel Brook, professor Richardson Dilworth, Phillyist blogger Jillian Ashley Blair Ivey, Young Philly Politics blogger Ray Murphy, and alternative media reporter Gwen Shaffer, generally agreed Philadelphia has polished its national profile but still has a long way to go in terms of well meaning good government and an effective, functioning infrastructure.
Brook, who wrote The Trap: Selling Out to Stay Afloat in Winner-Take-All America, said, "Philadelphia is a great place to live, not a great place to visit. It's a good city for people who like cities."
Dilworth painted a picture of change and challenge. "The export industry was our traditional base. We were the workshop of the world. Now ancillary businesses, like tourism, have become our economic engine."
The previous segments of the lecture series – moderated by Drexel professor Scott Knowles – examined the health of nearly every aspect of the city's working parts: including new water infrastructure, zoning reform, the Mill Creek watershed, poverty in the post-industrial era, the politics of mayoral candidate Michael Nutter, Philadelphia disaster preparedness, a look at who is Philadelphia, the wireless city, and public art in the city.

WHYY is your source for fact-based, in-depth journalism and information. As a nonprofit organization, we rely on financial support from readers like you. Please give today.