100 years after her heyday, Suzanne Valadon gets her first major U.S. exhibition
Valadon was a model for the impressionists of Paris, then became one. 100 years later, the Barnes premieres the first major U.S. exhibit of her work
There are 181 paintings by Pierre-Auguste Renoir at the Barnes Foundation, the largest collection in the world by the French impressionist. Most of them feature female models, clothed or nude.
One of those paintings in the Barnes' permanent gallery is of Suzanne Valadon.
At the turn of the 20th century, Valadon was an unwed teenage mother who found that her bright blue eyes and pretty figure were a good way to support herself and her son. She was a sought-after model for many artists in Paris and its famous Montmartre neighborhood, including familiar names such as Lautrec and Puvis de Chavannes in addition to Renoir.
While posing for them, Valadon learned from them, gleaning techniques and styles from the modern masters that she would use to establish herself as an artist on par with her former employers.
"Suzanne Valadon: Model, Painter, Rebel," on view until Jan. 9 at the Barnes Foundation, is an exhibition of 54 works by the maverick artist, who often drew from her own life to create a body of work that envisions the 20th century woman.
"Valadon feels like such a relevant artist now," said curator Nancy Ireson. "The issues that she unpacks in her work I think resonate for so many of us: How do you deal with being a parent and a professional? How do you make your way in a world that is dominated by men? How do you make your own mark in the working world?"
Valadon was mentored by Edgar Degas, developed a feel for thick lines like Paul Cezanne, had a bold sense of color and pattern like Paul Gauguin, and sometimes references those artists in her own work. She knew that, to be successful, she had to compete with the men of the art world. For years, Valadon avoided women-only shows, eschewing the Femmes Artistes Modernes — the society for women artists in Paris — so as not to risk being marginalized.
Ireson said critics of Valadon's time would sometimes describe her work as having "masculine force" and "virile power."
"Critics talk about Valadon as if she's a man," said Ireson. "I think that tells us something about the prejudices of those journalists at the time. But I think they were also trying to do Valadon a favor. Remember, this is a moment where women are really struggling to make their name in the art world."
Valadon's subject matter is unmistakably feminine. The show at the Barnes Foundation is rich with intimate domestic scenes, particularly of her son, Maurice Utrillo, and her mother, who helped raise the child. There is also a room full of Valadon's portraits of other women, both clothed and nude, that suggest the empathy this former model showed her own models.
The examples of Valadon's early work as a model shows she was often staged in physically strenuous poses that would be challenging, even painful, to maintain during a lengthy painting session. Her models, on the other hand, are posed in much more comfortable positions.
"There is a fabulous painting that she makes in 1923 called `The Blue Room,'" said Ireson. "It shows a voluptuous woman lying on a couch. She's wearing really comfortable clothing, striped pants, a sort of camisole. She's even smoking a cigarette. She's got some books at her feet."
"It's called `The Blue Room' for good reason: The color is so intense," she said. "The fabric on the couch is this beautiful blue, patterned cloth that really clashes with the green, stripy trousers that are sat on top of it. One wonders if this is a response to that need for women to constantly be painted naked."
Valadon painted plenty of naked women, too, as the exhibition shows. Ireson pointed out that the nudes generally sold well, and Valadon needed sales.
"Another nude painting in that room shows a woman with short cropped hair. You even see her body hair. In the 1920s, that was quite shocking," said Ireson. "In art history, nudes tended to be very coy, very idealized. It's not to say that that painting isn't stylized — we can see how the flesh is painted, it has greens and blues in it. It has all sorts of things going on. And yet these are really obvious signs of contemporary life."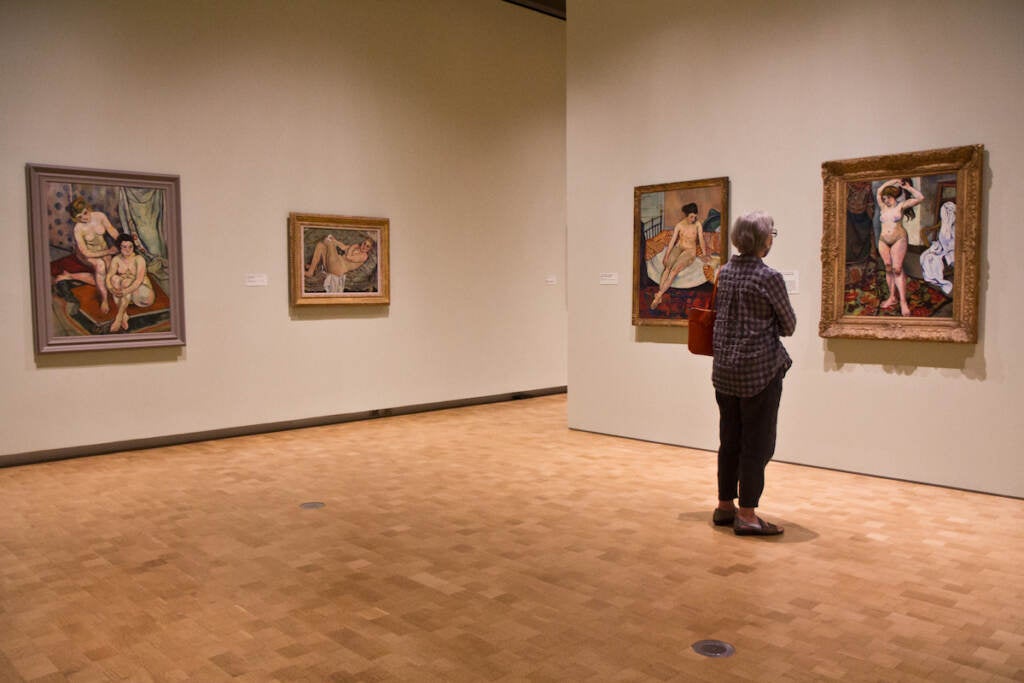 Valadon's personal life was risque: Her marriage to a Paris businessman ended when she took up an affair with a friend of her 20-year-old son, both artists. He was in his 20s. She was in her 40s.
She courted scandal by painting herself and her much younger lover as Adam and Eve, both nude. She later painted in strategic fig leaves, to make it somewhat more acceptable.
Valadon enjoyed a successful career as an artist in her time, but is less well known now than her much more famous peers. Her own son, Maurice Utrillo, became an artist and eclipsed the career of his mother, becoming a widely celebrated impressionist of streetscapes and landscapes to this day. Dr. Albert Barnes collected a dozen paintings by Utrillo, which can be seen in the foundation's main galleries, but none by Valadon.
"She's a chapter of a book that you thought you knew," said Ireson. "If you love art, chances are you know Picasso, you've come across Matisse. There are all these big names. Valadon is absolutely in the mix of those artists. Yet because of prejudices, she's just not had her moment. There's never been a major exhibition of Valadon's work in the United States."
Paris, however, has not forgotten Valadon. The Musee de Montmartre, which celebrates the impressionists that came out of that neighborhood, has conserved Valadon's old top-floor studio and opened it as an attraction for visitors, who are able to witness the striking views of Paris just as she did.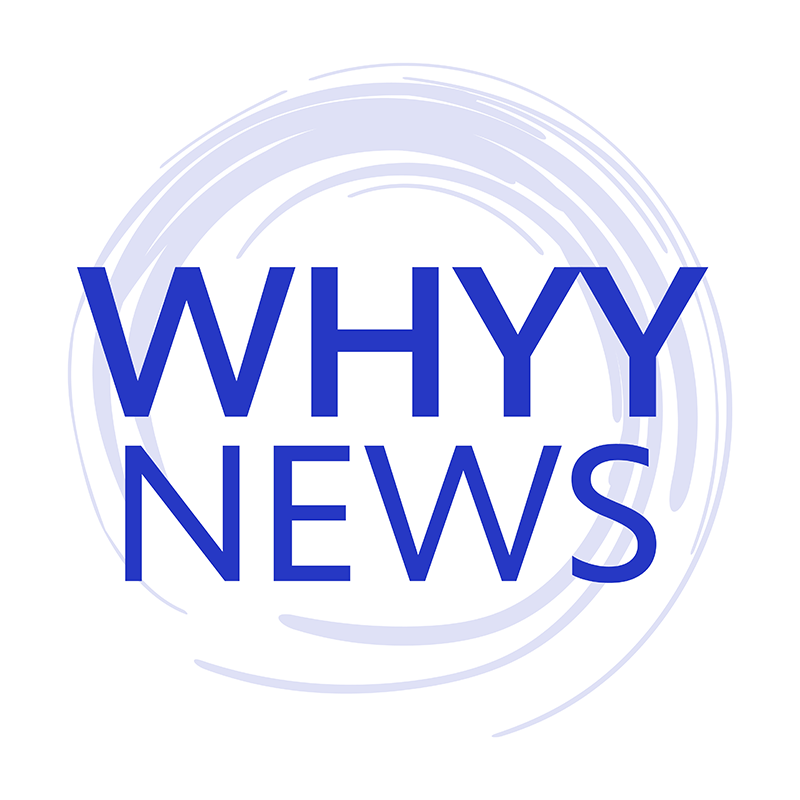 Get daily updates from WHYY News!
WHYY is your source for fact-based, in-depth journalism and information. As a nonprofit organization, we rely on financial support from readers like you. Please give today.