When your job includes experimenting on animals
Neuroscientist Ashley Juavinett says, "we have medicine and amazing treatments because of all the animal research we've done."
Listen
4:39
Neuroscientist Ashley Juavinett is a postdoctoral research fellow at Cold Spring Harbor Laboratory in New York. She wants to know more about the neurons and circuits in the brain that help us understand the world. To do that, she studies mice and rats. When she reveals her work to others, that can lead to difficult conversations with people who oppose animal research. She spoke with reporter Alan Yu from The Pulse about her experiences.
When you first start working with mice or rats you can be a bit timid — you don't want to scare them in any way.
In those early days, every time you need to pick them up, you're trying to grab the tail, or grab them by the body, and it can be hard. A lot of people will pick them up by the tail. It might be better actually to kind of scoop them up with two hands, although some of them, especially when they're first being handled, are a bit scared so they might bite you if you do that. You have to be careful.
They kind of stay to the outside of the cage, or they'll often try to run under the bedding to hide.
It takes up to 10 minutes the first time, then maybe five, and you eventually start to predict their behavior as they're moving around, so you can do it much faster.  Now it takes me like 10 seconds.
My first summer of research, I worked with rats. I remember a couple rats that were really docile and nice, and so it was like, 'Oh these are the good rats.' It can be tough at the end of that to say goodbye.
Unfortunately, we can't take all the animals home with us at the end of the day, and it can be expensive to keep them around so I think that's the main reason why most labs will euthanize them at the end of the research.
So you put the rat into the CO2 chamber and after a few minutes they're unconscious and their bodily functions cease. So then, yeah, it's done.
Uncomfortable conversations
It can be startling to people who haven't really thought about how we know what we know, or how we know that medicines work, and things like that. A lot of people can go through life without thinking about the nitty gritty, becuase they're not doing the research.
There was one time, I had a chatty Lyft driver. When we started talking, I was like,
"Oh yeah I study the brain and try to understand how different cell types talk to each other."
And he got really curious, and he was like, "Oh how do you do that?"
And I tried to explain like, "I do it in mice."
And he was like, "Wait, what, you do this in mice? That's so weird."
And yeah, well you can't do it in humans, that would be even weirder. I think he kind of got fixated on the fact that it was happening in mice and rats and was not very happy about it.
There are a lot of people out there who don't believe that any type of animal research should be happening. I used to see those people when I worked at the Salk Institute.
A lot of times the protesters will find old, severe looking pictures of monkeys that are fixed in a set-up and can't move.
This type of research has gotten much better and we've learned so much more about how we can do these experiments in a way that really is ethical.
I think sometimes I avoid those conversations out of fear.  Because I fear a backlash from someone for the type of research I'm doing. As a result, I feel like I need to keep what I'm doing a little bit close, and I often won't explain things to friends or family because it feels like it's a bit too much for them to handle or something
Sherlock, the rabbit
I have a rabbit currently. I've had the rabbit for about four years. His name is Sherlock and he's named as such because he has black floppy ears. He's kind of big, he's maybe five pounds, maybe a little bit more than that.
I've spent a lot of time with Sherlock and I feel like I understand him as a creature. I think it would be really hard for me to do research on rabbits.
Sherlock has been with me for a bunch of life events; he drove across the country with me in the front seat from San Diego to New York. If I had a mouse with me throughout all those things, I probably would feel the same way about that mouse, in the end.
But of course a lot of this is very socially constructed: we don't keep squirrels as pets for example, even though if we did domesticate squirrels, they might be just as friendly as a rabbit.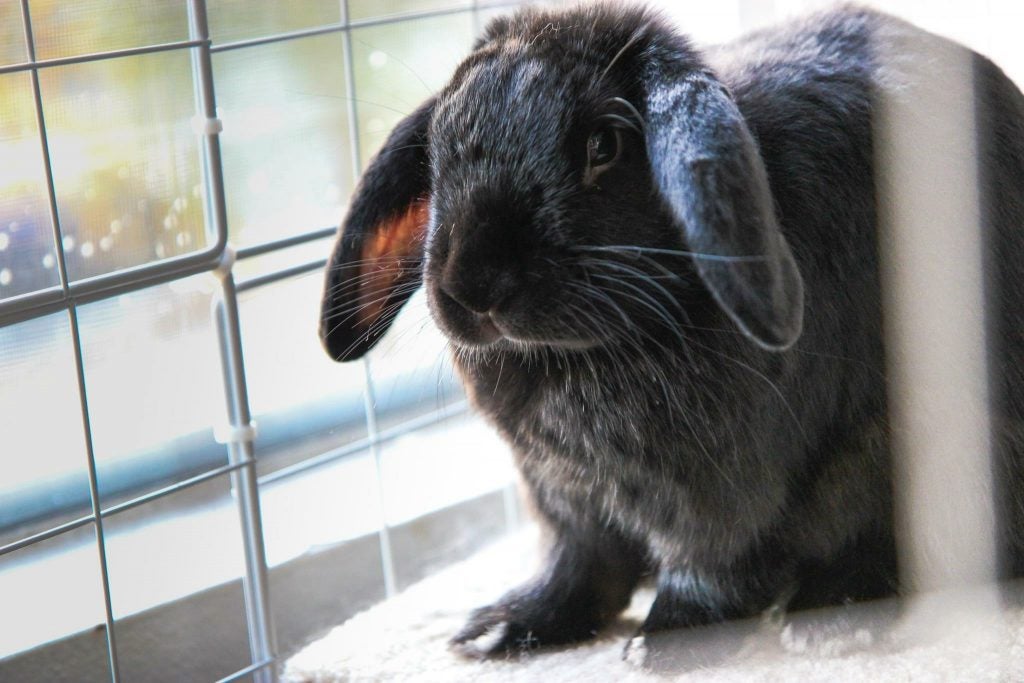 On a practical level, once we've decided, okay mice may not have exactly the same level of consciousness as a human, they are a creature that we can do this on, then you kind of move forward as a field and keep working with them.
We have medicine and amazing treatments because of all the animal research we've done. I think that we should have conversations about what's best for animals and how we can treat animals better in the lab, but I do think the consensus is that we should do this.
Ashley Juavinett first wrote about her experiences for the online science publication Massive.
WHYY is your source for fact-based, in-depth journalism and information. As a nonprofit organization, we rely on financial support from readers like you. Please give today.