At this retirement home, chimps are in charge
Chimpanzees used in biomedical research often have no place to go when they retire. But a sanctuary in central Washington state is now home to seven animals, and counting.
Listen
7:40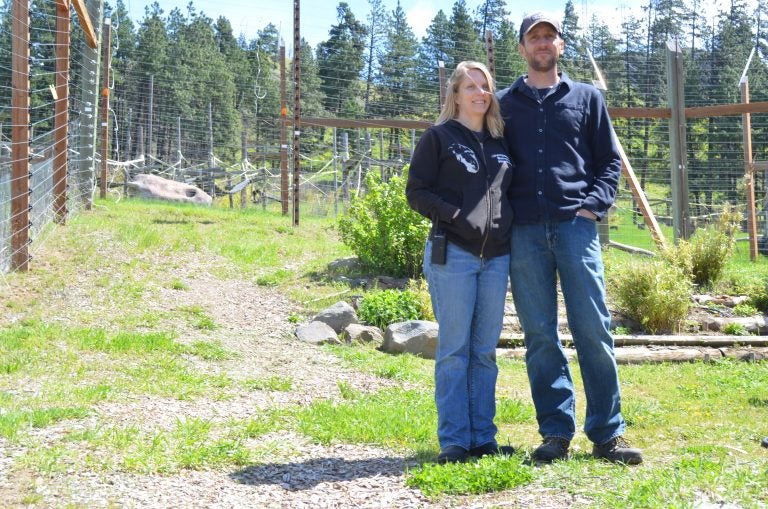 The Cle Elum Chimp Sanctuary is just off a lightly traveled desert highway in central Washington state. The first thing I have to do is sign the paperwork saying that, if I die, I won't sue the sanctuary. I'm not too worried.
Diana Goodrich takes me into a small observation room. On the other side of the bars, seven chimps are playing. One of the chimps, Jamie, comes over to us right away and stares intently at my feet.
"She wants to see your shoes," Goodrich tells me. "One-track mind. Shoes, shoes, shoes."
Apparently, it's a thing. Jamie likes shoes. I pull up my pant leg so she can see my gray and black boots, and she nods her head vigorously.
"Nod of approval right there," Diana tells me. "You're in."
Jamie and her six companions are all former research chimps. For decades, hundreds of chimpanzees were used by biomedical researchers in the United States to study HIV, hepatitis, and other diseases. Over the past couple of years, policies have changed, and now, pretty much every chimp formerly used in research is eligible for retirement. But most of them have nowhere to go.
Goodrich and her partner J.B. Mulcahy have provided a home for seven of them. The co-directors live just a few feet from the chimpanzees. The sanctuary is their life. Mulcahy the people try to figure out what the chimps want. Sometimes it's serving a smoothie through a giant straw. Other times, it's showing off your boots.
I'm still wearing my boots, but I guess I'm not so "in," because, a couple of minutes after my arrival, Mulcahy pushes me out the door of the observation room, fast.
"Oh, watch out!" he warns.
Jamie just threw some poop at us. That's her way of hazing newcomers.
"I think I blocked it, but one little piece may have hit your bag," Mulcahy says.
The control the chimps have over their caretakers and the environment is very different from the life they had before. Before coming to the sanctuary in 2008, the animals lived in a windowless basement in a biomedical research facility in Pennsylvania, according to Mulcahy and Goodrich.
"It is still legal to keep a chimpanzee in a 5-foot-by-5-foot-by-7 foot cage," Mulcahy says. "Many of the chimps that live here as far as we know may have never seen the sun or stepped foot on grass in their entire lives."
The sanctuary doesn't have detailed records on the chimps' past lives, but Mulcahy says when the animals first arrived, they seemed hesitant to venture out during the day and explore the hill behind the building.
"Jamie would be out there and she'd be trying to get her friend Foxy to join her," he recalls.
"And so Foxy would — she would take about five or 10 steps out the door, and then she would just sort of stall, and then she would turn around and then she would try again and she couldn't quite do it. And then Jamie would actually come back and throw her arm around Foxy's waist and walk with her side by side. that's what really got Foxy to work up the courage to go further."
In the 1980s, scientists hoped chimps would help them find an HIV vaccine. Researchers bred more than 1000 for that purpose. But it turns out chimps don't develop AIDS the way humans do, so attempts to use them to find a vaccine didn't pan out.
"They'll typically highlight that failure as a reason not to use chimpanzees in research," says Thomas J. Rowell. He's a veterinarian by training, and he used to be responsible for all the chimpanzees at the University of Louisiana's primate research center. He says the study of chimpanzees was invaluable.
"It was a lot of information that was harvested, that was published, that people utilized as they moved forward in both initiating therapies for HIV and ultimately for trying to produce a vaccine for HIV," Rowell says.
Researchers in the United States kept using chimpanzees long after most other countries had stopped. They made the most headway with hepatitis.
"During the '70s, Merck Pharmaceutical Company was developing a vaccine for Hepatitis B," Rowell says, "and that model" — he's talking about chimpanzees as an animal model for humans — "was absolutely pivotal for that vaccine being developed, and it's still in use today."
The vaccine is — but chimpanzees aren't.
Over the past couple of years, the National Institutes of Health has stopped providing federal dollars for chimp biomedical research because other options are available, and because of ethical concerns.
Meanwhile, the Department of Fish and Wildlife uplisted captive chimpanzees to "endangered." So now, pretty much every research chimp in the country is eligible for retirement, and chimp sanctuaries are expanding as fast as they can.
Thomas Rowell says he thinks the decision to stop using chimps in research is based on misconceptions about how animals are treated in research facilities. He says conditions have improved markedly over the past few decades.
Rowell says he cares about animal welfare as well as human health.
"When I was in — just before high school — this is when Jane Goodall was working with National Geographic," he remembers.
"And it came on with that music, you know: da da da da da da, da da da da da dum dum. That's what stimulated me to get into research and work specifically with primates."
Back at the sanctuary in Washington state, a 35-year-old male chimp named Burrito is banging on an empty steel drum.
"That's Burrito displaying a little bit, pushing that barrel around," co-director Diana Goodrich says. "Burrito's telling the other chimps and the humans he owns this room."
It's a big room to own. There are 15-foot ceilings and a loft, so the chimps can climb and build nests and take naps up high. In the wild, chimpanzees spend much of their time in trees and take naps there.
"These seven chimps that live here have been through a lot," sanctuary director J.B. Mulcahy says. "I mean, they've experienced invasive medical testing. Their lives have been upended repeatedly. Every time they get familiar with one environment, they're taken out of it and put in another."
And, he adds, the females were bred over and over again. In the wild, a female chimp gives birth about once every five years. Mulcahy says it's pretty typical for chimpanzees in captivity to be bred every single year to give birth to the next generation of lab chimps.
"Probably the most traumatic thing that any of them experience in their lives is either being taken from their mothers or having their children taken from them," he says.
At the sanctuary, the animals can start to heal, he says.
"Really one of the main things is giving them some autonomy again. As much as we can do for them is there for them, and they can take advantage of it at their own pace."
The sanctuary costs about $500,000 a year to run —  and Mulcahy and Goodrich are adding space to bring in 15 more chimps.
"It's our responsibility to sort of create a better environment for them here," Mulcahy says.
"Some of these chimps have are going to have 40 or 50 years left, and we can make those good years."
WHYY is your source for fact-based, in-depth journalism and information. As a nonprofit organization, we rely on financial support from readers like you. Please give today.