'This isn't science'
Listen
12:01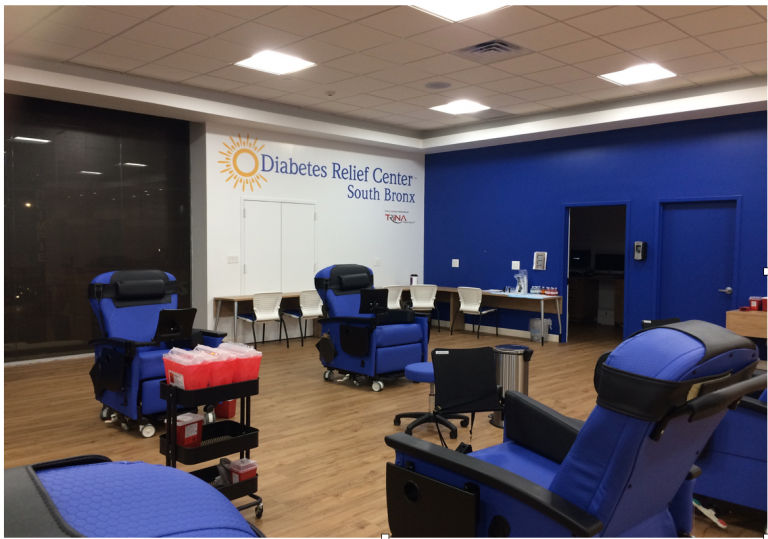 It's a Thursday afternoon, and in a renovated suite above a discount furniture store, eight people sit dozing in royal blue recliners. The room around them is spacious and bright, with blond wood floors and windows overlooking the street. In the background, quiet music mingles with the bustle of nurses checking vitals and adjusting IVs. They murmur questions to their patients, who sit waiting, as insulin pulses slowly into their veins. The scene feels modern and serene — like medical care from Ikea.
This is the Diabetes Relief Center, a clinic in New York City's South Bronx. The clinic says its cutting-edge therapy can help alleviate diabetes' most dangerous complications.
Frank — a Boston businessman who asked that we not include his last name to protect his medical privacy — has just wrapped up his first round of treatment.
"I'm going to be one of their toughest cases," he said. "But if it has the effect I'm hopeful for, it can change your life."
Frank has Type 2 diabetes, and says his soaring glucose levels have put him in danger of kidney failure.
"Then you're on dialysis for the rest of your life," he said. "So I'm really trying to avoid that."
That's why he's spent the last two afternoons sitting in the clinic's treatment room, receiving an IV infusion. Staff at the clinic say it's supposed to "reteach the pancreas" to more effectively metabolize sugar.
Frank isn't the only one pinning his hopes on the clinic's treatment. When the Diabetes Relief Center opened last fall in the South Bronx, it received a warm welcome. Local media called the treatment "innovative," a "game changer" and "state of the art."
Bronx County — and the South Bronx in particular — has one of the highest rates of diabetes and diabetes-related hospitalizations in the state. The Diabetes Relief Center's website claimed its treatment could reverse serious diabetes complications like lost vision, cardiovascular disease, and kidney and nerve damage.
Five months later, many of those claims have been scrubbed from the Diabetes Relief Center's website. Also gone is any mention of the company that invented the treatment — Trina Health.
Trina Health recently made headlines when CEO Ford Gilbert was indicted for bribery and health care fraud. The arrest stemmed from Gilbert's alleged efforts to push legislation in Alabama that would force major insurers to cover his treatment.
Conventional diabetes treatment involves daily insulin injections that help control blood glucose levels.
But the Trina approach delivers insulin directly to the bloodstream, in tiny pulses designed to replicate the pancreas, Trina's website says these pulses trigger a chain reaction that, over time, retrain the body to metabolize sugar. The infusions are delivered via IV, in weekly sessions lasting four-to-five hours each.
In the days and weeks after, a spate of articles decried the treatment as a "scam," and an example of the worst abuses of our healthcare system.
Jill Crandall, who heads up diabetes research at the Albert Einstein College of Medicine in the Bronx, is also skeptical.
"I was, like, astounded by how outrageous their claims seemed," she said. "They show these very impressive-looking pictures on their website of advanced neuropathic complications, ulcers and other problems with the feet, that seem to be cured following their treatment. And there's just absolutely no evidence to support that at all."
Crandall also criticizes other claims on the Diabetes Relief Center's website — for instance, that its treatment is covered by Medicare, Medicaid and most major insurers.
A 2009 report by the Center for Medicare and Medicaid Services reviewed studies on the approach, and concluded that it's not supported by scientific evidence, and should not be covered by Medicare.
Trina Health has also called its treatment "FDA approved," which Crandall said isn't true.
"This treatment paradigm has never been evaluated by the FDA, nor approved by the FDA," she said. "So when they claim that this is an FDA-approved treatment, I think what they're saying is that insulin is FDA-approved. So they're kind of skirting the law."
In an interview conducted several days after news that Trina Health's CEO was arrested, the Diabetes Relief Center's chief medical and science advisor, Jack Lewin, had good things to say about the treatment.
"I have no doubt that there is something very, very positive about the therapy," he said.
Lewin said he overcame his own skepticism about the treatment after hearing the "very, very stunning, positive reactions of patients I've interviewed."
But he conceded that there is currently no solid evidence backing the approach.
"This is anecdotal," he said. "This is not science. Because you've got to have the control group, you've got to do all that stuff."
Lewin said that's his main role at the clinic — devising a research project to demonstrate how and why the treatment works. He says those studies are still yet to launch, and that patients at the Diabetes Relief Center are not involved in his research.
Lewin said the clinic charges people — or their insurance companies — about $375 per session.
Asked whether it's is appropriate to sell a treatment that hasn't been proven to work — Lewin deferred to the clinic's owners.
"That's a reasonable question. I can't answer that question," he said. "I'm not part of the clinic. I'm part of the research."
But Lewin isn't completely cut off from the clinic's operations. He's appeared in local media several times promoting the Diabetes Relief Center and its treatment.
In the clinic's staff room, a chart with the title "Patient Acquisition Matrix" lists local media and outreach events. And there's another poster with the heading "Get to Goal! 84 treatments per week."
One patient who may become a regular is Frank, the Boston businessman with liver problems. In a phone interview nearly two weeks after his initial visit, Frank remained optimistic about the treatment's potential.
"I definitely saw the benefits after the first couple sessions in terms of more energy," he said, talking from the treatment chair of Trina's San Diego clinic.
Franks says the stakes are high.
"My kidney function is down to 50 percent or less," he said. "And so I'm hopeful that this will do something for me."
Frank said the Bronx center didn't ask him to sign a waiver disclosing that the treatment is experimental. But Lewin said it offers that information verbally.
Lewin is a prominent figure in health care world. A cardiologist and policy wonk, he's spent years heading up major health-related organizations, including the American College of Cardiology, and currently the National Coalition on Health Care. In those positions, he's advocated for evidence-based medicine and policies that reduce health care costs.
In his role consulting for the Diabetes Relief Center, Lewin said he helped investors vet the Trina Health treatment by visiting the headquarters and talking to patients.
"I came back excited after talking to 30 or so patients," he said.
Lewin said patients reported improvements, ranging from improved sleep to reversal of nerve damage.
"So I said, let's find out what's going on here, because this is clearly a breakthrough."
In a follow-up interview two weeks later, Lewin says that the Bronx clinic has formally cut ties with Trina Health, and is no longer offering that particular treatment.
But they are offering a similar treatment — one with slightly tweaked protocols, he said.
"It doesn't work for everyone but it doesn't seem to hurt anyone," said the center's public relations head, John Schulenburg.
Diabetes researcher Jill Crandall isn't so sure.
"I really feel like these people, this program, is taking advantage of vulnerable people by promoting something where there's no evidence that it's effective," she said. "Maybe we can't cure diabetes, but we have treatments that can help people. We have things that we can do."
WHYY is your source for fact-based, in-depth journalism and information. As a nonprofit organization, we rely on financial support from readers like you. Please give today.