Political polarization leads trends in opinion on Russia, immigration, SCOTUS nominee
NewsWorks Tonight host Dave Heller sits down for his weekly conversation with Gallup's Frank Newport to talk about trends in U.S. opinion.
Listen
7:38
NewsWorks Tonight host Dave Heller sat down for his weekly conversation with Gallup's Frank Newport to talk about trends in U.S. opinion.
Russia and its president Vladimir Putin were very much in the news this week. Two-thirds of Americans believe Russia is an enemy or unfriendly to the U.S., marking a change from 12 years ago when Russia was considered a friend or an ally.
It's clear this reflects a change of heart among Republicans who are echoing  President Donald Trump. Republicans have become more likely to say Russia is a friend or ally, Democrats less so.
Additionally, Russia's image has increasingly worsened in U.S. estimation in the last several years. Right now, by a 3-to-1 margin, Americans have an unfavorable view of Russia. And, while Republicans have become more positive than Democrats, only three in 10 Republicans have a favorable image of Russia.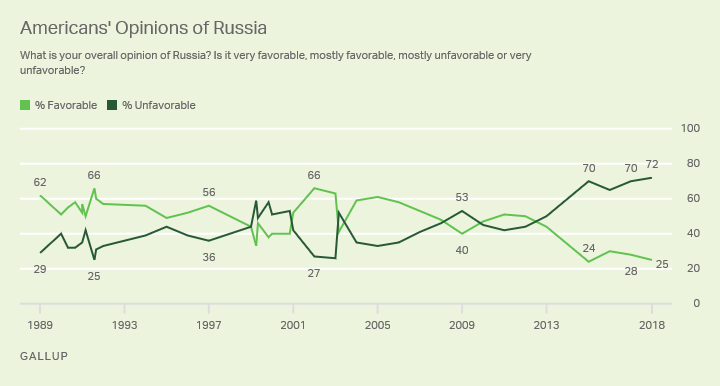 Last time we asked, Putin's image was considered by 22 percent favorably and 72 percent unfavorably — worse than it had been. Among Republicans, Putin was considered favorable by 32 percent after Trump came in; 10 percent of Democrats agreed. Before Trump was elected, there was no partisan difference in views of Putin.
Gallup has now put the public's views of Brett Kavanaugh in the context of most other U.S. Supreme Court nominees since Robert Bork in 1987. Kavanaugh's "want to see confirmed" number is the lowest measured, likely due to political polarization. And Democrats may see stakes as higher for Kavanaugh given the possible change in the court's tilt toward issues such as Roe v. Wade.
Immigration was rated as the top problem in the U.S., edging out dysfunctional government, by the highest percentage of respondents in Gallup history.
More than a third of Republicans now name immigration as the top problem, and the percentage of Democrats who mention immigration has also risen, saying that Trump's policies are making it a huge problem.
Other problems? Government is in second place, followed by race/racism, then the need to unify the country, and then lack of respect for one another. These data, from July 1-11, show few Americans mention trade or foreign policy.
Asked about the most important thing going right, respondents overwhelmingly mentioned the economy and economic issues.  They also pointed to the fact that Americans are coming together, becoming more involved in politics, and taking a more active role in advocacy and protests.
Listen to the audio above to hear the full conversation.
WHYY is your source for fact-based, in-depth journalism and information. As a nonprofit organization, we rely on financial support from readers like you. Please give today.