Philly Fringe reviews: 'Kill Move Paradise' and 'Stifters Dinge'
A brilliantly conceived new play and a sensory experience.
Listen
2:50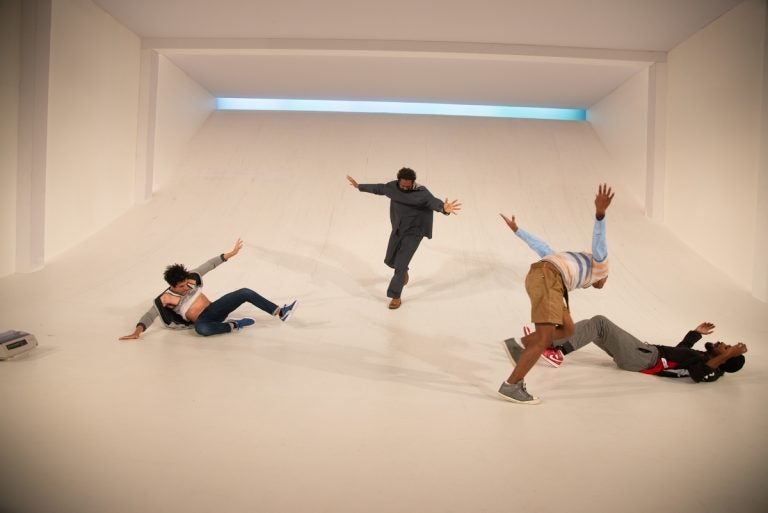 Kill Move Paradise
"Kill Move Paradise" at the Wilma is a stunning new play in a riveting production, and what more can you ask from a night at the theater? Wilma Theater is presenting its season opener as part of the Philly Fringe Festival, and even though FringeArts has little to do with it, this show exploring four guys in the afterlife takes the festival up a good notch.
Four black men (one, not quite a man) are dropped, one by one, onto a white stage that ramps severely upward toward the theater's rear wall – the striking set by Matt Saunders is a vision of something pure, but also of isolation. It's not heaven, but more of a waiting room. All the characters have died in some fashion and the details about the end of their lives are unclear to us. No matter. They wait urgently for whatever will be the next step in their journey. As they get to know each other, a fax machine on the stage floor intermittently shoots out the names of people with matching fates.
Kill Move Paradise is an 80-minute look at how they adapt, what they learn from each other and who they were (and, essentially, still are). It's also social commentary, pointing to the audience's role as merely onlookers. It can be as funny as it is intense, laden with the vivid street talk of the hood and dialogue that feels, always, real. It's written by the Philadelphia-based theater artist James Ijames, whose career has taken off over the years on Philadelphia stages, first as an actor and then as a director and playwright. In that last role, Ijames (pronounced EYE-yams) started off hitting a high mark, and he just gets better and better.
He's a member of HotHouse, the Wilma's core troupe. The rigors for that group of artists are both intellectual and physical and Wilma's artistic director, Blanka Zizka, stages Kill Move Paradise to be as demanding physically as it is in the way it explores ideas. The actors — Lindsay Smiling, Anthony Martinez-Briggs, Brandon Pierce and Avery Hannon — build their individual characters with great care, becoming the most impressive sort of ensemble, a smoothly running machine with many moving parts. From the first knockout minute — an entrance which I won't spoil with a description — to its last beautiful image, Kill Move Paradise, is a blend of Ijames' depth of thought and his spirituality and Zizka's staged realization of it.
_
"Kill Move Paradise," runs through Sept. 23 at Wilma Theater, on Broad Street between Locust and Spruce Streets.
Stifters Dinge
Mist floats, large rectangular spaces turn into reflecting pools with water that eventually roils and emits little cloud puffs of steam. Pianos play themselves — both their keyboards and their strings — and long pipes turn into a medium for resonant percussion.
"Stifters Dinge" is a piece of sensory theater, a performance installation that came to Philadelphia in many large pieces aboard a cargo ship and is set up inside a large empty building in the Navy Yard. The show has no actors, although a few stage technicians appear briefly to get things in order. Those things include unusual eye candy — like a painting that a camera drifts over and projects in small details on a moving screen — and little ear nibbles. Some of the effects are dramatic, like the jumbled call-and-response conversations that are nearly music, or ululations and snippets of conversation featuring William S. Burroughs, Malcolm X, and the anthropologist Claude Lévi-Strauss.
It can be compelling and also a little plodding, 70 minutes of seeing and hearing and whatever you may make of it. Its creator, the composer Heiner Goebbels, sits at the back of the audience and also at the controls. His inspiration is a 19th century Bohemian named Adalbert Stifter, who explored the unexplainable. The trick here is to watch, listen and meditate as Stifters Dinge unfolds, sometimes dramatically, and explain it to yourself if you feel the need.
_
"Stifters Dinge," curated by FringeArts, runs through Sept. 9 at the Navy Yard, Building 611, 1120 Flagship Avenue.
The Philly Fringe Festival runs through Sept. 23. For more information: fringearts.com.   
WHYY is your source for fact-based, in-depth journalism and information. As a nonprofit organization, we rely on financial support from readers like you. Please give today.