Philly DA wants prison costs included as judge calculates offender's debt to society
Larry Krasner's direction to prosecutors is igniting a debate about whether the price tag of punishment belongs in courtrooms.
Listen
4:45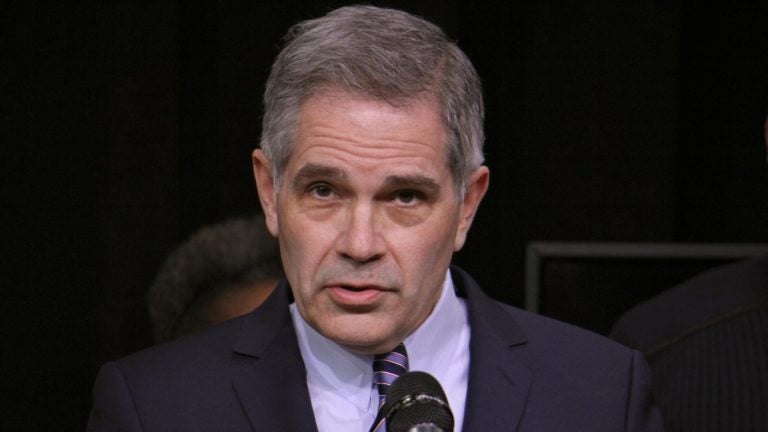 Every day, Philadelphia judges are deciding the fate of criminal offenders by trying to strike the right balance between public safety and fairness.
Now, District Attorney Larry Krasner is asking his prosecutors to share with judges another variable: the cost of incarceration.
The move is igniting a debate about whether the price tag of punishment belongs in courtrooms.
"Fiscal responsibility is a justice issue, and it is an urgent justice issue," said Krasner at a press conference recently.
The former civil rights lawyer and consummate outsider — who came into office vowing to trim the city's overburdened prison system — views this controversial proposal as part of fulfilling that promise.
In Philadelphia, he said, the typical cost of holding someone behind bars is about $42,000 a year.
And housing all of the city's prisoners will cost Philadelphia's Department of Corrections $2.4 billion for fiscal year 2018.
These weighty numbers should help balance a judge's scale in crafting the most appropriate punishment, Krasner said.
So now, if a prosecutor recommends that a defendant convicted of aggravated assault be imprisoned for four years, the prosecutor is instructed to tell the judge the taxpayer cost of that lockup: more than $160,000.
'A dollar spent on incarceration should be worth it'
For decades, discussions on the cost of imprisonment have been reserved for classrooms and think tanks. Krasner thinks it is time for those debates to enter courtrooms.
"A dollar spent on incarceration should be worth it," Krasner said. "Otherwise, that dollar may be better spent on addiction treatment, on public education, on policing and on other types of activity that make us all safer."
Requiring prosecutors in sentencing hearings to tell the judge the cost of putting someone away is highly unusual. If cost is mentioned at all, it would far more likely be cited by a defense lawyer.
In 2010, Missouri officials proposed making cost information available to judges, but it was not mandatory that judges consider it in their punishment decisions.
Having prosecutors announce the cost of jail in open court is different — and unprecedented, said David Abrams, a professor of law and economics at the University of Pennsylvania,
But, will it translate into shorter sentences?
"I think there will be a lot of cases that are not affected by this," Abrams said. "But I think there are going to be marginal cases — where the judge is somewhat indifferent between harsher and maybe more expensive and slightly lass harsh and maybe vastly less expensive sentences — where this will make a difference."
Not everyone in Philadelphia's criminal justice world is embracing the news.
Some prosecutors confide they are ignoring the guidance completely. And one judge recently threatened to hold an assistant district attorney in contempt of court if the cost were raised again in his courtroom.
Family of crime victim objects
Richard Sax, who spent more than 30 years as a prosecutor in the city district attorney's office before retiring last year, offered this assessment of the policy:
"The words that come to mind are absurd, irrelevant, ridiculous, nonsense and horrific," Sax said.
Krasner's announcement is a public relations stunt, said Sax said, who called it as insult to crime victims.
"It should have no bearing on whether a society or a community or people who are at risk of being victimized should be protected from a human being, an individual," he said.
Some families of crime victims agree.
Celestine Shorts' brother, Christopher, was murdered last year. The North Philadelphia woman said she doesn't want to see money as a factor in his killer's punishment.
"What happened to the structure of the judicial system and the rights of the families that are affected be it?" she said. "We don't get any say?"
Krasner said input from victims and their families will still be considered, along with public safety, the defendant's criminal background and the gravity of the offense.
The money factor, Krasner said, is just an additional consideration. Research, he said, has consistently illustrated that shorter sentences for criminal offenders do not cause more crime. Instead, studies indicate that certainty of punishment — not the length of time spent behind bars — has a meaningful impact on deterring crime.
Defense lawyer Michael Diamondstein said prosecutors, in recommending punishment to a judge, have an incredible amount of sway over a defendant's life and liberty.
The cost question will not please everyone, but he said it is about time the criminal justice system experiment with something new.
"Nothing ventured, nothing gained," Diamondstein said. "The worst thing that happens is that it makes no difference. But it may. It may make a judge or two stop and think what the actual cost is to sentencing someone."
With the help of money from the MacArthur Foundation, city officials have been working for the past few years to cut the prison population with the goal of a one-third reduction. But individual decisions by a judge are harder to influence. Krasner is hoping to give them a nudge.
And if it does shorten sentences, Krasner said he is confident it will not spike violent crime.
"We are not concerned that this is going to produce a zombie invasion of crime," he said at the press conference earlier this month. "In fact, we consider it highly doubtful that people being arrested will even be aware this policy exists."
WHYY is your source for fact-based, in-depth journalism and information. As a nonprofit organization, we rely on financial support from readers like you. Please give today.