How online gaming communities kept two veterans from suicide
The military has a long history of using games in training, but troops also enjoy playing video games during their downtime, and some military gaming communities even help
Listen
6:48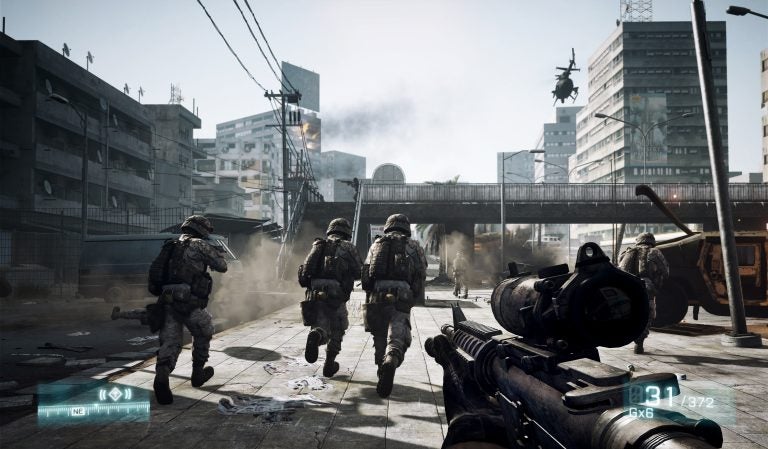 Sgt. 1st Class Isaac Poole has been in the Army for 20 years. Now his job is to drive around in a black tractor-trailer to get people to sign up.
"People have a lot of misconceptions about the Army. They think that if they just join, they're joining to kick in doors, and blow things up and operate guns,"Poole said. "Yeah, we have certain aspects of the Army that do that, but the larger aspect of the Army is combat services and support."
He says that you can join the Army to be a cook, or a linguist; not everyone has to enroll in infantry and live out a real version of the video game "Call of Duty."
That may be true, but the Army itself kind of plays into the idea of military service as an action-packed life.
Poole showed me around the trailer, which is full of Army-made video game consoles: There's a virtual reality program in which you can jump from a plane and land on an aircraft carrier, using the harness from an actual parachute; and a helicopter simulation in which you sit inside a cockpit, fly a helicopter, and shoot missiles at enemies.
The most popular game is a Humvee simulator in which one player drives, and the other sits on top of the vehicle wearing a helmet. That player shoots a .50-caliber machine gun at a screen. Poole says this one is especially popular among high school students.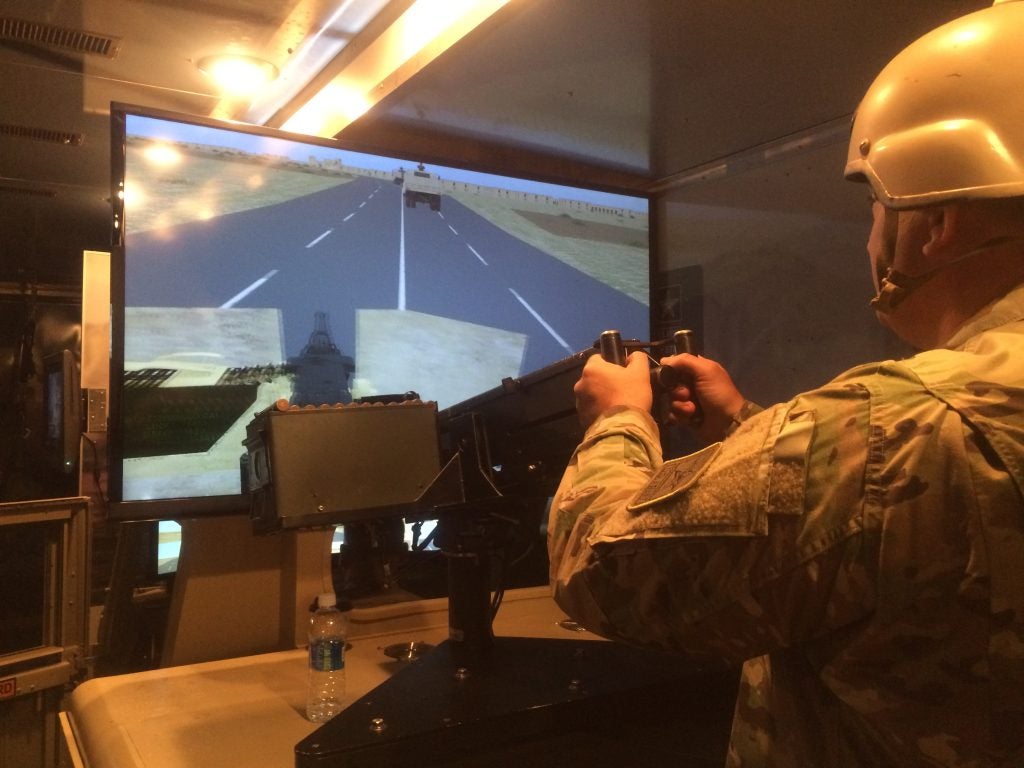 "When we park this thing, kids are very excited to come on board. The recruiters are very happy to see 'em. We're happy to demonstrate all that stuff to the local population within that high school," he said.
Poole was a mechanic and trained on a simulator much like this one before he went to Iraq.
The United States military has a long history of using and developing video games. In the 1960s, the Pentagon funded "Spacewar!," a project at MIT to test new technology. Historians consider it to be the first video game.
Since then, the military has used a variety of simulators to train soldiers on planes, helicopters, and combat. For example, the Marines adapted a shooting game called "Doom" for training. They called it "Marine Doom."
Beyond training, video games are a big part of many soldiers' lives. And for some veterans, gaming buddies help them transition back to civilian life at the end of their military career.
Stephen Machuga was in the Army for eight years and served in Kosovo and Iraq.
"When I was deployed overseas, I kept thinking to myself, like, 'Hey, you can take my legs, but I need my arms to game,'" said Machuga. "Like, 'Please, if you're going to blow me up, take my legs, it's fine. I need my arms.'"
Machuga came through with arms and legs intact, but he says when he was overseas, video games got him through the boring downtimes of training and waiting for action.
When he became a civilian, Machuga started a charity called Stack-Up. Part of his organization's work is to send video games and consoles to troops in combat zones around the world.
"When I started this, it was just me putting together luxury care packages for troops who might have needed them overseas," he said.
These days, his mission has expanded to also help veterans here in the United States.
"Now it's almost more of a medical charity, if anything. It's us being able to provide support in ways that— guys would rather play three hours of 'Call of Duty' than sit on a couch talking about their feelings for an hour," he said.
Machuga says informal support networks of veterans have sprung up around the country in the form of online gaming groups. Some soldiers say spending time with gaming buddies is therapeutic for them.
Todd Gerritzen runs one of these groups — U.S. Marine Corps Gamers. He was in the Marines from 1986 to 1992 and served overseas in Japan and the Middle East. And when he returned to civilian life, he had lots of trouble adapting.
"I was actually planning my own suicide, but I was trying to figure out how to do it so that my wife and kids would get the insurance money," he said. "It's not one of my proudest moments, but it leads into one of the things that I'm most proud of."
First-person shooters (games in which you see from the perspective of your character; the hand and the gun your character is holding) like "Call of Duty" and "Battlefield" are popular among active-duty soldiers and among veterans.
But some veterans — like Alan Davidson ,who served in the Army for seven years and was deployed to Iraq — say the graphic images in those games are hard to handle..
"I do not play 'Call of Duty,' I do not play 'Battlefield 4,' and I do not play 'Battlefield 3,' because of the realism. I have spent the past 10 years trying to forget my time in the desert," he said. "I have good days and bad days. And on my bad days, I simply will not pick up a shooter."
Davidson has the game "Battlefield 1," but says, "I won't even touch it."
"I've been in a number of ambushes and mortar attacks, and it kind of reminds of those situations where you don't know where it's coming from, where you don't know what's going on until it's almost too late," he said.
Davidson was diagnosed with PTSD and traumatic brain injury. He still plays video games, but mostly avoids realistic shooters. He's part of a group called Militarygamers.com. It's a community of gamers who used to serve or are still serving in the military.
"I went through some pretty dark times, especially after my dad died, and that community is why I'm still alive, there's no doubt about it," he said.
Davidson says he considered killing himself, but being able to talk to other veterans who also play video games helped, because he knows they get it.
Todd Gerritzen, who runs U.S. Marine Corps Gamers, says the common language of video games helps veterans talk to each other about their big problems without having to address those problems directly at first.
"There are nights when I sit down and I log into my teamspeak, put my headphones on, and I never even play a video game, I just sit here and talk crap to my buddies and listen to them talk crap to me," Gerritzen said.
He says members of his group have taken in fellow members who were thrown out of their homes after a divorce, and who have flown across the country to go to each other's weddings.
"Yes, we're doing suicide prevention. Yes, we're doing VA outreach. Yes, we're doing transition assistance. But we have always found it more conducive to the way we do business to not mention any of that stuff upfront," he said. "Focus on: 'Hey, man. We just want to play video games man.'"
WHYY is your source for fact-based, in-depth journalism and information. As a nonprofit organization, we rely on financial support from readers like you. Please give today.