Suspended N.J. radio hosts apologize for calling state attorney general 'turban man'
A New Jersey radio station has taken two hosts off the air after they called the state's attorney general, a practicing Sikh, "turban man."
Listen
3:24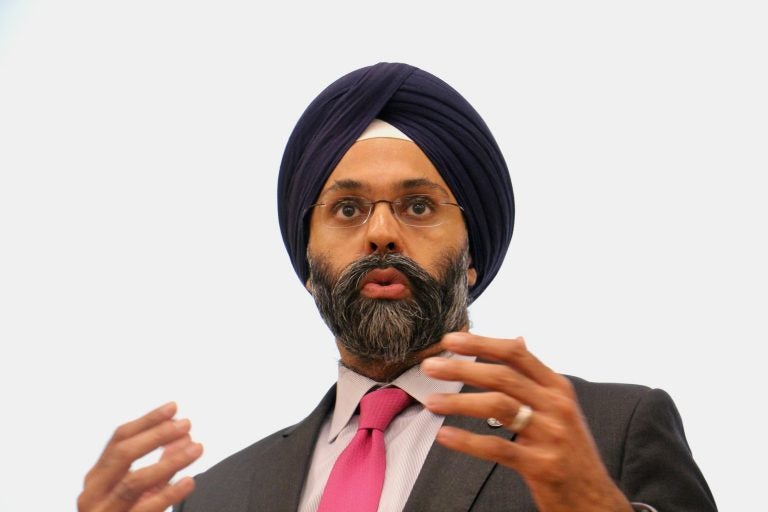 Updated: 5:08 p.m.
—
A pair of New Jersey radio hosts are apologizing after they were temporarily taken off the air for calling the state's attorney general, a practicing Sikh, "turban man."
New Jersey 101.5 midday hosts Dennis Malloy and Judi Franco repeatedly used the term to refer to Gurbir Grewal, who became the country's first Sikh attorney general when he was sworn in as New Jersey's top law enforcement official in January.
Management at New Jersey 101.5 took the hosts off the air Wednesday night and issued a statement on the station's website.
"We are aware of the offensive comments made by Dennis and Judi during today's broadcast," the statement read. "We have taken immediate action and have taken them off the air until further notice."
The station, which is investigating the matter, said Thursday afternoon the pair will be suspended for 10 days and will return on Aug. 6.
In a video posted to NJ1015.com Thursday, Malloy offered his and Franco's "heartfelt apologies" to Grewal, "a man who certainly deserves more respect than our comments reflected on Wednesday," he said.
"I made a mistake on Wednesday in saying something that was out of bounds and it was wrong," Malloy said. "And we try to be humorous every day and give light commentary and try to put a smile on people's faces, and I went over the line on Wednesday, and Judi and I feel it very deeply."
The on-air slur sparked outrage as it made the rounds on social media Wednesday night.
Dennis of @nj1015's @DennisAndJudi Show just called New Jersey Attorney General Gurbir Grewal — a practicing Sikh — "turban man." https://t.co/2jLaVbXH63

— Ryan Hutchins (@ryanhutchins) July 25, 2018
Gov. Phil Murphy, the Democrat who appointed Grewal, said in a statement he was "outraged by the abhorrent and xenophobic comments."
"Hate speech has no place in New Jersey, and it does not belong on our airwaves," Murphy said. "Station management must now hold the hosts accountable for these intolerant and racist comments."
In a tweet, Grewal addressed the station directly: "@nj1015: My name, for the record, is Gurbir Grewal. I'm the 61st Attorney General of NJ. I'm a Sikh American. I have 3 daughters. And yesterday, I told them to turn off the radio."
.@nj1015: My name, for the record, is Gurbir Grewal. I'm the 61st Attorney General of NJ. I'm a Sikh American. I have 3 daughters. And yesterday, I told them to turn off the radio.

— Gurbir S. Grewal (@GurbirGrewalNJ) July 26, 2018
The pair began talking about Grewal during a segment on the attorney general's decision earlier this week to temporarily suspend municipal marijuana cases until his office could issue guidance to prosecutors.
"I'm never going to know his name. I'm just going to say, 'the guy with the turban,' " Malloy said, referring to Grewal.
"Turban man," replied co-host Judi Franco.
"If that offends you, then don't wear the turban, man, and I'll remember your name," Malloy laughed.
Appearing to sense that his comments were offensive, Malloy tried to defend his use of the insult. "If you called me baseball hat man, and I was in a culture where nobody wore baseball hats, and they called me baseball hat man, should I be offended?"
The pair, known for their brash and politically incorrect style, have been co-hosting the Dennis and Judi Show for more than 20 years, according to the station's website.
On Thursday afternoon, Malloy also apologized to the  Sikh and East Asian communities with which he said the show has had a"strong, warm, and wonderful relationship."
Sim Singh is a senior manager at the New York-based Sikh Coalition, an advocacy group created after 9/11 during a rash of attacks against Sikhs. While there are an estimated 500,000 Sikhs living in the United States — including roughly 100,000 in New Jersey, according to the group United Sikhs — Singh says many people don't know about the religion, and that lack of understanding breeds hate.
"Language that promotes intolerance or a lack of willingness to understand another community, that leads to divisions, and those divisions can lead to real-world consequences of people being violently assaulted, attacked, even their kids being viciously bullied in schools," he said.
This is not the first time the Dennis and Judi Show has courted controversy.
In October, Franco wrote a post on the station's website in support of Harvey Weinstein, the former movie mogul who is facing rape and sexual assault charges, saying "boys will be boys." Democratic state Sen. Joseph Vitale called Franco's comments "cruel, damaging, and false."
Other radio hosts on New Jersey 101.5 have found themselves in hot water, too.
In 2005, former station personality Craig Carton made disparaging remarks about women who suffered from postpartum depression, prompting a war of words with then-Gov. Dick Codey, whose wife had publicly talked about her struggles with depression as a way to encourage people to seek help.
That same year, Carton and his co-host ridiculed Edison mayoral candidate Jun Choi and referred to minorities as "fringe groups," according to a PBS report. Carton later apologized.
WHYY is your source for fact-based, in-depth journalism and information. As a nonprofit organization, we rely on financial support from readers like you. Please give today.