A 1918 'race war' and its ties to Philadelphia's present
Stop and frisk. Changing demographics. A fishy police shooting. Inside a 1918 race riot in Grays Ferry and its parallels to the present.
Listen
6:34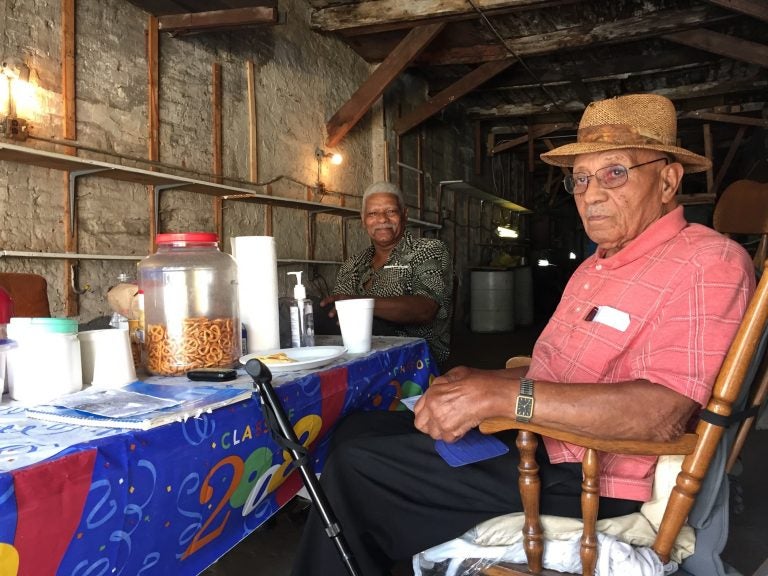 Around 1 o'clock on weekday afternoons, a group of Grays Ferry old-timers gather around a plastic picnic table inside Bufus Outlaw's garage on the 2600 block of Ellsworth Street.
The menu rotates — Pringles, steaks, McDonald's chicken sandwiches — but the small talk is constant. On summer days, with the garage door up and sunlight filtering in, you can see the changing neighborhood just by craning your neck.
Nearly every block in the area has a new house or two, many of them standing a story taller than the squat, brick row homes that still predominate.
"A lot of the whites coming back," says Theodore Jackson, 83.
"They live peaceful and everything," he explains, mentioning the friendly conversations he'll have with new neighbors as they walk their dogs.
Jackson chuckles at the thought:
"They love them dogs."
One hundred years ago, this western pocket of South Philadelphia was also in the throes of change, but it was hardly peaceful. Two blocks west, on July 26, 1918, Adella Bond, a black city worker, fired a gun from the upstairs window of her home at 2936 Ellsworth St.
Her shot triggered one of Philadelphia's worst racial conflicts, a four-day riot with thought-provoking ties to the present.
"It's amazingly parallel to some of the issues we face today," said Ken Finkel, a Temple University history professor who has blogged about the riots and wrote a section about them for his latest book.
 'Your old cracker enemies'
In 1918, Philadelphia's black population was booming. The wartime economy drew migrants from the deep South, and the city's ghettos overflowed.
"Labor from Europe was difficult to get," said Louis Massiah, a documentary filmmaker who has studied this period in Philadelphia's history. "That really sparked the beginning of the first Great Migration, which was really the period between the first World War and the start of the Depression in 1929."
In search of better housing, some African-Americans trickled into Grays Ferry, a predominantly poor, Irish-American neighborhood near the east banks of the Schuylkill River. Among them was Bond, a probation officer, who moved into her new home on Wednesday, July 24. When furniture movers arrived on Bond's stoop that day, she answered the door brandishing a gun.
Bond was wary of her white neighbors — and for good reason. A month earlier, racial strife erupted about a mile north on Pine Street when white residents burned the furniture of a black family who had moved into the neighborhood. G. Grant Williams, editor of the black-owned Philadelphia Tribune, urged black residents to protect their homes against "the scum of Erin's sod."
"You are not down in Dixie now and you need not fear the ragged rum-razed hellion crew, prototypes of your old cracker enemies," Williams wrote in a defiant editorial. "They are enemies of all decent law-abiding citizens and the time has come to clean out this nest of dirty curs."
On, Friday, July 26 — the same day Woodrow Wilson released a statement condemning mob violence and lynchings — about 100 white residents gathered outside Bond's new house. When 23-year-old Joseph Kelly chucked a rock through Bond's window, she fired a warning shot to alert the police.
In the ensuing chaos, Kelly suffered a leg wound, though Bond claimed she fired into the air and it couldn't have been from her pistol.
Violence erupts
From there, the situation deteriorated into a cascade of street fights and police clashes.
At one point, the Philadelphia Inquirer blared, the South Philadelphia "race war" involved 5,000 combatants and had metastasized into "the most terrific and bitter race riot that has ever taken place in this city." The riot area covered 2 square miles of Grays Ferry and neighboring Point Breeze, according to the paper, and left scores of homes damaged.
Sunday and Monday would feature the heaviest and deadliest fighting, with mobs of white people ransacking the homes of black people and confronting black residents. Groups of black residents fought back, and at one point, the Inquirer wrote, "Federal street was a seething mass of black and white bodies, swinging from one side of the street to the other."
In the earning morning hours of Sunday, July 28, a white mob chased Jesse Butler, a black man, down 26th Street, even holding a gun to his side, according to a later account by civil rights activist Walter White. Butler fired back. When the clash ended, Butler lay wounded, and a white man, Hugh Lavery, lay dead.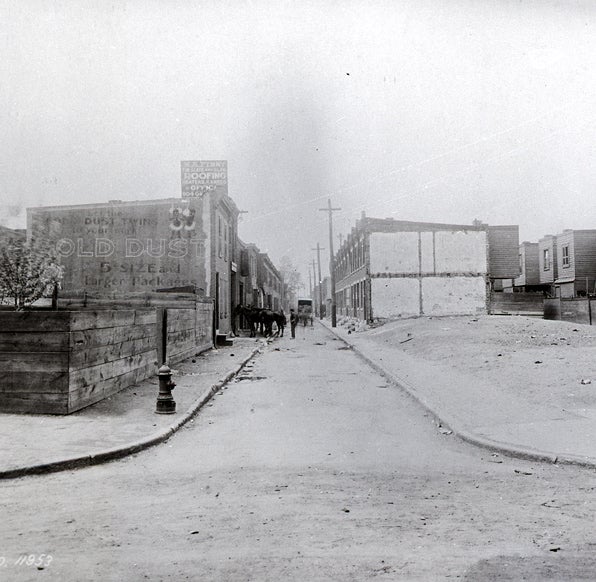 Later that Sunday, Henry Huff retreated to his home at 2743 Titan St. after clashing with a white mob. Policeman Thomas McVey* chased Huff, who then shot and killed the patrolman, according to contemporary accounts.
Aggrieved whites spent much of the next day terrorizing black residents on the 2700 block of Titan Street and elsewhere in the nearby area. On Monday, the day of McVey's funeral, two of the fallen officer's colleagues arrested and beat a black man, Preston Lewis, who was attempting to visit his brother at 2739 Titan St. One of the officers, John Schneider, attacked Lewis a second time while he sat wounded in his hospital bed.
A bullet through the back
Just hours after assaulting Lewis, Schneider and his partner, Robert Ramsey* marched back onto the streets and arrested a black man named Riley Bullock. After beating Bullock, Schneider and Ramsey dragged him to the local precinct where a lone bullet struck Bullock in the back, pierced his lungs, and left him dead.
After changing his story, Ramsey claimed his gun accidentally discharged. Both officers would eventually stand trial, but be found innocent.
To quell the violence, city officials closed saloons, flooded the area with 250 police officers, and called in 80 sailors and Marines, according to one historical account. They also used a police tactic that still prompts debate today.
"African-American men were being stopped [and] frisked," said Finkel. "If they had even a pen knife, they were arrested."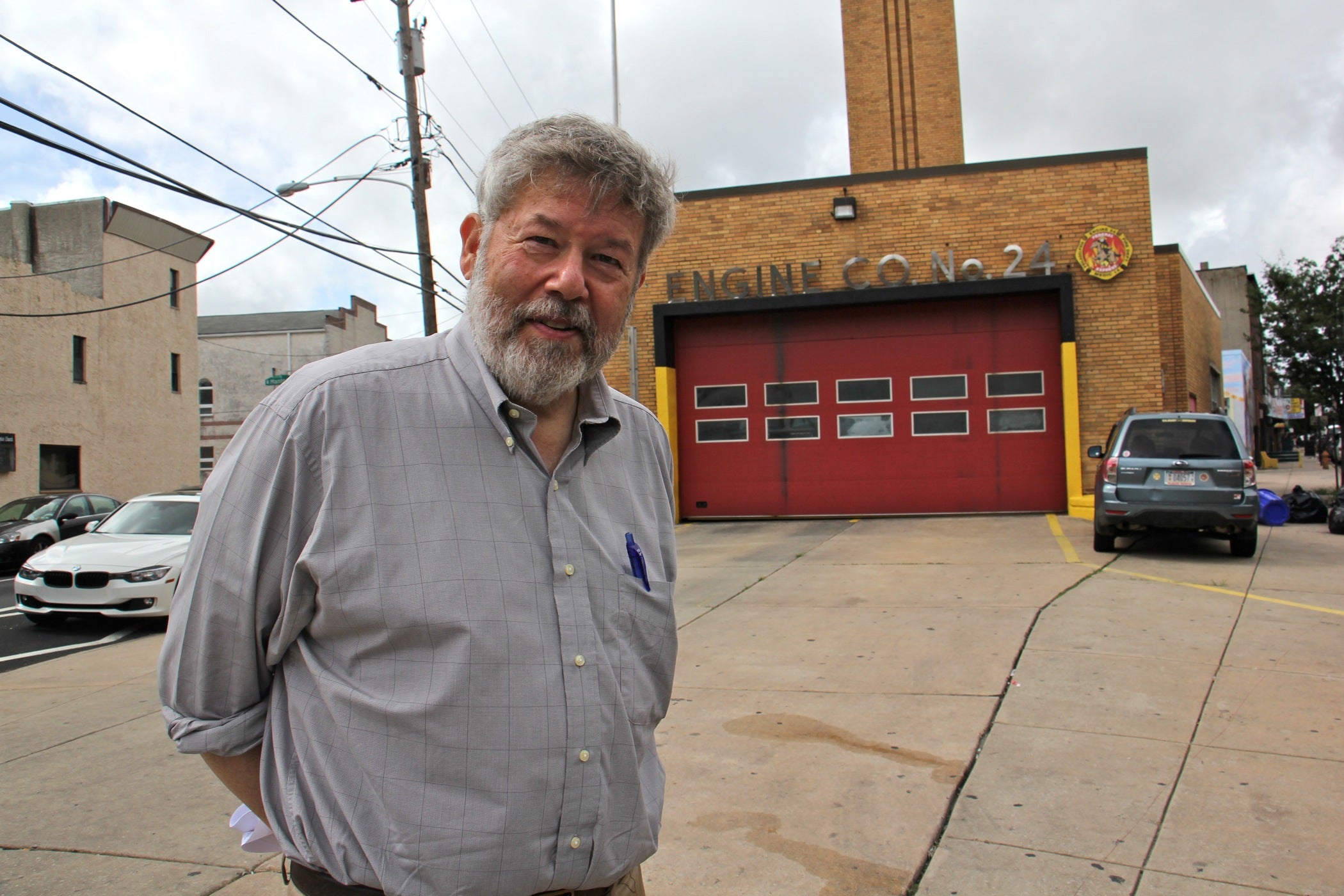 Though by most accounts, whites instigated much of the violence, by the end of the four-day inferno, roughly 60 African-Americans had been arrested against just three white men.
When the violence subsided on Tuesday, four men had died and hundreds had sustained injuries.
'Ups and downs'
Brutal as they were, the attacks by white residents did not stop African-Americans from moving into Grays Ferry.
Bufus Outlaw, a sharecropper's son, left his hometown of Wrightsville, Georgia, for the first time in 1939 when he was 14. When his Trailways bus passed Washington, D.C., Outlaw moved to a seat in the front and never looked back.
His brother rented a house near 26th and Latona streets for $15 a month, Outlaw recalls, and that's where his Philadelphia journey began. He washed dishes in Center City, unloaded cargo by the waterfront, and poured concrete. Each job paid a little more than the last, and Outlaw, 93, can still quote exactly how much.
In 1954, he opened his one-car garage on the 2600 block of Ellsworth Street where he fixed up old Mustangs and sold them to collectors. In 1965, he paired that business with a gas station up on Washington Avenue and stayed there for the next 32 years.
By the 1940s, Outlaw's part of Grays Ferry was racially mixed. As he recalls it, whites lived on the thoroughfares like Ellsworth and Federal. Blacks were kept to the side streets: Annin, Titan, Stillman, Latona.
"We had ups and downs," Outlaw says of race relations in the area. "Some guys get along with each other, and some of 'em didn't."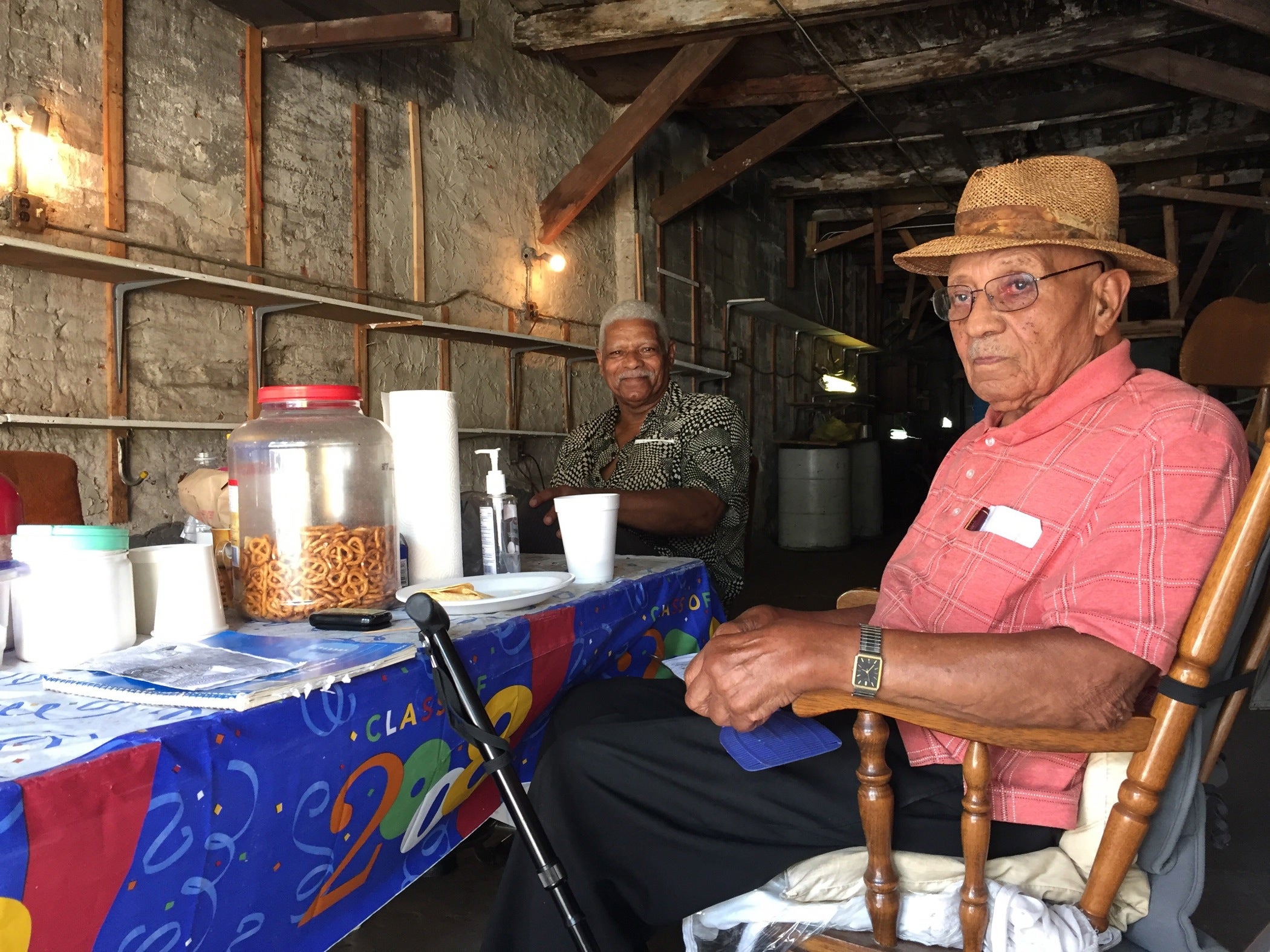 The percentage of black families grew steadily through the decades, but Grays Ferry retained pockets of white, mostly Irish, residents — as well as its reputation for racial strife. In the 1990s, a fight between white and black teenagers enflamed tensions and drew national attention.
'The G-word'
Today, Outlaw's garage is in a Census tract that's 68 percent African-American, but the demographics are yet again starting to shift. In 2000, just 22 white residents lived in the census tract. Today, there are 474.
"One of the fears in the neighborhood is obviously gentrification," says Kyle Shenandoah, a 30-year-old Grays Ferry native and community organizer with the Grays Ferry Civic Association. "The 'G-word' is one that's a scary word down here."
Though Shenandoah, who is black, favors development, he's sympathetic to the complaints he hears from neighbors. Fast-growing University of Pennsylvania lurks on the nearby skyline, and a new bus route will connect Grays Ferry and University City.
"It really is a fear that their neighborhood's going to lose [its] identity," Shenandoah said.
You can follow the trail of the 1918 riots and see physical reminders of the neighborhood that was — and the neighborhood to come.
The onetime home of slain police officer Thomas McVey has a crisp, new facade. A pair of mid-construction townhomes bracket the 2700 block of Titan Street, where McVey was shot and where his fellow officers pummeled Preston Lewis.
And the former residence of Riley Bullock, killed in the back doorway of the 17th District police station, sits one story lower than the rehabbed rowhomes on either side of it, looking like a chipped tooth with its torn screen window and dented purple door.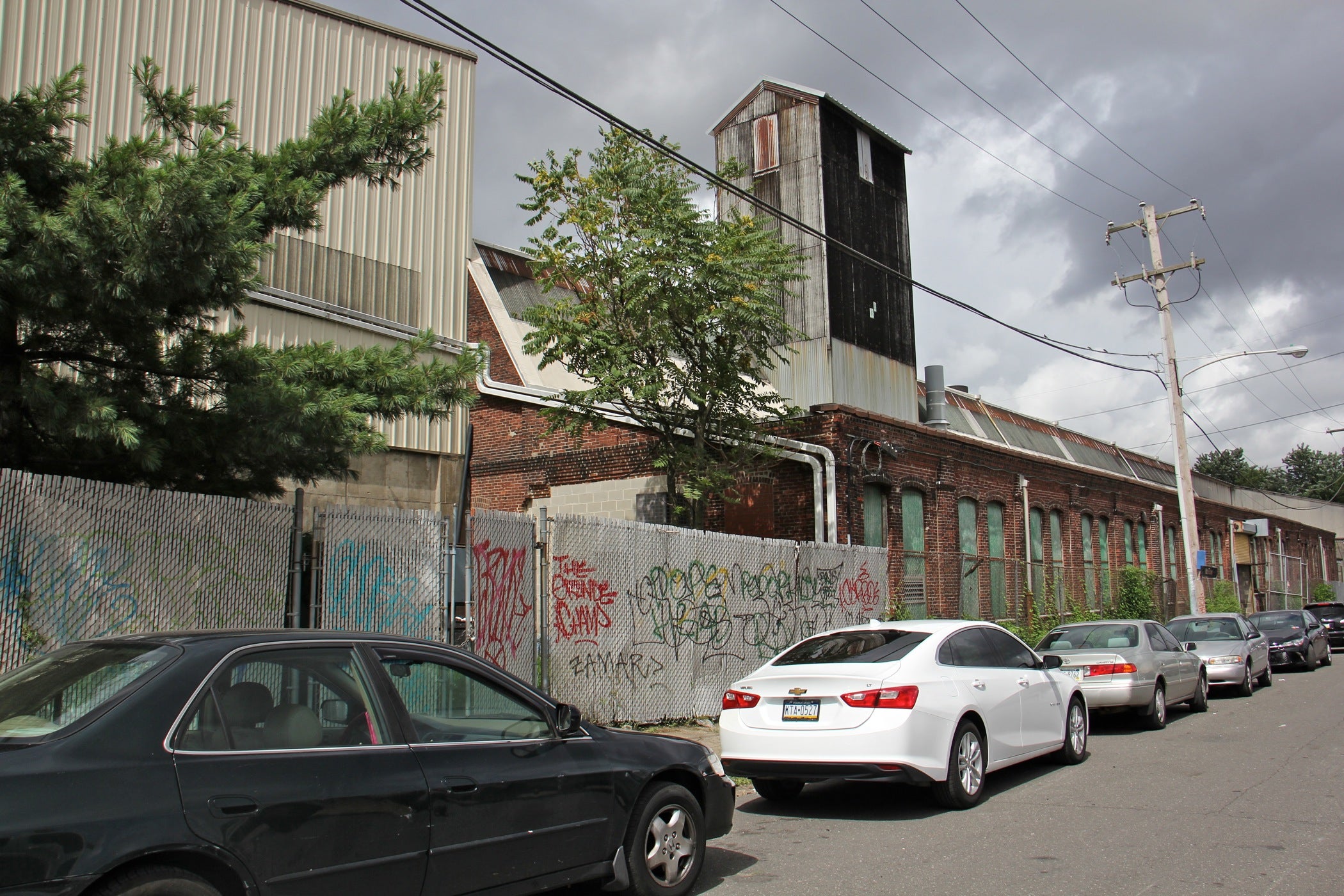 There is nothing left of Adella Bond's home — just a boarded-up industrial site where the neighborhood used to be.
"There's really not much memory living here anymore," said Finkel, the Temple historian, who notes there's no historical marker to acknowledge the racial violence.
"The question after all of this was said and done is how do we as a city want to remember it?" he said. "How do we, 100 years later, want to know it or think about it? Do we want to know about it?"
A couple blocks east, Bufus Outlaw's old one-car garage is right in the middle of the coming changes. A few weeks back, he said, he agreed to sell the place. He's still waiting for a final settlement, but soon he'll draw the garage door closed for the final time and move — perhaps down to Florida.
People keep asking Outlaw's friend, Theodore Jackson, what he'll do when the midday meetups dissipate.
He laughs.
"I'm a put a chair in front of the door here and just stay here and act like I'm still here."
—
*Some accounts spell Thomas McVey's name as "Thomas McVay" and Robert Ramsey as "Roy Ramsay."
The descriptions of the 1918 riots are taken primarily from two sources: Ken Finkel's new book, "Insight Philadelphia," and a 1975 account by scholar Vincent P. Franklin.
WHYY is your source for fact-based, in-depth journalism and information. As a nonprofit organization, we rely on financial support from readers like you. Please give today.