Monument Lab installation in Kensington is a meditation on time
Artist Tyree Guyton enlisted members of the community to work on his monumental evocation of time at the corner of A and Indiana in Philadelphia.
Listen
2:28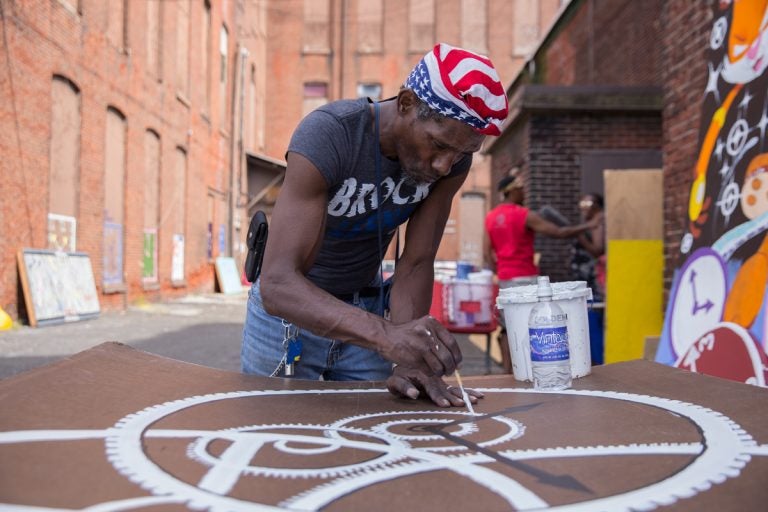 How do you value time?
At an abandoned warehouse on the corner of A and Indiana in Philadelphia's Kensington neighborhood, dozens of paintings of clocks are installed on all sides of the five-story building.
The clocks make you look up and ponder time: Time spent, time wasted, time left.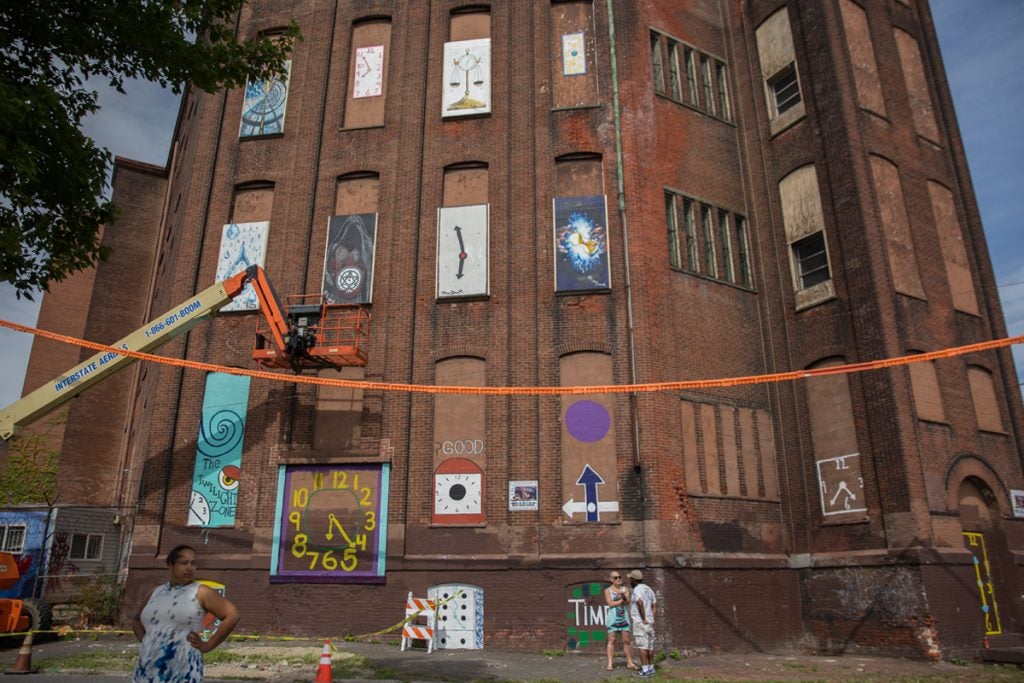 The installation is the brainchild of Detroit-based artist Tyree Guyton, one of the 20 artists participating in Monument Lab, a public art and history project produced with Philadelphia Mural Arts Program. The project, curated by Paul M. Farber and Ken Lum, is an effort to create a citywide conversation that poses the question: What is the appropriate monument for Philadelphia?
Guyton created "The Times" to raise questions about time and reality in a Philadelphia neighborhood that may be grappling for the answers.
"Plato said, 'Time is the moving image of reality.' What this means to me is that everything we do revolves around time and yet … the only time that we ever really have is the very moment we are in," Guyton told Mural Arts.  "A time to act, think, be and do, HERE and NOW … I believe that we must make the most of time, and the time to do that is NOW."
Mural Arts executive director Jane Golden said she knew Guyton would be perfect for Monument Lab because of his past work.
"He's one of the original social practice artists," Golden said. "It's in his DNA. It's who he is."
Guyton is famous for his creation of the Heidelberg Project, an evolving outdoor art installation of paintings and found objects that transformed Guyton's blighted Detroit neighborhood into a community that drew international attention. It also raised awareness about the lack of resources low-income communities face.
Guyton enlists members of the community to work on his art projects, a practice that appealed to Golden in Philadelphia.
"The notion that process is important as the final product, and that what happens afterwards has equal value, that is something he values," Golden said.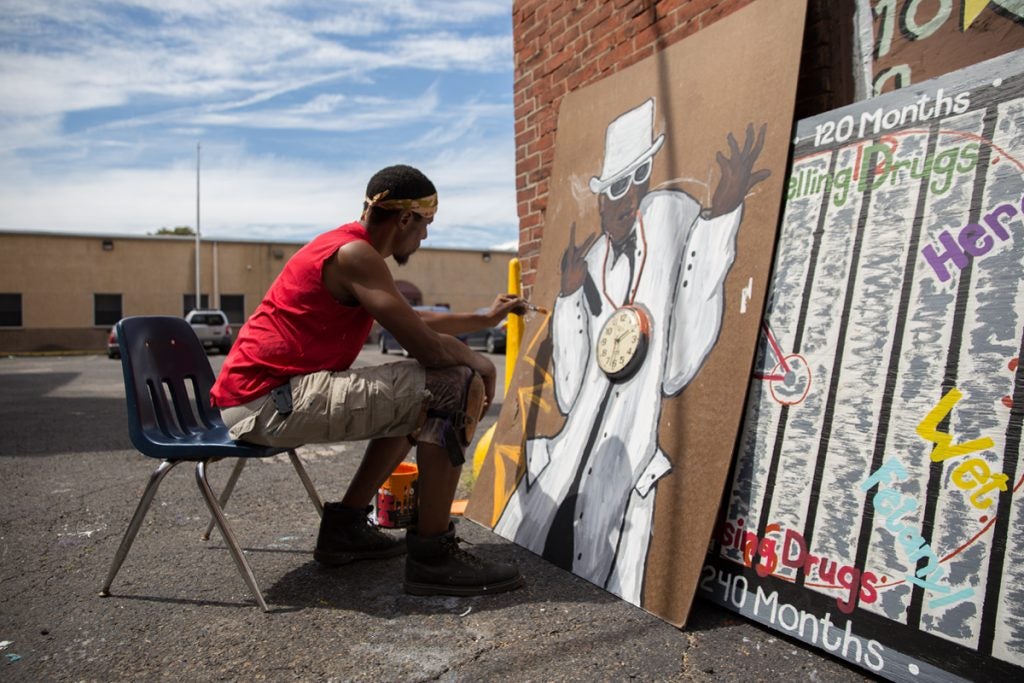 In Philadelphia, Guyton worked at the Kensington site with residents who lived next door at Impact Services, a nonprofit that provides housing and support services to veterans.
Mike Nelson was one of them. Though he was good with his hands, working as a mechanic after leaving the Air Force, Nelson never thought he could paint. Through painting the clocks with Guyton, Nelson unlocked an artistic talent he never knew he had.
"It was an experience. How can I put it? Different," Nelson said. "It was freeing."
Something else happened. Neighbors started to take a stake in the project and, by extension, their community.
"When I say I've seen a culture change, I've really seen it shift," Mural Arts project manager Gaby Raczka said.
Raczka said since work began on the installation, drug activity on the block has lessened. The dealers moved their operations to a nearby park, and residents asked if they can help paint.
"We said, of course," Raczka said. "We want everybody to be involved."
WHYY is your source for fact-based, in-depth journalism and information. As a nonprofit organization, we rely on financial support from readers like you. Please give today.