Moms have trouble finding help for postpartum depression, so it's finding them
Money, transportation and stigma make getting treatment hard — but what if help came to women who need it?
Listen
6:19
This story is a collaboration between WHYY Health + Science and The Philadelphia Inquirer.
Stephanie Lee spent most of her 20s and 30s raising her first son. When he moved out of her house, she had her independence again.
"I was like poppin'.  … I felt like Stella got her groove back — I  got my groove back, like I'm free in a sense!"
Even when she got pregnant at 37, Lee thought she could keep that momentum going.
"I thought I was going to be able to work out until my ninth month, and work up until my ninth month — I was like, 'I'm gonna be in labor at work!'"
But about five months into the pregnancy, Lee had a procedure to prevent her from going into an unsafe, early labor. It forced her to stay on bed rest. She had to stop working her job as a bus driver. She was worried about money. And she was lonely.
Even after Santeno, her baby boy, was born healthy, Lee felt anxious and depressed. Nursing was hard, and her hormones were all over the place. She felt unsupported — her  family was spread out, and she and Santeno's dad didn't live together. Most of her close friends had children five or 10 years ago — they were pretty far removed from what she was experiencing.
"It was so rough, like I was a mess, I was crying," Lee said, emotional just thinking about that time. "I don't know, I just felt like nobody understood me."
Nationally, postpartum depression affects one in seven mothers, and it can be hard to diagnose. Women of color are even less likely to be diagnosed, some research indicates, often out of fear they'll be judged as unfit mothers by child-welfare workers.
Even among women who recognize they have depression, getting help is rare. Treatment is expensive, wait times are long, and coordinating things like transportation and child care can be difficult, especially for someone struggling with depression.
Meanwhile, the consequences of untreated postpartum depression are serious — for both mothers and their babies. So a consortium of health groups is working to bring mental-health treatment to moms who need it, instead of expecting them to seek it on their own.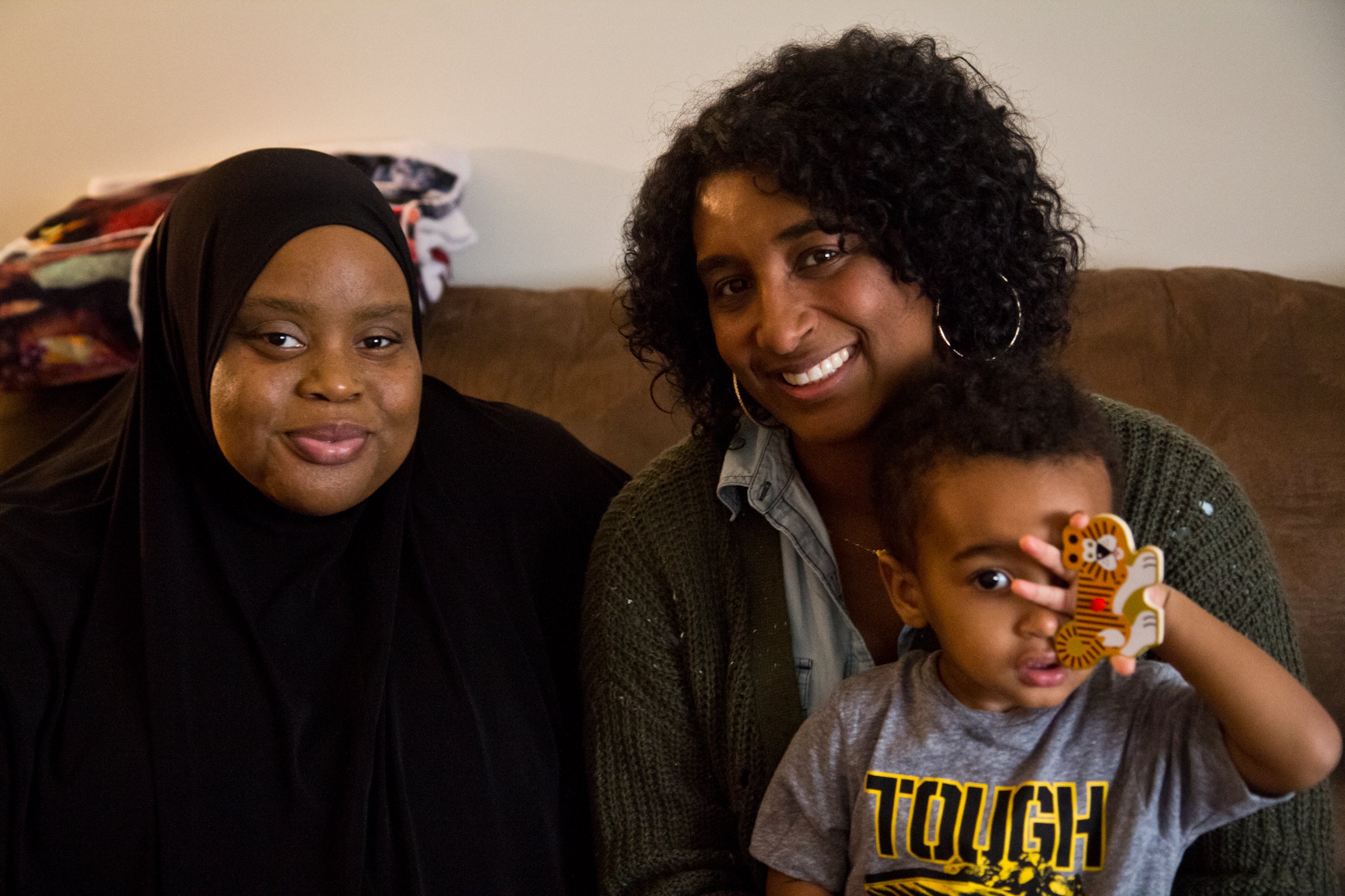 A home remedy
While she was on bed rest, Lee asked her insurance company for any extra help it could offer. The insurer connected her to the Maternity Care Coalition, which sent a community health worker, April McNeal, to her house in Lansdale once a week — someone to talk to, and connect Lee with financial help.
When Lee's anxiety and depression continued for months after Santeno was born, McNeal tested Lee for postpartum depression using the 10-question Edinburgh Postnatal Depression Scale.
And then she recommended Lee for a new program: free, in-home therapy.
The Maternity Care Coalition integrated screenings for postpartum depression into its home-visit program over a decade ago. But its community health workers found, anecdotally, that even if they referred moms to mental-health services after screening, the women wouldn't necessarily go.
A recent study by researchers at Policy Lab of Children's Hospital of Philadelphia looked at Medicaid claims for all mothers who screened positive for postpartum depression at CHOP's urban practices. In the six months after screening, researchers found, only one in 10 women sought any kind of treatment.
In the Policy Lab study, the single reliable predictor of whether a mother would seek help was if she had a history of depression. But the research on this is mixed. A 2013 study of New Jersey Medicaid claims, for instance, found white women to be nearly twice as likely to receive treatment than women of color.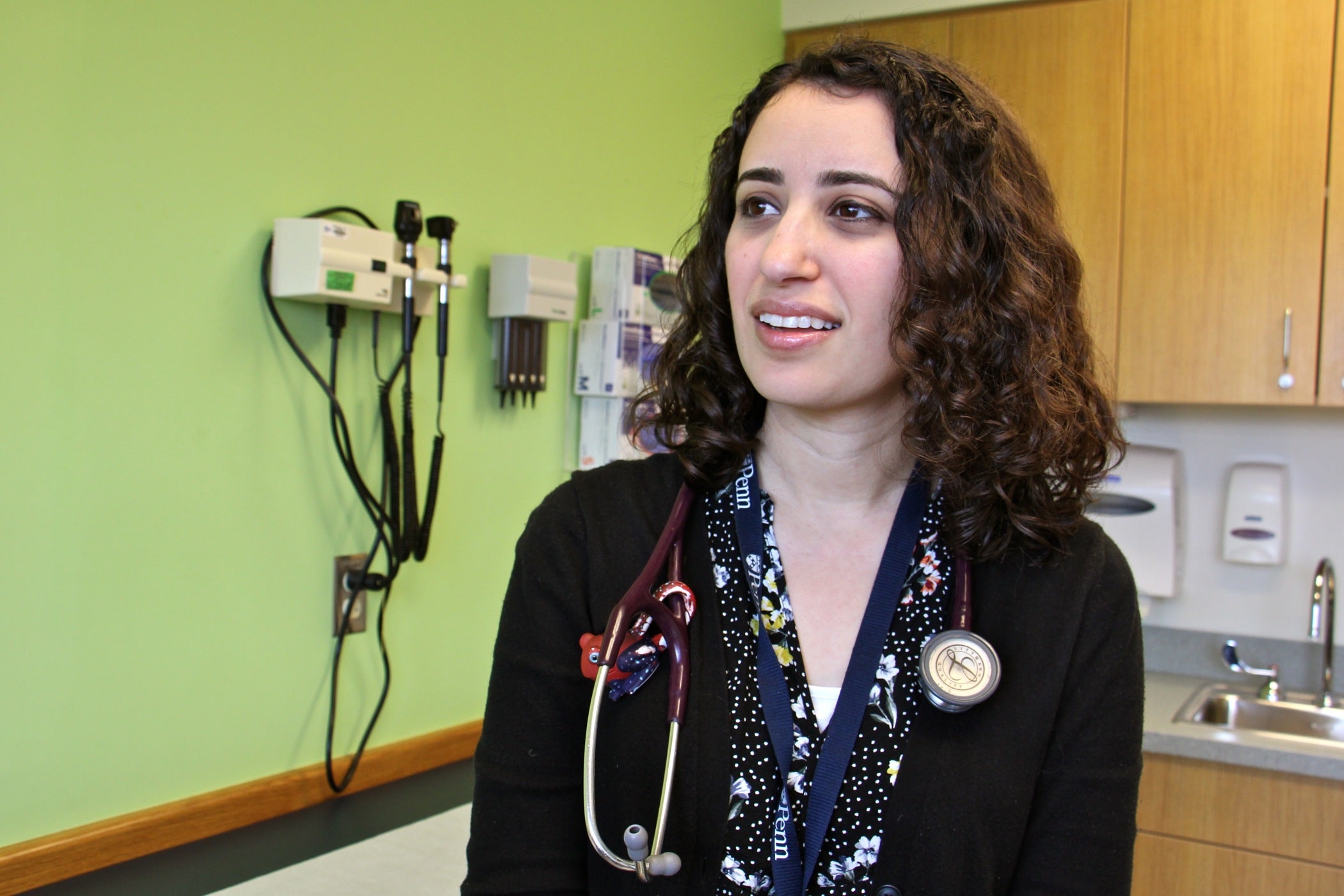 Stacey Kallem, the lead researcher of the Policy Lab study and a pediatrician at CHOP, is a new mother herself. She gets why it's hard for women to seek treatment. The system is not set up to make finding care easy, she said.
"Literally just bundling up your child and leaving the house is an accomplishment in that immediate postpartum phase. And then on top of all that, you might have depression, which makes your activation energy to do any of those things, it's just so much harder."
Lee didn't have to do any bundling to get her treatment. The Maternity Care Coalition program pairs mothers with Drexel University graduate students training to be marriage and family counselors. The student counselors visit the women an hour a week, for as long as the women need the services. Still in a pilot phase, the program is currently serving 12 clients. Through 2018, it served 30.
"It kind of eliminates, 'Oh, I don't have a ride to go to the doctor's,' " McNeal said, adding that most of the women she works with don't have cars.
Because the in-home program is free, it sidesteps copays for therapists covered under insurance, as well as the long wait times typical of free therapy.
Plus, it's discreet at a time when a depressed new mother might fear being viewed as unfit, or losing face with her relatives.
"You don't have to tell anybody," said McNeal. "They're not coming here with their therapist super hat -— it just looks like, oh my girlfriend is coming over, and lo and behold, they're giving you therapy."
That was a plus for Lee. Though it was hard to raise Santeno on her own, she wanted to prove she could do it independently this time. She felt shame asking for help, especially when her mother had helped care for her older son when she was a teenage mom, and many members of her family had raised multiple kids close in age.
"The black community don't know postpartum," Lee said. "There's this expectation on us as women of color that we have to be … superhero strong, that we're not allowed to be vulnerable. I'm not allowed to have postpartum because I'm black?"
Therapy, and more
In-home therapy is just one new tactic being explored by a consortium of Philadelphia providers to increase women's access to care for postpartum depression. The working group, called the Community Action Network, is led by the city Department of Public Health, the Maternity Care Coalition, and Einstein Health. It emerged from an effort to lower infant-mortality rates across Philadelphia.
The network receives no outside funding, but pools member resources. To date, it has made an informational video that is screened in waiting rooms and online to debunk myths about postpartum depression, and has petitioned Philadelphia officials to include maternal mental health in its citywide mental-health first-aid training, which is available to any interested resident. The network also is exploring a specialized peer counselor certification for maternal mental health.
Treatment for postpartum depression — cognitive behavioral therapy and antidepressants — is reliable if it is used. A national maternal-mortality review committee lists mental-health issues as one of the leading causes of maternal deaths nationwide, though such deaths are relatively rare.
In addition to their personal misery, women suffering from postpartum depression are less likely to be engaged and attuned to the needs of their babies, said CHOP's Kallem. That can harm children's cognitive and behavioral development.
Research shows mothers with postpartum depression are less likely to breastfeed, which has a host of benefits for babies. They are less likely to follow safety practices like using carseats and placing babies to sleep on their backs, increasing the risk for sudden infant death syndrome.
Stephanie Lee doubts she would have gotten help at all if she hadn't been set up with therapy at home.
It helped her get back to work and learn how to take some time for herself — even if it's just a few minutes in the morning.
"I was like, OK, say a prayer, do some positive affirmations right now," Lee said. "If this is the only time I have — from the time I get the shower, the time to do my hair, quiet time to myself — use it. Just use it."
—
This story has been updated to clarify how long student counselors work with postpartum mothers in the Maternity Care Coalition's in-home therapy program. 
---
Finding Help for Postpartum Mental Health
Philadelphia/Southeastern Pennsylvania
Maternity Care Coalition
Perinatal Therapeutic Services
267-514-6679
https://maternitycarecoalition.org
Philadelphia Health Department Community Action Network
Support groups, home visits, online resources and more
https://ppdphilly.com/
Einstein Pregnancy and Postpartum Support Group:
Einstein Behavioral Health Office
Wednesdays at 10 a.m.
1200 W. Tabor Rd., Philadelphia
215-456-9431
Drop-ins welcome
Foundation for Delaware County
in-home treatment for clients with Major Depressive Disorder
(610) 497-7344
https://delcofoundation.org/moving-beyond-depression/
Delaware
Delaware State Perinatal Mental Health Support Coordinator
Julie O'Neil
302-584-8249
https://psichapters.com/de
South Jersey
Southern New Jersey Perinatal Cooperative
Postpartum Wellness Initiative for South Jersey
Warm Line: 856-675-5295
https://www.snjpc.org_+
WHYY is your source for fact-based, in-depth journalism and information. As a nonprofit organization, we rely on financial support from readers like you. Please give today.