A march to end murder: Victim's kin works to reduce deadly violence in Philadelphia
Davida Garner, the college student from Olney, has created a grass-roots group called Erase the Rate to support the families of homicide victims — and prevent more murders.
Listen
3:34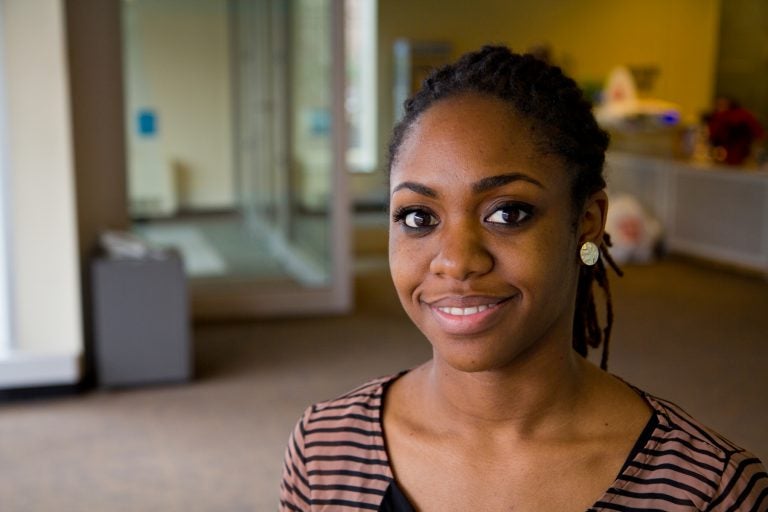 The killer crashed into Daymond Garner's living room after midnight, blasting at least 14 shots at him as he lounged on the couch watching TV, in what police later called an "execution-style" ambush.
Murder was such an unexpected fate for Garner, 29, that his grandmother, upstairs, thought the gunfire was firecrackers. When she ventured downstairs and saw him collapsed on the floor, she thought he'd fallen ill from his sickle cell anemia.
The June 5 crime in West Oak Lane was unimaginable, but it wasn't unprecedented: Garner's uncle Derek Garner was gunned down by a carjacker in 1993.
Investigators failed to solve either case, a lapse Garner's cousin, Davida, blames on institutional numbness and racism.
"It's just another black boy killed. In all honesty, I think that's really what it is. They see it every day," she said. "When someone kills a cop or a white guy, they know who did it by the end of the week. The same effort should be put into these young black boys that are dying, because there's going to be retaliation, and your homicide rate is going to go up."
But instead of just complaining, Davida Garner turned her torment into activism.
Taking steps to make a difference
The 25-year-old college student from the Olney neighborhood has created a grass-roots group called Erase the Rate to support the families of homicide victims — and prevent more murders.
Already, Erase the Rate held a holiday campaign in December, in which organizers raised $1,700 in three days to buy gifts and food for families of murder victims.
On Feb. 10, Davida Garner will lead victims' friends and relatives in a 9-mile march to the morgue in a "Walk to End Homicide."
She also hopes to persuade clergy and celebrities to join her cause, figuring the louder and more influential the voices preaching against violence, the more successful they'll be in reducing it.
And she wants to create a resource for murder victims' families, with practical advice on how to talk with police, plan a funeral, and get life insurance.
Another goal is bringing police and families whose loved ones' murders remain unsolved together for regular dinners, where they can share information or otherwise try to jump-start stalled investigations.
Such an effort already exists, although it happens just twice a year, according to Philadelphia Police Capt. Jack Ryan, commander of the homicide unit. In "next-of-kin meetings," detectives update families on cold cases and connect them with support services, he said.
Still, Davida Garner said, police often fall short in communicating with victims' families, so she hopes her crusade convinces them they need to do better.
Her effort is timely, if statistics are any indication.
Philadelphia's murder rate is up, while the clearance rate — how many homicides detectives solve — has fallen so low that most murders go unsolved:
Last year, 317 people were murdered in Philly, up 14 percent from the year before, and the highest since 2012, when 331 were slain.
The murder clearance rate last year was just 42.5 percent, down from about 70 percent just five years ago. Still, that's better than it was just six months ago, when it dipped to 35 percent, the lowest in 15 years. Ryan said his unit got an 11 additional detectives last March, which has slowly helped boost the clearance rate.
Taken collectively, untold thousands of murders have gone unsolved in Philadelphia in recent decades.
Ryan attributed both the spike in homicides and detectives' difficulties in solving them, in part, to the drug trade. "Easily more than half" of the city's murders are drug-related, Ryan said. The opioid epidemic has helped fuel drug trade-related violence in Philly, and those involved don't typically talk to police, he said.
"There aren't witnesses, or not witnesses who will cooperate," he said.
Davida Garner also blamed community silence on police brutality and criminal justice policies that disproportionately punish people of color.
"If you know that the only police officer you ever met was someone that was locking your family member up or someone that killed your family member, you're not going to talk to them and say listen, 'I know who did this,' " she said.
Number of kids killed on the rise
Homicide investigators also saw some changing trends in 2017, Ryan said. While most murder victims typically are 18 to 35 years old, the age groups bookending that high-risk demographic — juveniles and those over 35 — grew last year, he noted.
He ascribed the uptick in younger victims — 27 juveniles were murdered last year, nearly twice as many as in 2016 — to easy access to guns, combined with a youthful lack of impulse control.
"There's too many guns out there with the kids, and the kids are getting hold of the guns, and they're not making good decisions with it. It's having tragic consequences," Ryan said. "You saw the one murder in South Philly, where the kids are just beefing and fighting, and the one kid pulls a gun, accidentally shoots and kills his friend and then kills another kid. Right there in an instant, you have essentially three families destroyed."
As for the older victims, Ryan speculated that some were convicts, newly freed from jail, returning to the potentially deadly life of crime.
Ryan acknowledged the frustration that can mount for families who never see justice for their loved ones' slayings. Still, he said, just because it seems like a case isn't progressing doesn't mean it's not.
"Homicide investigators here are highly experienced, highly trained," Ryan said. "There's not investigative steps being undone. Sometimes the family's not happy with the direction we take, and we can't disclose everything we're doing to the family members. We'll update them on the progress, but sometimes in only very general terms."
As for Garner, Ryan acknowledged that the investigation has stalled, and detectives essentially are awaiting a break in the case, as they do in most cold cases.
"Several years down the road when somebody with knowledge of that murder gets themselves in trouble … (they'll) tell us what they know about these cold cases, and that breathes new life into them and gives us direction that we didn't previously have," Ryan said. "Like this young man here, that's probably what it'll take to get some inroads into it."
'Our common place, the morgue'
Davida Garner and her family can't imagine why anyone would want to gun down her cousin, whose nickname was "Cash," short for his middle name Cashif.
He was on disability because of his sickle cell anemia and lived in enough pain daily that he didn't go out much or maintain a wide circle of friends, Davida Garner said. He had no criminal record, aside from 2012 harassment case that resulted from a soured relationship with an ex-girlfriend.
Yet his killer seemed intentional in his lethal mission, shooting Garner in his head, neck and arms at close range after bursting in through the back door. Nothing was taken during the ambush, so investigators don't believe robbery was the motive.
"The way he was shot, you would assume he was into something," his cousin said. "But he only spoke to a handful of people. He was quiet by nature."
Garner died in his living room, and first-responders took him directly to the morgue.
And that's the route Davida Garner will take on Feb. 10, when she leads the Walk to End Homicide. It'll be a long walk, but she wants to honor her cousin, who would have turned 30 on Feb. 9, by retracing his last journey from his home on 66th Avenue near Broad Street to the morgue in University City.
She's inviting other murder victims' loved ones to join her at any point along the way. At the morgue, they'll release balloons and observe a moment of silence. She intends the march to be a sign of resilience and unity for mourning families and friends.
"A lot of families go through this, and we aren't in touch with each other," she said. "That's our common place, the morgue."
Finding community with each other — and fighting for change — are two ways Davida Garner aims to ensure that fewer families suffer the heartbreak hers has.
"We can stand together as families to figure out what has to be done on our part to stop this from happening," Davida Garner said. "There is a quote from Albert Einstein that says: 'The world is a dangerous place to live, not because of the people who are evil, but because of the people who don't do anything about it.' That's my favorite quote, because that shows it's time to change. You have to love your community. I feel like if we put more into our community, there would be more output. We have to do better."
WHYY is your source for fact-based, in-depth journalism and information. As a nonprofit organization, we rely on financial support from readers like you. Please give today.