Lansdale high school musical breaks up the boys club
North Penn's production of "1776" is revolutionary in that young women take on many of the starring roles of Founding Fathers.
Listen
4:53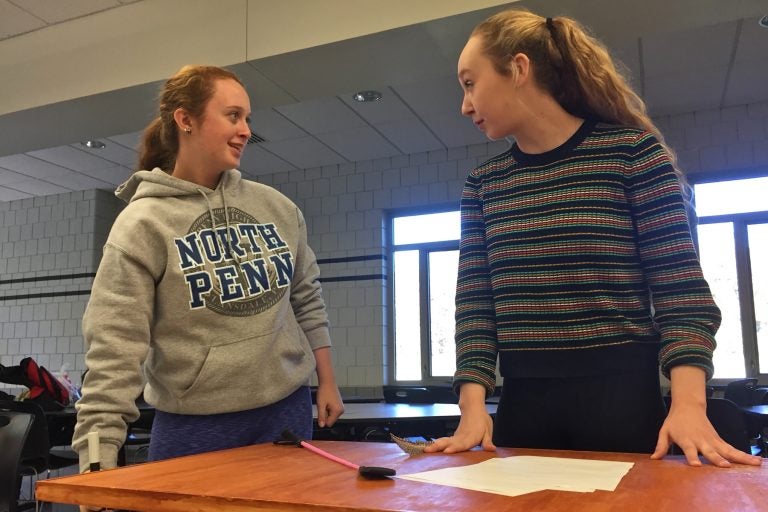 As musicals go, "1776″  is about as testosterone-driven as they get.
The Tony award-winning play depicts that long-ago Philadelphia summer when America's founding fathers gathered in Independence Hall to map out their eventual break from Britain.
There's a lot of chest thumping and verbal harrumphing and peacock strutting. At times, it feels as though the United States emerged from the Colonial version of a cigar lounge.
Andrea Roney, the theater director at North Penn High School in Lansdale, Montgomery County, has loved the production ever since she first saw it at 13.
"But [I] never thought, as a high school director, I would ever get to do it because of the fact that there's 25 men and two women," she said.
That kind of ratio won't work when you've got a school full of talented female players. At least, it won't work if you only cast male actors in those 25 male roles.
But Roney decided to take a different tack.
" 'The best actor for the role' is the way I said it," said Roney. "And that's what we did."
She looked for actors who could capture the essence of a character, not necessarily their physical traits.
That how North Penn's production wound up with Quira Crosby, an African-American woman, as the witty and passionate John Dickinson. Maura Slater presides over the proceedings as John Hancock, president of the Continental Congress.  Madeline Burk captures the genteel villainy of South Carolina's Edward Rutledge. And Grace Lewis plays up the humorous bumblings of Stephen Hopkins, a curmudgeonly drunk from Rhode Island.
"He's an old alcoholic who just says a bunch of inappropriate things," Lewis explained. "I'm kind of like that in real life, minus the alcoholic. I'm only 17."
As a result, North Penn's cast looks a lot more like today's Congress than America's founding one.
Building on 'Hamilton' foundation

Non-traditional casting is nothing new in the theater world. Men have long played female roles, dating all the way back to ancient Greece. More recently — read: the last few decades — there's been a push to cast actors of color in traditionally white roles and females actors in male roles.
Those ideas are now trickling down into high school theater, said James Palmarini, director of educational policy for the Educational Theater Association.
"It's only been in the last few years that there has been a move to take a look at plays that have been traditionally cast with males and to reconsider what that might look like," said Palmarini.
When she decided to tackle "1776," Roney drew inspiration from a couple of sources.
The first was a production of the play performed by students in Kenosha, Wisconsin, earlier this year. That version made headlines because it was the first to feature a woman of color playing a Founding Father. Roney and some of her North Penn students saw the production at a theater festival this summer in Nebraska, and they left inspired.
Roney also felt emboldened by another Colonial-era musical that used nontraditional casting to great acclaim.
Yep. You guessed it — the smash hit, "Hamilton."
When "Hamilton" creator Lin-Manuel Miranda cast people of color as the Founding Fathers, Roney said, it reinforced the idea that white men don't always have to be played by white men.
"Because of how people have embraced it, it's allowed other people to say, 'Oh well, maybe I can do that, and my audiences aren't going to shut it down,' " Roney said.
With that door now open to them, North Penn's female actors have relished the opportunity to play male roles.
"I feel empowered, because we can do it as well as any guy can" said Slater, who plays John Hancock in "1776."
Too often, Slater said, young female actors run into a familiar problem. High school theater tends to attract more females than males. But a lot of the roles — especially the meaty, headline roles — traditionally call for men.
As a result, talented female actors are pushed aside for so-so male actors.
"We still see all over, all over the place, in all high schools, shows are geared toward guys a lot of the time," Slater said.
Burk, who plays Edward Rutledge, nodded in agreement.
"Guys who might not be as good necessarily get roles, while the girls are pushed to the ensemble," she said.
Opening the stage door of opportunity

The men of "1776″ represent an archetype young female actors rarely get to try out, said Palmarini with the Educational Theater Association. They are distinguished men. They are prideful men. They are strong men. Too often, females actors can't try to capture those traits because their characters simply aren't written that way.
"It's not just, 'Let's put females in the roles because it's a novelty act.' It gives opportunities to women to tackle some really meaningful roles," said Palmarini. "Think about it: Macbeth, Julius Caesar, Richard III, we're talking about power."
Channeling that air of authority hasn't been easy for Crosby, who plays Pennsylvanian John Dickinson. But she's enjoyed the challenge.
"I know I just tried to wing it the first week, and, I was like, I got this, I can play a dude," she said. "But it's not a dude. It's a man! You have to have your shoulders back and walk straight … it's a lot of work."
Crosby said playing Dickinson gave her hope that her future in theater won't be confined to black, female characters. Slater, too, believes the North Penn players can carry the spirit of "1776″ up through the ranks with them as they try out for roles in college and beyond.
If the trickle-down effect of "Hamilton" helped make North Penn's version of "1776″ possible, perhaps North Penn's version of "1776″ can seed the next wave of casting experimentation.
"We can bring that with us as we go up to the professional world," she said.
Lin-Manuel Miranda, for one, seems open to the idea. Asked two years ago whether he could see women headlining his smash hit production, Miranda said the differences in female and male vocals might make it challenging. But, he added, he'd love to see someone try.
"So I'm totally open to women playing Founding Fathers once this goes into the world," he said, according to USA Today. "I can't wait to see kick-ass women Jeffersons and kick-ass women Hamiltons once this gets to schools."
WHYY is your source for fact-based, in-depth journalism and information. As a nonprofit organization, we rely on financial support from readers like you. Please give today.