An amusement park that's ready for anything
At the Tokyo Public Bayshore Disaster Prevention Park, learn how to survive without electricity, running water, heat, or air conditioning for 72 hours.
Listen
07:54
Walking down the street in Tokyo, it's not uncommon to see a kindergartener at a crosswalk alone, going to school. Children are taught to put their hands up in the air while crossing the street, so the cars can see them.
Train platforms have metal barriers that prevent falls onto the tracks. On busy sidewalks, workers with yellow vests, helmets, and white gloves direct traffic in and out of parking garages. Everyone obeys traffic signals, including pedestrians.
The Japanese seem prepared for everything.
"You can see it in many details," said Patricio Winckler, a civil engineer visiting Tokyo from Chile. "Details in the subway for example, there's always some kind of safety box."
I met Winckler at the Tokyo Public Bayshore Disaster Prevention Park, where we took a tour to learn how to survive in a world without electricity, running water, heat, or air conditioning for 72 hours.
Winckler is a professor at the University of Valparaiso who specializes in earthquakes and tsunamis, and he studied in the United States. Unlike Chile, he said, disaster preparedness is part of Japanese culture.
"It's embedded in everyday life," he said. "It's something that we don't have, at least. And I know in the U.S. it's not like that [either]."
It makes sense when you consider the variety of potential natural disasters — earthquakes, tsunamis, typhoons and volcanos. More importantly, perhaps, is the most recent man-made disaster at the Fukushima Daiichi nuclear power plant. On March 11, 2011, an earthquake and subsequent tsunami caused a meltdown at the plant.
Everyone in Japan knows where he or she was on March 11, 2011 — the earthquake and tsunami killed close to 16,000 people and devastated the country's northeastern region. Hundreds of thousands of residents had to flee radioactive fallout, and many have not returned to their former homes.
The disaster park is built on reclaimed land. In a true emergency, the earthquake-proof building would serve as the emergency-management headquarters. In non-emergency times, residents can enjoy ballparks and picnic grounds, or shop in the disaster-supply store.
There, you can find Hello Kitty solar-powered lanterns, freeze-dried food, water that can be stored for five years, even safety-themed rice crackers in the shape of a man with a helmet. Kits include crash helmets you can assemble from cardboard, plastic temporary toilet kits equipped with charcoal and plastic bags, and hand-held bidets in case you can't find toilet paper.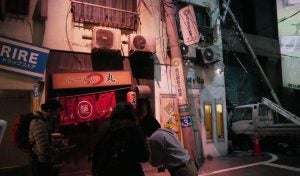 Children also take the tour — which includes a frightening elevator ride, a blackout, and instructions on what to do if you see a fire. Answer? Shout, "Fire!" and move to safety.
Being super-prepared doesn't seem strange to my translator, Hiroo Saso, and his wife, Mary. They know the long history of disasters that have struck Japan.
"The Japanese are aware that worse than an earthquake would be a breakdown of civilization," Mary Saso said. "And so what's important is to hold up civilized values."
The Sasos know Tokyo is overdue for a large earthquake. Some of their European friends are urging them to leave Tokyo, or Japan altogether.
"But we have been here many years, so we don't worry about it too much," said Hiroo Saso. "We'll deal with it."
—
This story was reported with the support of the International Center for Journalists.
WHYY is your source for fact-based, in-depth journalism and information. As a nonprofit organization, we rely on financial support from readers like you. Please give today.