In the Poconos, a fight simmers over 'exceptional' streams
Listen
4:51
A battle is brewing over how to protect streams in the Poconos.
After local environmental groups got the Pennsylvania Department of Environmental Protection to boost conservation of about a half dozen waterways in Monroe County, a coalition of businesses and landowners filed a lawsuit challenging the new stream classifications. The streams carry some of the cleanest water in the state, attracting tourists and providing drinking water to cities downstream.
Tank Creek is home to native plants and attracts bears, deer and birds. The surrounding forest keeps the water cool, which makes sure the stream is loaded with wild trout.
From its banks, no houses or people are in sight. Fisherman Rob Shane wants to keep it that way.
"I find solitude here in the stream, in the forest, in the wildlife, in the fish," said Shane, a Mid-Atlantic organizer with the conservation group Trout Unlimited. "You spend too much time around people, you need places like this close by to kind of keep your sanity."
Along with other local environmental groups —  the Brodhead Watershed Association, Tobyhanna Creek/Tunkhannock Creek Watershed Association, Swiftwater Preserve, Buck Hill Conservancy, and Tunkanna Fishing Association — Shane and Brodhead Trout Unlimited volunteers have pushed state regulators to designate Tank Creek, and others like it in Monroe County, as "exceptional value" streams.
Last October, the DEP updated its existing use classification list, declaring that Cranberry, Paradise, Devil's Hole, Tank, Swiftwater and Tunkhannock creeks have attained exceptional value, the highest water quality designation in the state. It grants the streams special protections.
"It's so important to protect these headwater streams, you know, the Poconos relies so heavily on tourism to drive it economically, having places like this for people to come and see — [if] we lose this, we lose pretty much everything," Shane said. "Nobody is gonna want to come here."
But a group of local businessmen and landowners, who call themselves the Monroe County Clean Streams Coalition, disagree with the DEP's classification of those streams. They appealed the decision to the Environmental Hearing Board, calling the DEP's classification "erroneous and unsubstantiated" based on their own assessment of the stream's water quality. The group hired an environmental consultant, which concluded the streams are not clean enough to meet the criteria for exceptional value.
Nick Igdalsky, who is part of the coalition, runs Pocono Raceway. It has operated in the Poconos since 1969 and hosts two NASCAR races every summer, attracting about 75,000 visitors each weekend.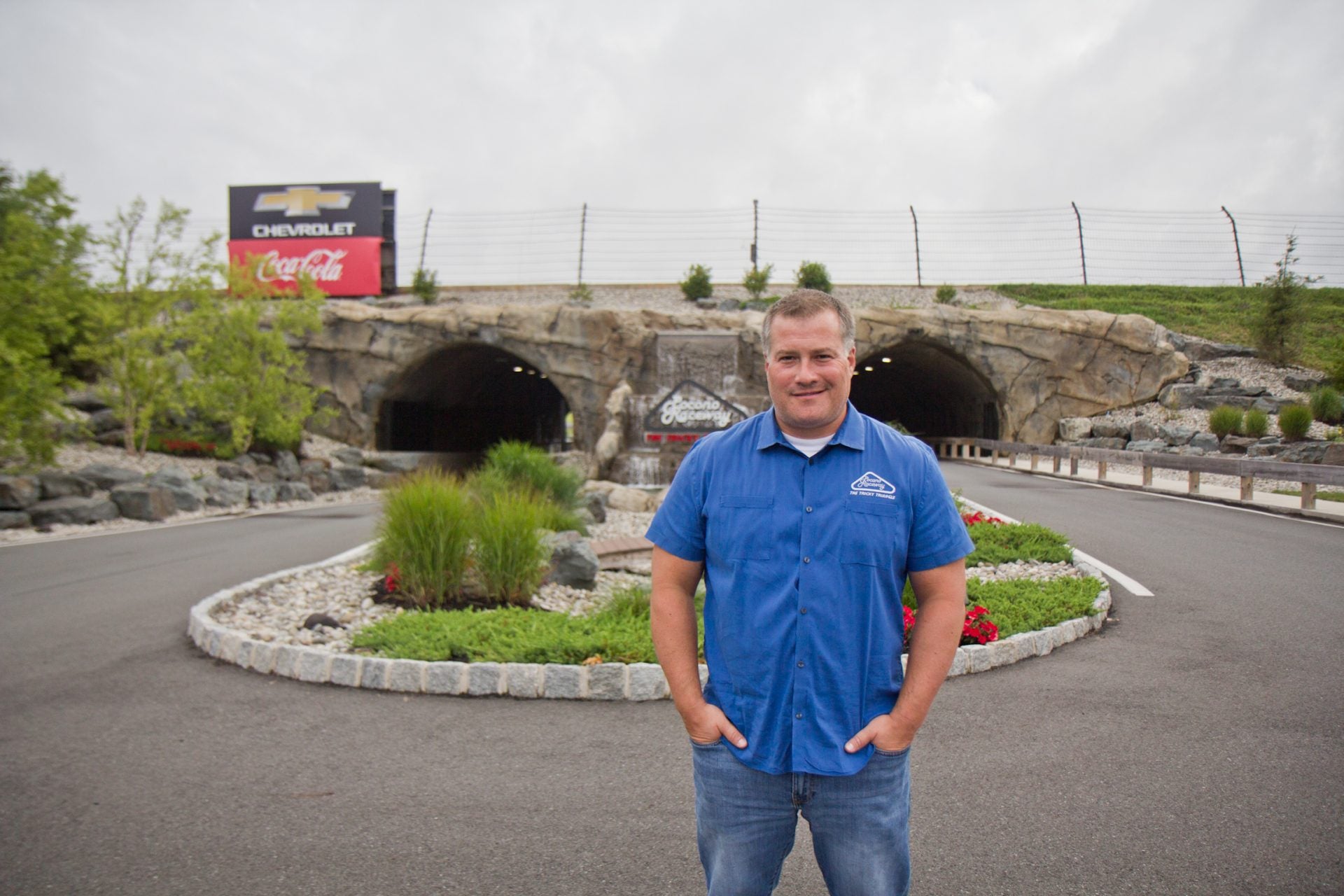 The raceway's 2,500 acres of land is crossed by the Tunkhannock Creek, one of the creeks included in the DEP's new assessment. If Igdalsky wants to develop near it, he might have to jump through more hoops and spend more money to make sure pollutants don't run off into the stream and hurt aquatic life.
"We would have to spend X amount more to adhere to the runoff [requirements]," Igdalsky said. "But there's also the chance that we won't be able to do anything at all, depending on what the project is. So it limits your scope. We have 2,500 acres of commercial land of which a significant slice would be virtually unusable to us."
Igdalsky grew up in the Poconos. In addition to fast cars and NASCAR, he also loves the outdoors. And he works hard to make Pocono Raceway more sustainable by recycling tires, oil, and car batteries. He says 70 percent of the waste generated at the NASCAR races this year was either composted or recycled. In 2010, the company installed a 3-megawatt solar farm on 25 acres to reduce its carbon footprint. He says he's committed to environmental stewardship.
"You are in a beautiful pristine wilderness that caters to wilderness, adventure, tourism, why wouldn't you want to keep the area beautiful?" Igdalsky said.
But the new streams classification goes too far, he said, because it could limit future development projects, such as his planned organic farm.
Owners of big resorts like Pocono Manor, Kalahari and Camelbak are joining the fight by running ads in local newspapers.
Abby Jones, a lawyer for Pennfuture, an environmental group that is intervening in the Environmental Hearing Board case and representing Brodhead Watershed Association, said special protections would not prevent landowners from developing new projects. But it does mean new developments would have to preserve the streams.
"It might cost you a little bit more — in some cases, yes, you might not be able to do exactly what you want —  but it's not saying that you can't develop here," Jones said. "You just have to be thoughtful about your wastewater treatment that you're putting in, you have to be thoughtful of how far from the river you're building —  that's all it is."
The DEP said the streams attained "exceptional value" based on information gathered using peer-reviewed assessments that consider habitat, the presence of benthic macroinvertebrates, tiny animals that live in streams, as well as fish.
DEP spokeswoman Colleen Connolly said these evaluations are not final, however, and that the agency makes final determinations of existing use in the context of a permit or approval actions. In other words, one of the developers would have to apply for a specific permit before DEP makes a final decision on what protections are required.
Igdalsky is worried about his plans for an organic farm, but his case could end up being dismissed. So far, none of the developers has asked permission to do any specific new projects. If that's the case, he says, the court would have only ruled on procedure and not merit.
WHYY is your source for fact-based, in-depth journalism and information. As a nonprofit organization, we rely on financial support from readers like you. Please give today.