'I have to continue': A Parkland survivor speaks about her activism
Aalayah Eastmond narrowly survived the Feb. 14 shooting at Marjory Stoneman Douglas High School. Fighting for change ever since, she will visit Philly on Monday.
Listen
4:42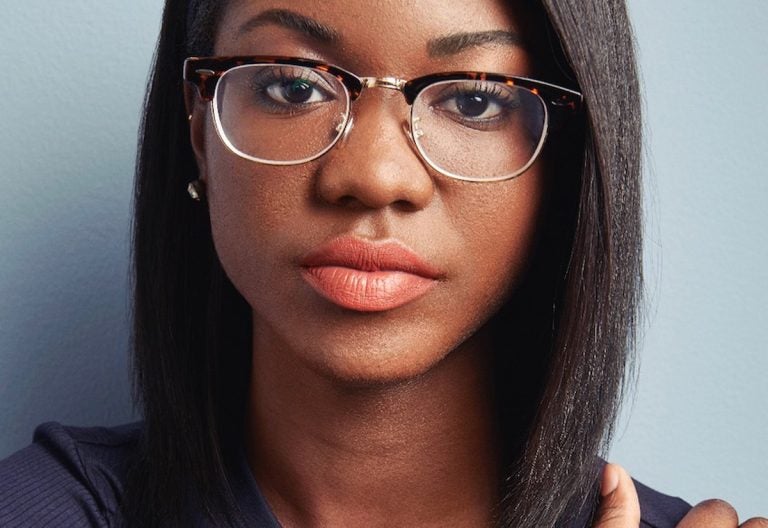 It's been four months since a gunman fired into Aalayah Eastmond's Holocaust history class at Marjory Stoneman Douglas High School in Parkland, Florida, part of a rampage that left 17 people dead.
Eastmond and other survivors have since become frontline voices against gun violence as they continue to crisscross the country urging change.
On Monday, Eastmond, 17, will be the keynote speaker at the graduation ceremony for Freire Charter School in Center City, Philadelphia.
WHYY spoke with the rising senior from her home in Coral Springs, Florida, just before her first trip to Philadelphia.
The below interview has been edited and condensed for clarity.
—
On Monday, you're going to address students who are actually one grade above you at Freire Charter School. I guess that makes you the rare keynote speaker who's going to be younger than the graduates themselves, and I'm curious what your message is going to be.
I'm just going to tell them my experience and just let them know that I'm so proud of them and happy that they're graduating. I just want them to stay positive, no matter what they experience in their neighborhoods, and that I'm with them no matter what.
So we're doing this interview on Thursday. On Friday, you're going to be in Chicago, I understand. And then Monday you're going to be in Philadelphia. It sounds like you're bouncing all over. What does your schedule look like this summer?
Actually I'm not sure what it looks like this summer. But right now, I'm just going to go to opportunity after opportunity. I do know on June 30, which is the weekend before Fourth of July, the Brady Campaign and Team Enough, which is the team that I work with, we're going to be hosting block parties in cities like New York City, Baltimore, D.C., Chicago, Milwaukee, and Miami. They experience gun violence all the time, and the weekend before the Fourth of July is one of the deadliest weekends for some of those communities. So we just want to have something positive that they can do, rather than be fearing for their lives.
And also, I might do an internship this summer.
Where's the internship?
The Brady Campaign.
Do you ever want to take a break from this work, this activism, and just sort of return to whatever would be a sense of normalcy at this point?
Oh, yeah.
Really?
Oh, yeah. Oh, yeah. I feel like there's once a week where I'm so exhausted and I just want to be normal again and experience what I should be experiencing at the age of 17. But I can't just give up. Because if I do, I'm going to tell myself, what was my purpose of surviving that day? And I feel like this — the work that I'm doing — was my purpose. So I have to continue, no matter what.
What do you tell yourself in those moments when you want to take a break? What do you tell yourself to help you push through it?
That I can't give up now. I tell myself that I know it's hard, but I have to do it for the 17 that we lost, for my uncle that I lost in Brooklyn, and for all of the innocent lives that are lost every day to gun violence.
Since Feb. 14, I'm imagining that people who introduce you in interviews like this probably introduce you as a survivor of this horrific shooting. Does that ever bother you, to be kind of defined by this horrible thing that happened in your life? Do you ever just get sick of people talking about it to you?
No. Because I am an actual survivor, and I do identify myself with that word because that's exactly how I feel. There are times when it feels like, OK, I think you know what I experienced that day, why do I have to tell you? But I get it. And I don't really get bothered by being called a survivor because that's how I feel.
It's been four months since the shooting. Does that time frame make sense to you? Does it actually feel like four months?

No. It used to feel like just yesterday. But now, as time is going, it's starting to feel like maybe it was a week ago, rather than just yesterday. It definitely doesn't feel like four months. But it feels like it happened a few days ago.
How do you process that? It seems so weird to have your sense of time warped like that.
I don't know how I process it. I just go day by day. There's no way to explain how I go through it. We haven't had a moment as a community to just mourn in peace. So I think we all just go day by day and just keep moving.
Over the last four months, as you've traveled around, as you've spoken, as you've appeared in rallies, what's the most hopeful thing that you've seen?
That's a great question. The most hopeful thing I've seen … I've noticed that everybody's advocating for voting. So I feel like, come November, we will have a significant amount of youth out there voting and knowing that their vote is important, as well. So I think that's one of the things I've been seeing. But it's not really what I wish was the most hopeful thing. But that's what I've noticed.
And I guess that begs the question, what's the most frustrating thing you've seen?
That urban communities are not getting the same amount of shine, of course, as the "Never Again" kids at my school.
I actually had the privilege, during the national school walkout, of spending some time with the students from Freire. And they brought that up over and over again. I think they were wondering why it took a mass shooting in Parkland to spark outrage about gun violence when a lot of them live with that threat every day, and they've lost loved ones. I imagine you think that's something that will come up on Monday when you speak to the students here in Philadelphia. How do you have that conversation with them?
I'm just going to tell them I agree with them 110 percent because I get it. I lost my uncle to gun violence in an urban community 15 years ago. And that never got any air time. But as soon as the tragedy at my school happened, it was on the news for two, three weeks. Nearly a month. Even if I drive by now, I'm sure there might be news trucks. But they never want to give urban communities that same amount of attention. I'm going to tell them that I do agree with them, and I understand. That's why I'm trying to push my voice out.
It just seemed like overnight you and your classmates turned this collective grief into a movement. You guys were all physically in the same place when that happened, grieving together and working together. And I'm wondering — you guys just had a graduation of your own at Douglas — and the seniors will go off to college at some point, and people will start to walk their own paths. How do you keep the momentum of what you guys have started as you begin to walk your own paths?
My main focus is not letting people forget about it after November. I always remind people that the legislation that the students from my school are fighting for is not going to help urban communities. Because AR-15s and high-capacity magazines, things like that, do not affect urban communities. What I'm going to go with it is just focus on keeping the momentum up for urban communities. It's not all about the voting. It's about going into the communities and trying to help come up with solutions to eradicate gun violence. Because legislation is not really going to help them that much.
As you've done this work, the interviews and the speeches, how have you changed personally?
Before everything I was shy. I hated talking to even a group of three people. I didn't like to present projects in front of the class. I wasn't very fond of public speaking, either. I was terrified. But after March for Our Lives, speaking in front of over 800,000 people, I'm fearless. I can talk in front of any amount of people. I'm not shy anymore. I'm very open and I feel like I can do anything now.
WHYY is your source for fact-based, in-depth journalism and information. As a nonprofit organization, we rely on financial support from readers like you. Please give today.