For Black expecting mothers, Black doulas and midwives offer expertise and protection
Listen
8:29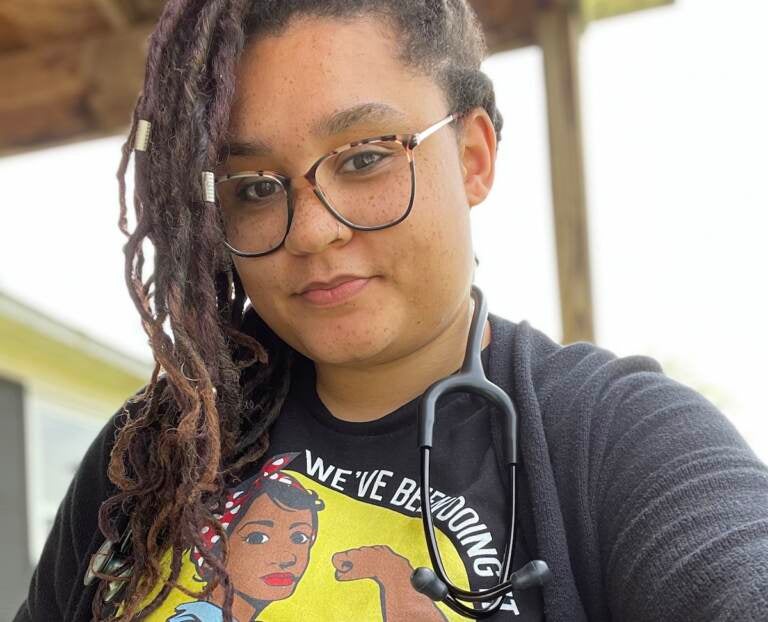 This story is from The Pulse, a weekly health and science podcast.
Find it on Apple Podcasts, Spotify, or wherever you get your podcasts.
---
When I was giving birth to my second child in 1999, I had a Black doula by my side, Pia Long.
Before I met her, I didn't know what a doula was; much less that as a Black woman, her presence could increase my odds of having a successful birth.
I just thought to have a baby, you go to a hospital. But Long told me there was another way. She told me the history of Black doulas and the traditional folk medicines practiced by Black women for years.
At the time, Long was the only Black doula in West Virginia. Since then, like so many of my West Virginia friends, she and her family left. 
When you're the only Black anything in West Virginia, you carry a weight: "If I leave, who is going to take up this work?"
But another Black woman, Staysha Quentrill, began her journey to be by the side of Black mothers, and to become a certified nurse midwife. Her job is to make sure the pregnant patient and the baby are healthy. She'll go to her patient's house before the birth and stay for hours after.
"Really, it's just to govern over and to oversee that [the birth is] progressing normally," she said.
Research has found that having midwives involved in childbirth improves outcomes for both mothers and babies. But for Black women, better outcomes are not just as simple as more midwives. 
"A lot of these midwives have hidden biases or are actively racist, and that midwifery doesn't protect them," Quentrill said. "It is having providers that look like them, that are culturally competent."
Staysha recalls one birth in 2021, where she noticed an important sign that a mom was not doing well – one that the other providers missed.
That patient, Carmon Squires, called Quentrill when she thought her labor was starting. Quentrill told her to try getting in the shower to see if her contractions would go away.
"But when I got out of the shower, it was more intense," Squires said.
Quentrill dropped everything and started the two-hour journey to Carmon's house. During the delivery, Quentrill recognized that Squires was going pale. None of the white health care providers in the room noticed.
"Another midwife said, 'Is she really?'" Squires said.
This complication let Squires know she made the right decision to work with a midwife that looked like her. Squires trusted Quintrell. And Quintrell knew there wasn't time for second guessing.
"When we're looking at medical training or nursing training, it's not done on all different types of skin. The base level is usually white skin, and things look very much different on white skin. That's rashes, that's bruises, that's lesions, that's all types of stuff and being pale is one of those things," Quintrell said.
For Quintrell, being culturally competent doesn't just mean attending diversity training. It means being brought up in that culture. It means providing Black families with Black midwives.
 "You hear a lot of, "Oh, we're doing anti racism trainings … and so they think that they have become competent in these things," Quintrell said.
She added some people can develop a so-called "white savior complex."
"To me [it's] almost as bad as racism. Because you start off like, 'Oh, my gosh, they need me, I have to be here.' And then because you don't understand the culture, it turns into resentment," Quintrell said.
Lauri Andress is a researcher and associate dean for equity, inclusion and community engagement at Geisinger Commonwealth School of Medicine in Scranton, Pennsylvania. She's studied racial disparities in infant mortality in West Virginia, where Black infants die at almost twice the rate of white infants.
Andress said health care institutions have gotten invested in a bad strategy of "being colorblind."
"We know that if our population is made up of 30% African Americans, but we're hiring or allowing into our institutions those African Americans at a rate of less than 2% every year, then that's a disproportionate kind of entry," said Andres.
Andress says not having nearly enough Black medical providers creates all sorts of issues – everything from inequality in health outcomes, to miscommunication, to not taking the pain of Black women seriously.
Andress added too often, we tend to blame oppressed groups for unequal outcomes.
"What we know in the United States, more likely than not, is that disease categories are socially patterned, or it's going to be broken down by race," she said. "And so, the results will say, those at risk for that disease are minorities, African Americans, the elderly, those who live below the poverty line. And so, we've begun to associate Blackness with illness, with a greater rate of death. But what we haven't done is to look at the reasons why Black people would suffer at a greater rate with these different kinds of illnesses."
According to Andress, when we peel back the layers and look at the reasons why Black people suffer more or have higher rates of illness, it comes down to systemic racism. She says that needs to be a priority for any government that wants to address issues like Black maternal health or Black infant mortality.
"It isn't the fact that the population is Black, or Hispanic or Asian. It is their treatment in the United States as a Black group, Asian or Hispanic group, that causes what we see as the outcome and deaths," Andress said.
Having a provider who looks like you, understands you — makes a difference.
Luckily for me, I had Pia Long when I was giving birth. And luckily for Carmon Squires, she had Staysha Quintrell.
"The connection that I felt with Staysha is the reason why I stayed with the home birth," said Squires. "Staysha would send me information, check on me all the time. It was just convenient, smooth."
Squires delivered a healthy baby — Olivia Cannon, born on Juneteenth of 2021
"​​I just knew that she was going to be born on Juneteenth. And I kept telling the other midwife, 'She's gonna be born on Juneteenth. She's gonna be born on Juneteenth," Squires said.
Baby Olivia was one of the last babies Quintrell needed to help deliver to become a fully licensed Certified Professional Midwife. Squires had three babies in hospitals before her home birth experience with Quintrell. She said she can't even compare the experiences. Most of all, she was thankful that she could find a Black birth worker to be there through everything. And now with the birth of Olivia Cannon, other Black families across West Virginia will have that same option.
Crystal Good is the founder and publisher of Black By God The West Virginian, a news organization centering Black voices in the state. Kyle Vass contributed to this story.
Support for WHYY's coverage on health equity issues comes from The Commonwealth Fund.