Fears and evidence clash in the battle over kratom
The government is reviewing the status of an herbal supplement touted to ease opioid addiction.
Listen
9:58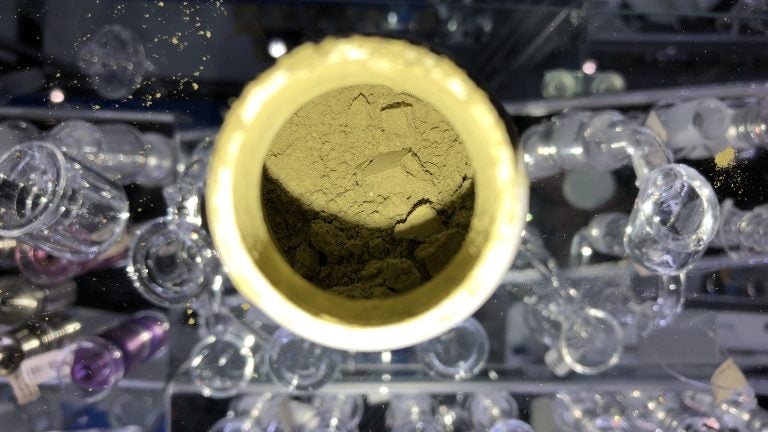 For Sean, most days start with the same ritual. He spoons a mound of olive-green powder onto a circle of rice paper, twists it into a small pouch, and downs it with a gulp of water.
Because that powder, which is known as kratom, isn't legal everywhere — and Sean has his own past legal problems — he asked that I not use his last name.
"Kratom for me is basically like taking a vitamin," Sean says, sitting in the living room of his Philadelphia apartment. "It helps me maintain a healthy state of mind, and it helps me maintain my healthy habits."
Sean says the supplement has helped him stay clean and sober, after more than a decade of heroin addiction.
Heroin's pull
Sean first tried heroin at the age of 19.
"In my mind, it was great," he says. "It was like a feeling I've never felt, and it was almost like, 'I'm home.'"
Sean spent the next 12 years chasing that feeling, cycling between using, jail, and attempts at recovery. He got clean during a five-year stint in prison, but when he was released in 2015, he found the old cravings coming back.
"The mental is constantly there," he says. "Just knowing that heroin is within a mile radius anywhere I go in Philadelphia."
Shortly after a major relapse, Sean remembered something he'd heard a few years before — about an herbal supplement called kratom that was supposed to ease withdrawal symptoms and tamp down cravings. After doing some research online, he decided it was worth a try, and picked some up at his local smoke shop.
"Immediately, when the kratom did start to kick in a little bit, I felt a sense of well-being," he says of his first experience. "And I felt a little bit of hope that I wouldn't have to go back out there and do heroin again."
Four years later, Sean remains sober — a fact he attributes to the supplement.
"Kratom saved my life, 100 percent," he says. "Without kratom, I don't believe I would be in the same place that I am now."
The debate
Stories like Sean's have defined a growing movement. A legion of people say kratom is an exciting new treatment that could put opioids out of business.
The substance is derived from the leaves of a tropical tree native to Southeast Asia, where it's long been used as a traditional remedy for pain and fatigue.
It first appeared in the United States roughly 10 years ago. Edward Boyer, who was one of the earliest researchers in the U.S. to study kratom, says its emergence coincided with a government crackdown on online opioid sales.
"When the online pharmacies closed, these people were cut off without any source of opioid analgesics," he says. "Word spread like wildfire through this group that kratom was a reasonable way to treat opioid withdrawal."
Today, 3 to 5 million people in the U.S. use kratom on a regular basis, according to estimates by the American Kratom Association, an advocacy group formed in 2014. While those numbers haven't been independently confirmed, social media groups offer evidence of kratom's wide reach. Facebook features dozens of groups dedicated to the supplement, some with memberships exceeding 13,000. Reddit's official kratom group has more than 43,000 members.
As the number of kratom users has grown, so have the claims about its therapeutic potential. Converts tout it as an effective alternative treatment for chronic pain and opioid withdrawal.
Darshan Singh, a researcher at the University of Science Malaysia's Centre for Drug Research, has studied kratom for nearly 10 years, and says his work has convinced him of its potential.
"This is the cure for opioids," he says. "If a scientist can actually prove that it's a safer alternative, let me tell you, all the big pharmaceutical companies will be shutting down, because we could sell it 80 times cheaper than classical opioids, with far less detrimental effects."
The federal government has a different opinion. In 2016, the Drug Enforcement Agency (DEA) announced plans to make kratom illegal, calling it an "imminent hazard to public safety," thanks to its "high potential for abuse" and "lack of accepted safety for use under medical supervision."
The agency reversed its plan after a public outcry, saying it would delay its decision pending an evaluation by the Food and Drug Administration (FDA). No timeline has been announced for that decision, but since 2016, government crackdowns on kratom have intensified, with the FDA warning repeatedly about its dangers and the lack of evidence supporting it as a treatment for opioid use disorder.
The debate between supporters and doubters went into overdrive recently when the FDA declared that kratom is an opioid.
"As the scientific data and adverse event reports have clearly revealed, compounds in kratom make it so it isn't just a plant – it's an opioid," FDA Commissioner Scott Gottlieb said in a statement released in February. "And it's an opioid that's associated with novel risks because of the variability in how it's being formulated, sold and used recreationally and by those who are seeking to self-medicate for pain or who use kratom to treat opioid withdrawal symptoms."
The FDA's opioid claim
The FDA based its conclusion on a computer model showing that kratom activates opioid receptors in the same way that drugs derived from morphine do.
Speaking not for attribution, an agency spokeswoman said those findings match with anecdotal reports of kratom-related injury and death.
"We believe it behaves like an opioid, produces the same effects as an opioid," she says. "Just because it's a plant doesn't mean it's safe."
But some scientists have criticized the FDA's statements as lacking proof. Among them is Marc Swogger, an associate professor of psychiatry at the University of Rochester Medical Center.
"I'm not sure why this particular drug hysteria is being pushed by the FDA, but their comments about kratom have been unscientific," he says. "They do not match the current science."
Swogger, who's done several studies on kratom, says the FDA's computer analysis doesn't paint a complete picture.
"Kratom does not act on opioid receptors in the same way that classical opioids do," he says. "It's a partial effect. So you don't get the same sort of respiratory depression and you don't get the same sort of euphoria."
Oliver Grundmann, who teaches medicinal chemistry and toxicology at the University of Florida's College of Pharmacy, has studied the pharmacology of kratom. He says part of the problem with the FDA's analysis is that it's based entirely on a computer model.
"They kind of cast aside some of the scientific literature that actually models or observed it in actual receptors," he says.
According to Grundmann, that research shows that although kratom binds to opioid receptors, it uses different pathways in the brain.
"There are two pathways, or signals, that are activated on the receptors — one is the pain-relieving signal," he says. "And the second is the beta-arrestin pathway."
Kratom activates the pain-relieving pathway, but not the beta-arrestin pathway, he says.
"And that pathway has been associated with many of the adverse effects [of opioids], like constipation, nausea, and vomiting, and also dependency," he says. "But most importantly, respiratory depression, which is the most fatal side effect that accounts for most of the so-called opioid epidemic."
Grundmann is also critical of the FDA's claim that kratom has caused 44 deaths.
"Forty-three out of the 44 cases that the FDA cited were so-called poly-substance or poly-drug," he says, adding that many involved other substances, including alcohol, benzodiazepines, and opioids. "So to causatively link kratom to these deaths is quite complicated."
Grundmann and Swogger have been outspoken in their defense of kratom, joining other researchers who say a ban could set research back decades.
But other scientists have cautioned about potential dangers.
"I don't think kratom should ever be somebody's first-line or default treatment approach," says Edward Boyer, who teaches emergency medicine and heads the toxicology department at at the University of Massachusetts Medical School. "We know that kratom can treat opioid withdrawal, but we don't know precisely what its abuse liability is."
Boyer has seen what he calls "compulsive use, consistent with addiction" firsthand. In 2008, he published a case study involving a patient who was brought to Massachusetts General Hospital after suffering a seizure. Doctors discovered that the patient had recently transitioned from opioids to kratom, and was spending $15,000 a year on kratom tea. The case is part of why Boyer says he suspects that kratom could cause seizures under certain conditions, though he adds there's not yet proof.
Yngvild Olsen, an addiction specialist who serves on the board of the American Society of Addiction Medicine, also has reservations about kratom as treatment.
"It may end up deterring people from accessing the FDA-approved medications that we know are life-saving and can be very effective," she says.
The lack of clinical studies — as well as regulation — is another concern.
"It's not FDA approved, we don't have good research to demonstrate the safety and effectiveness of kratom, and you really don't know what you're getting," she says.
Supplements are subject to less rigorous regulation and oversight than drugs, and in many cases, research has found that products contain different ingredients from those listed on the label.
"You don't know what's actually in the product you're taking," says Boyer. "It might be kratom, it might be kratom plus other stuff added to it, and it might be just some sort of plant matter that has opioid analgesics added to it."
Critics also worry about contamination. In February, the FDA traced a nationwide salmonella outbreak to products containing kratom. To date, nearly 200 people have been sickened.
Path to oversight
Sean — the former heroin user who says he kicked his habit using kratom — wasn't surprised by the news of salmonella.
"It really is like the wild west," he says, citing the lack of testing and oversight, both in the U.S., and at the Southeast Asian farms where most kratom is grown.
"You're in this situation where you really don't know what the packing facilities in Indonesia look like. It could be a bare dirt floor, and a lot of what comes over here probably does have different things in it."
He says the American Kratom Association could help improve safety.
"I would like to see the AKA open up some kind of facility where they're testing all the kratom coming in," he says. "We, as a community, need to say, 'OK, if you're not willing to spend this money to test the kratom and if you're not willing to get these certifications, we're not going to buy from you anymore.' And the AKA needs to say, 'These are the people that we approve, and we hope that you will support them because if you do, you're supporting the fight to keep kratom legal.'"
Something like that may already be in the works.
"Our belief is that we can create — and we're working toward that, by the way — a self-regulating industry," AKA leader Dave Herman says.
Herman says the group is working on a plan to establish safety standards governing quality and purity, along with a tracking system to help consumers trace any bad kratom batches back to their source.
"We're not opposed to regulation," he says. "We're opposed to this demonization that wants to ban a product that doesn't deserve to be banned."
Scientists have also lobbied against the ban — both for the sake of research, and for users.
"Once that is done, we are putting a research kind of on the back burner because it limits access for research," pharmacologist Oliver Grundmann says. "And I fear, together with a number of other scientists, that that will drive those who are currently using kratom back to opioids."
WHYY is your source for fact-based, in-depth journalism and information. As a nonprofit organization, we rely on financial support from readers like you. Please give today.