Amtrak engineer again faces criminal trial in deadly Philly derailment [updated]
An Amtrak engineer has been ordered to stand trial on criminal charges in the deadly 2015 derailment in Philadelphia.
Listen
2:16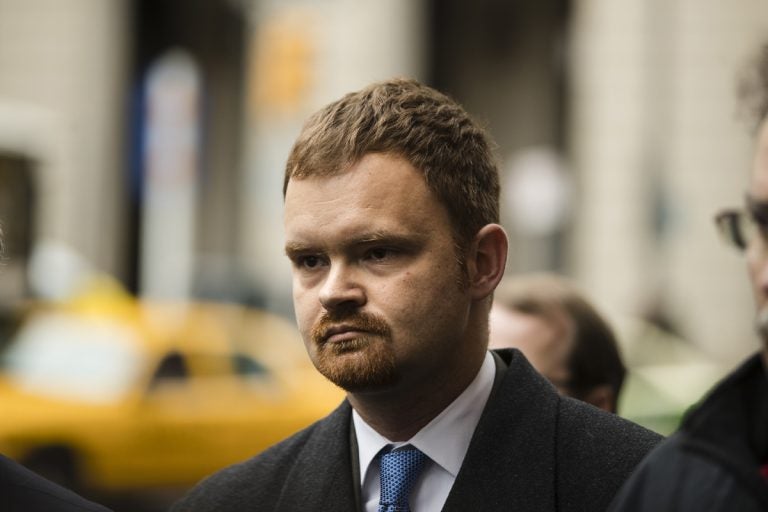 A Philadelphia judge has reinstated criminal charges including manslaughter against the engineer of an Amtrak train that derailed in 2015. The crash was considered one of the most deadly rail disasters in decades.
Philadelphia Common Pleas Judge Kathryn Streeter Lewis ruled Tuesday that a lower court erred in finding insufficient evidence for prosecutors to hold engineer Brandon Bostian criminally responsible for the derailment of Amtrak 188.
The wreck killed eight people and left hundreds of other passengers injured.
The decision giving prosecutors the go-ahead means Bostian's criminal trial will move forward, just months after the engineer had thought his legal troubles were over.
Lewis set Feb. 21 as Bostian's next court hearing, a formal arraignment where he is expected to plead not guilty.
The judge ordered that Bostian surrender his passport and check in with the court once a week while he is free on bail.
On May 21, 2015, Amtrak 188, under Bostian's control, tumbled off the tracks while accelerating at more than double the speed limit.
National Transportation Safety Board investigators found that Bostian "lost situational awareness" just before the tight curve in the tracks near Frankford Junction, a distraction likely caused by radio chatter concerning rocks being thrown at a nearby train. The commotion on the radio made Bostian lose his bearings, they said, and caused him to think he was beyond the curve — which is where he should have accelerated. In fact, the NTSB found, the train was entering the curve.
The NTSB conclusion that the derailment was due to distraction is faulty, said personal injury lawyer Tom Kline.
"His only job that day was to have situational awareness. And therefore it would be reckless for him not to have been aware of where he was, what he was doing," said Kline, who has represented the families of derailment victims.
After a hearing in September, Municipal Court Judge Thomas Gehret ruled that Bostian did not act with criminal recklessness, saying the incident was more likely the result of human error.
But the Pennsylvania attorney general's office appealed Gehret's decision, and on Tuesday, state prosecutors won.
Involuntary homicide may be tough to prove
A curt statement read to reporters by Chris Phillips, who is prosecuting the case for Pennsylvania, said prosecutors "will seek justice for every victim of the Amtrak train crash."
Bostian will now stand trial on eight counts of involuntary manslaughter, 246 charges of reckless endangerment and one count of causing a catastrophe.
Defense lawyer Brian McMonagle, who is representing Bostian, declined to comment after Tuesday's hearing.
Key to winning the case will be proving to a jury beyond a reasonable doubt that Bostian's actions were "reckless" or that he was "grossly negligent," which is required to prove involuntary homicide under Pennsylvania law.
Philadelphia legal experts say clearing those hurdles at trial will be a daunting task for the attorney general's office.
"To make an accident — like a car accident or train accident or plane accident — into a criminal case is very tough for prosecutors," said criminal defense lawyer Brian Zeiger.
"And this is clearly an accident."
Todd Henry, another criminal defense attorney, agreed that convincing a jury that Bostian is guilty of a crime will be far from an open-and-shut case.
"You get stuck in the same routine all the time, sometimes you look up and you realize, 'Where am I going?' " Henry said. "I mean, that's kind of going to be his defense, and most people would not consider that a crime."
Still, because of the lives lost and the hundreds injured, the testimony from passengers and surviving family members is sure to be emotionally gripping and Henry said that might make the jury see the facts through a different lens.
At the time of the crash, the automatic braking system known as positive train control had not yet been installed along the stretch of the tracks where the train operated by Bostian derailed.
Most transportation experts agree that the technology could have prevented the tragedy. Since the derailment, the braking system has been installed in Amtrak trains across all routes on the Northeast Corridor.
WHYY is your source for fact-based, in-depth journalism and information. As a nonprofit organization, we rely on financial support from readers like you. Please give today.