Can skin become addicted to topical steroids?
Inside one woman's experience with topical steroids — and why she says the cure was worse than the disease.
Listen
11:56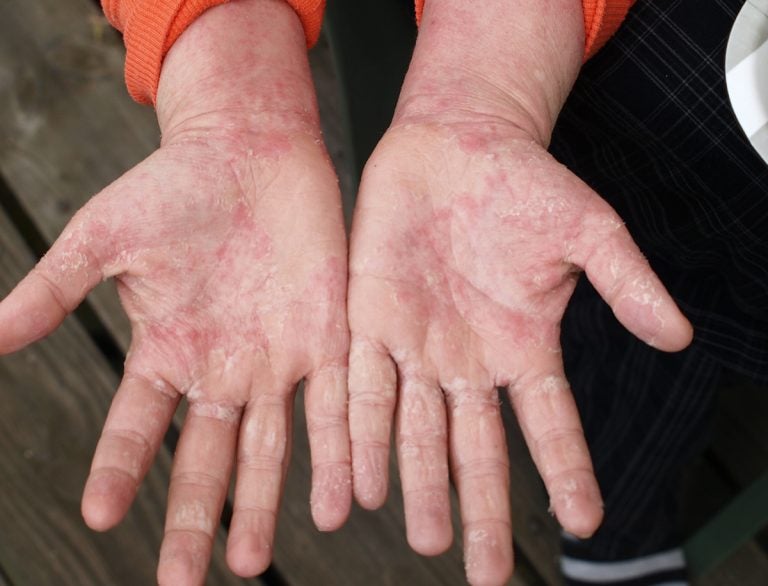 Nina Ajdin's battles with her skin began when she was 10.
"I had a small rash under my armpit, and my mom took me to the doctor," Ajdin said, a dark-haired 28-year-old who lives just outside Chicago. "They said it was eczema."
Eczema is a common, chronic skin condition that affects roughly 30 million Americans, including over 10 percent of children. It's characterized by inflammation and itch, and is typically treated using a mix of over-the-counter and prescription topical creams.
Ajdin's doctor prescribed a topical steroid cream to deal with the itch. At first, semi-regular applications were enough to deal with the recurring rash.
"It would come and go," she said. "I would use steroids until it went away, and then stop them. Then it would spread somewhere else, and I'd have to go back to get steroids again to clear that up."
Topical steroids are among the most common treatments for eczema because of their ability to fight inflammation.
Eczema is caused, in part, by an overactive immune system that perceives triggers — like stress, allergens, or fragrances — as a threat. This leads to an immune response, which is expressed as inflammation.
Corticosteroids — the class of steroids that are used in topical creams, along with asthma medications, and other, stronger drugs — counter inflammation by short-circuiting the immune response.
But because of side effects, like thinning of the skin or easy bruising, they should only be used on a short-term basis. Ajdin says that's what she did — until, at the age of 17, her health drastically changed.
"I lost all of my hair suddenly," Ajdin said. "That's when my life took a turn and I had to start living differently."
Worsening symptoms
Ajdin's doctors weren't sure of the cause, but they finally settled on alopecia, an autoimmune disease that causes hair loss.
They prescribed a heavy-duty immunosuppressant called methotrexate, along with oral prednisone, a powerful steroid taken in pill form.
Ajdin's hair grew back, but she says after starting both drugs, her body started to go haywire.
"I got a really bad eye infection, which necessitated me going to the emergency room," she said. "My eyelid was completely swollen, it was just awful."
It was the first in a series of infections that Ajdin contracted over the next few years.
Infections are listed as a side effect of both methotrexate and prednisone, thanks to their immune-suppressing functions.
Shortly after losing her hair, Ajdin was also diagnosed with depression and anxiety, which led to a revolving door of psychotropic medications, each with their own side effects. Worst of all, her eczema went into overdrive.
"My skin was out of control," she said. "It was starting to get from head to toe red and burning and really hard to describe — it's like having acid poured on your skin."
Over the next few years, Ajdin's doctors prescribed stronger and stronger steroids to treat the painful, burning itch that covered her body. But by her early 20s, Ajdin says even the strongest topical steroids were no longer working.
"The only thing that would work was prednisone," she said. "But as soon as I got off prednisone I would rebound."
Ajdin estimates that, at her worst, she was taking prednisone almost every month.
By that time, Ajdin says her health problems had consumed her life. She became suicidal.
"I just didn't see any light at the end of the tunnel," she said. "Because nobody had any idea what was going on in my mind at that time, if nobody knows what's going on nobody can fix it. And I guess that's kind of what led to me thinking that I would be better off dead than having to live like that for the rest of my life."
Topical steroid addiction
But Ajdin's dad had noticed something. Every time she started a new course of oral prednisone, things would follow a pattern. For a while, her skin would get better, but then she'd rebound — both in terms of her eczema symptoms, and her mental health.
After looking around online, he began to find personal stories — documented in YouTube videos, blogs, and discussion boards — that mirrored Ajdin's experiences. What they all shared: a condition they called topical steroid addiction.
Ajdin remembers the first time she watched one of the videos, an explainer of topical steroid addiction by a dermatologist named Dr. Marvin Rapaport.
"I just remember sitting in my room and bawling my eyes out watching this video, because I could relate to every single word that he was saying," Ajdin said.
It was part of a larger online community dedicated to topical steroid addiction. Ajdin concluded that many if not all of the painful and debilitating symptoms she'd experienced — including losing her hair at 17 — were the result of her body becoming addicted to steroids.
The solution, the websites advised: quitting steroids. Once she did that, her skin would eventually normalize, and she'd no longer be dependent on drugs to avoid painful and debilitating flare-ups.
"I had this revelation that this is it," Ajdin said. "This is my light, this is my hope that I can actually heal and have a life again. I had no idea at the time what I was getting myself into."
The fallout of quitting cold turkey
After years of using potent topical and oral steroids to control her skin, Ajdin decided to quit cold turkey. The videos and websites had warned there would be side effects — what they called topical steroid withdrawal. But she couldn't have guessed how bad it would get.
"I have never in my life experienced such excruciating pain," Ajdin said. "I was literally dropping to my knees in pain and just howling and crying."
Ajdin recorded her progress in a series of YouTube videos, which show the worsening state of her skin.
"I got much more red, and I had open wounds, completely just open wounds, on my chest, going down in the creases of my elbows," she said. "Very open, like someone took a knife to them."
In addition to the pain, Ajdin has vivid memories of the near-constant ooze that would seep from her wounds.
"What happens is you ooze this lymph fluid that's part of the healing process, but it's very dehumanizing," she said. "It smells like your skin is rotting away — our entire house smelled like this."
Over the next year, Ajdin's symptoms ebbed and flowed. During the worst of it, she had to rely on her parents to help her with dressing, eating and bathing.
Skepticism in the medical community
Despite the severity of her symptoms, Ajdin did her best to avoid visits to the doctor.
"I would tell them I'm going through topical steroid withdrawal, and they just looked at me like I was crazy," Ajdin said. "They don't believe you and just want to push more steroids on you so [it's] pretty discouraging."
Though topical steroid addiction and withdrawal have been documented in the medical literature — including in a 2015 review study funded by the National Eczema Association — research is limited. As a result, many doctors remain skeptical about the condition.
"It's very unlikely," said Emma Guttman, a dermatologist and leading eczema researcher. "Very unlikely, unless very strong topical steroids are used and not according to guidelines."
Guttman says that while steroid addiction and the accompanying symptoms are possible with more potent steroids like oral prednisone, most topical steroids aren't strong enough to cause the kind of dramatic effects that Ajdin and others describe.
Doctors may have reason to be cautious. In recent years, dermatologists have noted widespread "corticosteroid phobia" among their patients — an irrational fear of topical steroids that studies show could prevent people from adequately treating their eczema.
Guttman says she's seen first-hand the damage that corticosteroid phobia can do.
"I can tell you that I've had in my office parents coming in with children who have severe, severe eczema," Guttman says. "My assistant and I felt like crying. The child was scratching until bleeding and the parents had this fear of topical steroid withdrawal. They were not offering the kids anything."
"So for me that's much more dangerous, because if you don't treat the disease appropriately, there [are] other dangers that we know, like attention deficit disorder or failure to thrive."
As for the severe symptoms that Ajdin and others have attributed to topical steroid withdrawal, Guttman speculates that they could simply be the eczema itself.
"So my guess would be that many of these are due to stopping abruptly and not having an alternative in place," Guttman said. "It's not the type of treatment that provides a cure, and then you stop it abruptly, probably the disease just flourishes and comes back."
Finding a doctor who believed her
But not all doctors agree. Around a year into her withdrawal symptoms, Ajdin heard about a dermatologist in nearby Chicago who had experience with topical steroid withdrawal — an eczema specialist named Peter Lio.
Ajdin's symptoms were as bad as they'd ever been, so she booked an appointment right away. Lio vividly remembers her first visit.
"She's still, to this day, one of the most severe patients that I've seen," Lio said. "I have a distinct memory of her being pretty close to erythrodermic, meaning red all over, lots and lots of impetiginization, the honey-colored crusting that is characteristic of staph infection, and lots of open oozing areas."
Lio has become well known in the topical steroid addiction and withdrawal community for his knowledge of and openness to the condition — something he admits is a rarity in the field.
"There is still a huge discussion and a debate about whether or not it's even a real entity," Lio said. "I have some colleagues that just say there's no such thing. You know, 'I've been doing this 30 years — there's no such thing, I've never seen it.'"
Lio cites a few reasons for doctors' resistance.
"Entering a new disease into the canon of dermatology or any specialty, is a lot of work because it takes some convincing," he said. "It's difficult because people say, 'Why, that's not new — we've seen this. This is just another version of this. Come on — there's nothing new under the sun.'"
He says another problem has been the tone of advocacy surrounding topical steroid addiction and withdrawal.
"The messaging felt accusatory and it felt, it also felt so, you know, so sure of itself," he said. "If you make it saying, you know, the doctors did this and it's all steroids, and they're evil, and the root of everything — that's a hard pill to swallow for people that have been writing, you know, 30 steroid prescriptions a day for 30 years, and have a lot of happy patients."
Finally, the lack of research on the condition — due in part to its apparent rareness — means that topical steroid addiction is both difficult to diagnose, and simply not on most doctors' radars.
Despite a lack of support, Lio has devised some of his own strategies for treating topical steroid addiction and withdrawal.
In Ajdin's case, he focused on treating the staph infection, soothing her skin with non-steroid topical creams and using an immunosuppressant to calm down some of the inflammation.
For Ajdin, the visit was a game changer.
"I was literally crying in his office because of having a doc who understood and believed me," she said. "It was like, I'm not just crazy — this really is a real condition and there is docs who recognize it."

A little over four months since Ajdin got off steroids, she says she's doing a lot better. She still deals with flare-ups, but is able to work again and live a relatively normal life.
As for Dr. Lio, he's cautiously optimistic about the future of topical steroid addiction and withdrawal.
"My hope is that topical steroid addiction will be a historical footnote that we won't have to worry about going forward because we'll have better treatments," he said. "That it really is a product of the time and the limited treatments that we have. That's what I hope, at least. Even if we're not able to educate people or 'convince' them that it exists, because there is skepticism out there."
WHYY is your source for fact-based, in-depth journalism and information. As a nonprofit organization, we rely on financial support from readers like you. Please give today.