As Trump ends family separation policy, children removed from their parents are already in Pa.
As Trump ends family separation policy, children removed from their parents are already in Pa.
Listen
2:44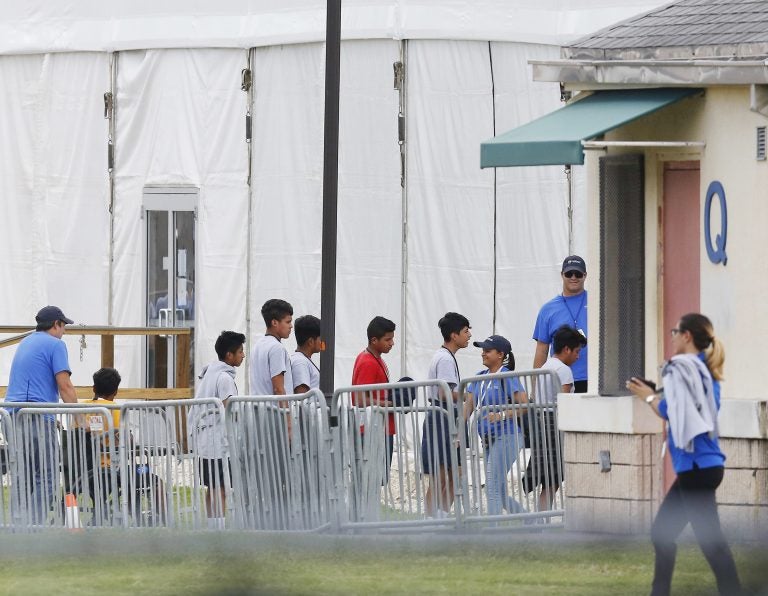 In an executive order issued Wednesday afternoon, President Donald Trump reversed his administration's early policy of removing children from their parents and called for detaining together parents and children who cross the U.S. border without authorization.
Even as the Trump administration changed course, at least nine children who federal immigration authorities removed from their parents have already been placed in a shelter in the Lehigh Valley, according to Elizabeth Yaeger, supervising attorney for HIAS Pennsylvania's Immigrant Youth Advocacy Project. Their parents or guardians face criminal charges for illegal entry under a federal policy calling for "zero tolerance" for adults who cross into the United States without authorization.
Yaeger did not disclose the name or exact location of the shelter, citing a media policy imposed by the advocacy program's funder, but agreed to talk generally about her work there.
Three other people familiar with the organization confirmed that it is KidsPeace, a nonprofit behavioral and mental health service provider with facilities around Allentown.
KidsPeace declined to comment for this article, referring all questions to the Office of Refugee Resettlement. ORR did not respond to questions posed over email.
A few months ago, children separated from their parents began trickling into Pennsylvania, but cases were rare, according to Yaeger. At the end of May, following the announcement of a "zero tolerance" policy for unauthorized border crossing, the numbers grew.
"About a month ago, we started seeing it happen kind of en masse," she said, up from a case here or there. Whereas before, HIAS worked with kids who arrived at the U.S. border as unaccompanied minors, a status that would slot them into a foster care system overseen by the Office of Refugee Resettlement in the U.S. Department of Health and Human Services, "What we're seeing now that's different is that kids are being forced into that system, kids that don't need to be there, kids that have no idea that they would be taken away from their parents."
Yaeger said HIAS is currently working with nine kids — ages 7 to 15 — who were separated from their parents. Compared to shelters in other parts of the country and near the U.S. border, this is a modest number. Earlier this week, the Pittsburgh Post-Gazette reported that another facility, the Holy Family Institute, was sheltering 50 separated children in western Pennsylvania.
With the new executive order signed Wednesday, that practice is poised to end.
Local immigrants rights advocates immediately slammed the order and the prospect of replacing family separation with family detention, a practice which has a controversial history in Pennsylvania. The Berks Family Residential Center, in Leesport, is one of facilities in the country to detain families, usually a single parent with children. Under President Barack Obama, that facility detained some families for more than a year. Protests, a hunger strike and rounds of litigation ensued.
"Detaining families together is not a valid solution to family separation," said Miguel Andrade with the immigrants rights group Juntos. "People seeking refuge do not deserve to be met with chain link fences and trauma."
Republican U.S. Sen. Pat Toomey of Pennsylvania praised the executive order in a statement, and called for Congress to pass legislation that would streamline the asylum process for families held together.
That still leaves dozens of children in Pennsylvania living away from their parents. And administration officials confirmed that Wednesday's policy change does not change the situation for children already apart from their parents. If the children remain in ORR custody, Yaeger said she doesn't know how long it will take to reunite them with their parents because their situation is new and evolving.
In the meantime, her biggest hurdle is representing  children, some younger than 10, in immigration court without easy access to the adults who know them best.
"As far as I can tell there's not a workable coordinated system or practice in place at all, for making sure those children and parents are having regular contact and communication," said Yaeger. Unaccompanied minors may be eligible for  legal status, such as asylum or Special Immigrant Juvenile status, in the United States and their family members may have information or documents pertinent to their cases.
WHYY is your source for fact-based, in-depth journalism and information. As a nonprofit organization, we rely on financial support from readers like you. Please give today.