Allentown Headstart program focuses on kids dealing with trauma
It's the only early Headstart program in the nation to enroll students directly from local county welfare offices.
Listen
04:57
In a space that used to be an abandoned state hospital, Lora Lesak has created an early childhood classroom filled with natural light and comfortable chairs — a room designed to feel like a home.
As director of Developmental Health Services for Allentown's Community Services for Children, she says that's exactly what children who've experienced trauma need.
"We have gotten children that have needed to remain in the hospital for two weeks to be weaned of substances — whether it's cocaine, whether it's opiates, whether it's prescription drugs," said Lesak. "Sometimes we get a one- or a two-year old because a parent who was doing well is no longer doing well. Sometimes we get a one-, two-, or even two-and-a-half year old who was introduced to Children and Youth because the parent was actively using and the child was severely neglected."
As the rate of opioid-related deaths and overdoses has rapidly risen in Pennsylvania in recent years, the crisis has caused spillover effects on young children across the state. 
With more children experiencing trauma and neglect during critical years for development, educators have worried about how they will later cope in school.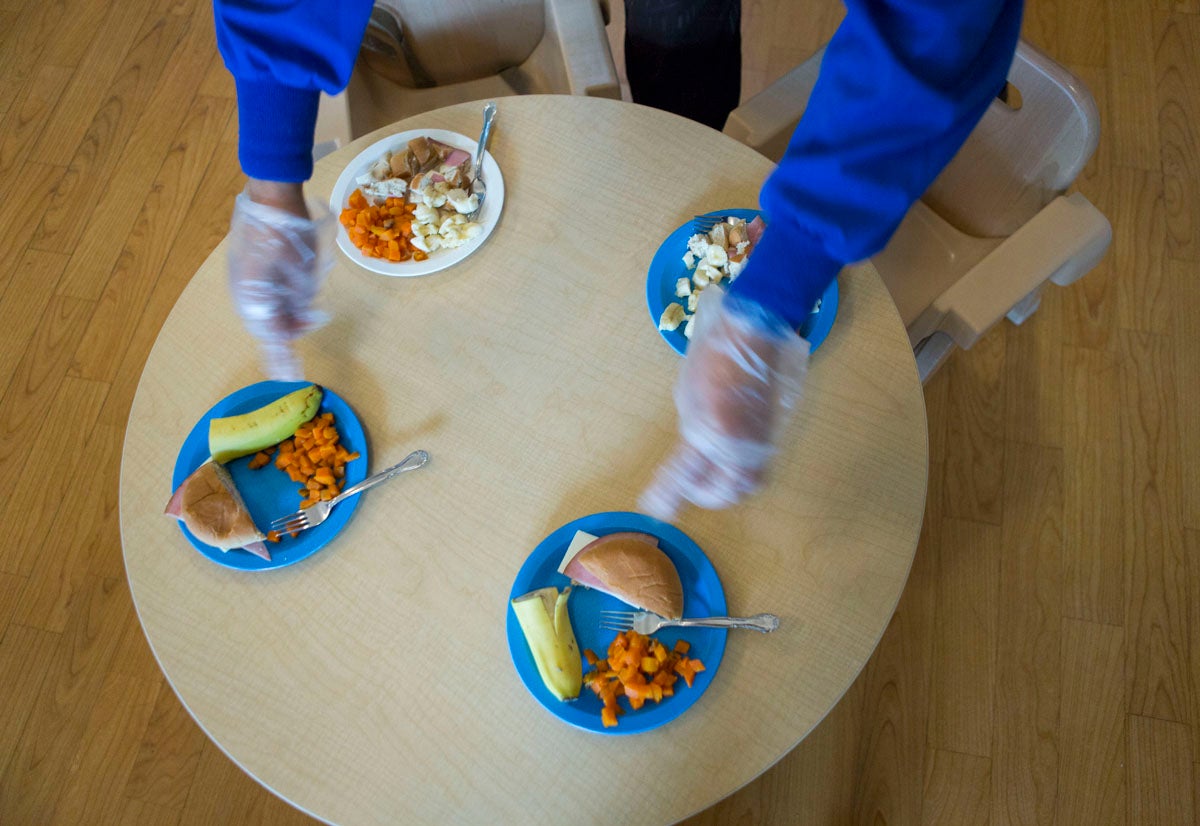 Lesak's program started in 2003, but it seems to have been designed with the present drug crisis in mind. Called SafeStart, it was launched as a one of a dozen federally-funded early-intervention pilot programs nationwide that aim to help children impacted by drugs become better prepared for kindergarten.
Today, SafeStart is the only Early Headstart program in the nation to enroll students directly from local county welfare offices, specifically targeting those who have been harmed by their parent's substance abuse. It currently serves 72 children from Lehigh and Northampton counties.
"A lot of children we were serving in Child Welfare and in our Early HeadStart program were the same children," explained Lesak.
Unlike other programs that deal with substance abusing parents and their families, participation in SafeStart is voluntary.  Children attend from 9 a.m. to 6 p.m., with small busses providing transportation to and fro.  
SafeStart's main campus, built in 2011, was designed with the effects of trauma in mind.  Lights are on dimmers, and every room has a washer and dryer, in case a child comes to school with dirty clothes.
Therapists, social workers, and nurse practitioners are regularly present in the classrooms, and also make regular home visits to check on parents.
With a medical team on staff, children often do not need to stay home when they're sick, allowing parents to attend to their own appointments.
By providing multiple access points for services under one roof, Sesak believes the program helps to reduce the effects of trauma before it influences lifelong habits.
"The brains are really hardwired in the first three years of life when their neural pathways are at their densest," she explained on a recent tour of the facility.
During the walkthrough, she weaved through an indoor recess space filled with children in the center's main hall. Every child she passed has had at least three adverse childhood experiences, or ACES, which research shows corresponds with poor outcomes for school and health.
As toddlers bounced balls and as infants lounged on the hips of their teachers, the scene was reminiscent of a typical daycare. But everyone — including the parents in attendance — was under the supervision of a team of social workers and therapists.
Nearly every child enters the program with two or more developmental delays, which can range from social skills — like greeting familiar faces — to spatial awareness and difficulty with physical touch.
"We have big rolling pins that we roll over their body to help them get used to being touched," explained Lesak.
Each child receives an assessment when they enter the program, and a follow-up after six months.
"They can have irritability. Sometimes they wander around indiscriminately and don't know where to be —  so all that is part of the trauma they've endured And the main focus to mitigate that trauma is really relationship building — not only with the child but with the family," she said.
SafeStart says this 'whole family' approach is key. On top of substance abuse, most parents of kids in the program struggle with mental illness and the effects of growing up in the foster care system. So to encourage stability, the program has an open door policy for parents, with lunch and snack included.
"They don't have good role models from their childhood. So by coming here and working with the teachers and family therapeutic coaches they can give them resources — model for them and show them how to be that role model," said Dana Henry, Assistant Director of Early Childhood Development, who has worked with SafeStart families for over a decade.
'Swirling tornado'
There are signs that the program is working. SafeStart reports that by the time children move on to preschool, they are dealing with half the number of disabilities they had when entering.
The Allentown School District has not studied or analyzed the outcomes of students from the program, but leaders are very enthusiastic about any early interventions.
"The earlier the intervention the better," said Jacqui Scott, who directs the district's Office of Community and Student Services.
She says that it's difficult to diagnose problem behaviors in school, and sometimes kids dealing with trauma will be misdiagnosed as needing special education services. Traumatized kids have difficulty self-regulating, and can have short fuses when it comes to punishment.  
"You think about the negativity they've experienced….and it's just like this swirling tornado for the child," said Scott.
The programs — with small class sizes, one-on-one therapy, and specially tailored services — isn't cheap. SafeStart costs about $37,000 per child a year, much more than the average $10,000 per child federal allocation for Early HeadStart.  To make up the difference, SafeStart uses a combination of federal and state grants, in addition to local philanthropy.
A growing body of research suggests that investment in early education is worth it, boosting the academic performance of students in the primary grades.
But the reach of these programs is relatively small. In 2016, according to federal data, just 7 percent of children who are eligible for such programs in Pennsylvania had access to them — higher than the national average of just 6 percent.
Scott hopes these numbers go up. With the effects of the opioid crisis and poverty continuing, she says Allentown schools would benefit from having more children coming to Kindergarten ready to learn.
"Knowing that HeadStart and programs like this are looking at these things is fantastic, because you can have several great things to teach kids strategies," she said, "but if it's a struggle at kindergarten or first grade. Boy, that's tough."
WHYY is your source for fact-based, in-depth journalism and information. As a nonprofit organization, we rely on financial support from readers like you. Please give today.