After Maria, farmers build resilience through sustainability
In Puerto Rico, a group of farmers help each other rebuild and prepare for the coming hurricane season.
Listen
7:06
High in the mountains of Puerto Rico, farmers drive their pickaxes deep into the earth. They struggle to keep their balance on the sloping hills of the guava orchard as they dig a trench a few feet wide to help retain rain water and reduce erosion. It's called a swale, and it's a method of sustainable farming that is especially useful on steep land like this 7-acre farm.
"In Puerto Rico, that's the reality of most sustainable farmers, because the best farm lands are in hands of the biotech seed companies like Monsanto and Bayer," says Daniella Rodríguez Besosa as she refills a tank of natural pesticides to spray the trees.
Rodríguez Besosa is part of a group called the Circuito Agroecológico Aiboniteño. They're all farmers, mostly women — and they spend one day a week at each other's farms. They've been working together since the hurricane to clean up and to help each other become more sustainable.
"Maria hit, and it was an eye-opener for a lot of people," she says. "It was also a call to action: nobody else is going to help us, we need to help ourselves. And how do we help each other?"
Farms in Puerto Rico were devastated during Hurricane Maria — it's estimated that 80 percent of the crops on the island were destroyed, and $1.8 billion of damage was done to agricultural infrastructure.
Rodriguez Besosa says the group of farmers in the circuito have come to see sustainability as synonymous with resilience and independence. They hope that if they only rely on themselves, they'll be better prepared for the next hurricane season. Or at least, they'll be able to recover on their own terms, without waiting for help.
There's science to back up that hope — when researchers studied farm damage after extreme weather events like hurricanes, they found that diversified small farms suffer less damage than large farms that practice monocropping.
Building resilience for a quicker recovery
Jessica Collazo's farm is a few miles away, on a small plot of land carved into the mountainside. A couple of baby chicks and a few thin beds of fruits and vegetables line the plateau, which drops off and disappears as if swallowed by the valley below. A mountain range covers the horizon line. Collazo has a panoramic view of paradise. But after the hurricane, things weren't so serene.
"After Maria, we were left with nothing," she says in Spanish.
The storm washed her crops, her seeds, and her soil over the side of the mountain. She and her husband make their living — and support their daughters — by selling their produce at local markets, but they had to start over from zero, she says.
With the help of the brigade of farmers, she built banks on the edges of the mountain and dug swales she hopes will lessen the damage from the next hurricane season. The farmers helped her get new seeds so she could replant and came to clear fallen trees on her farm.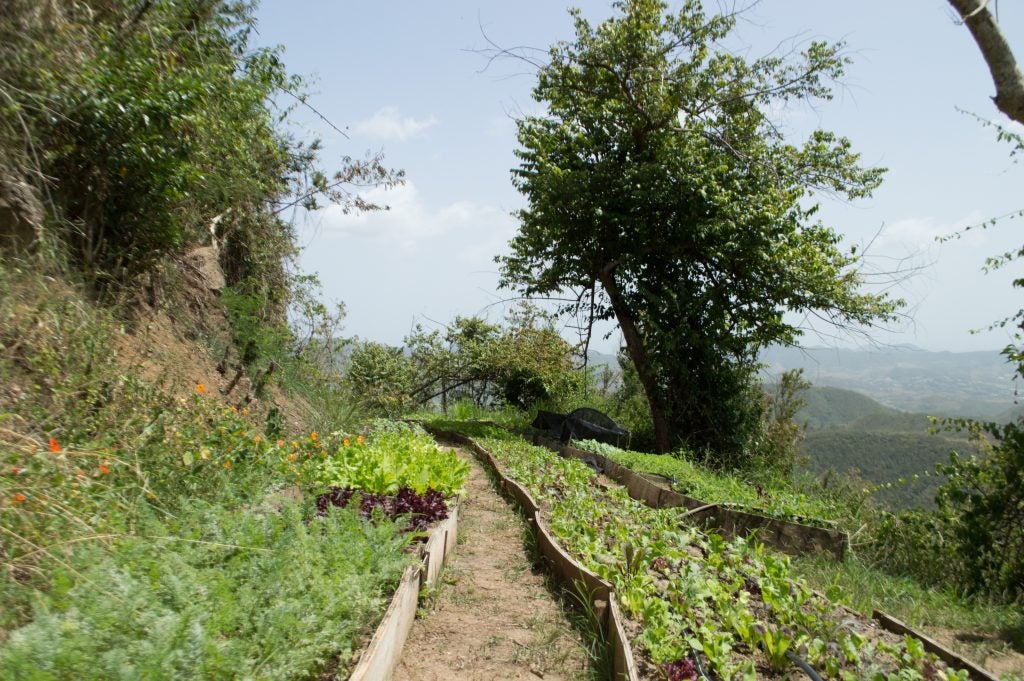 Collazo fears she still hasn't done enough to prepare for the next storm, and the farm isn't even fully recovered from Maria.
"We'll see the same damage," she says.
Collazo practiced some forms of sustainable agriculture before the hurricane, but that didn't protect her from the wrath of Maria. She hopes that working with the circuito will help her make the farm completely sustainable sooner.
Hope for a more independent future
Small farmers face especially tough obstacles as they recover from storms. Large farms can rely on governmental aid and crop insurance to help them recover, but most small ones don't qualify. The way crop insurance is set up, farmers need to have at least one acre of one type of crop.
"We learned that after the hurricane — that we need to starting asking special insurance conditions to Puerto Rico," says Carlos Flores Ortega, the commonwealth's agriculture secretary.
He says he has spoken with the U.S. secretary of agriculture to review insurance policies for the growing number of sustainable farms on the island.
"There is a new generation of people asking for fresh, organic food in Puerto Rico, so this millennial generation — they are getting good impact in agriculture, as well as women farmers," he says.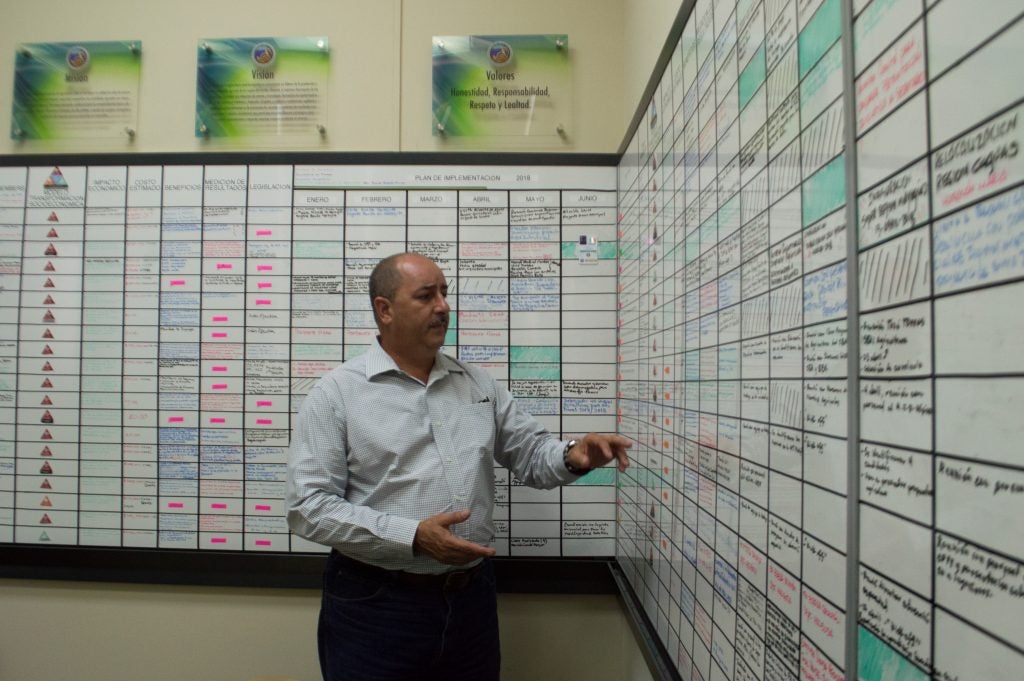 He hopes this influx will help solve a problem that became particularly apparent in the wake of the hurricane: Puerto Rico imports more than 85 percent of its food, which makes it difficult to find fresh healthy food on the island — especially during a natural disaster.
"Right after the hurricane, up here in the mountains there was a severe food crisis," Daniella Rodriguez Besosa says. "There was no food. And people were standing in four-hour-long lines just to get bags of crap."
Sitting in the shade of a tree on her farm in Aibonito, Rodriguez Besosa explains that despite the losses they endured during Maria, farmers had things that many of their neighbors lacked. Thanks to solar power, they had electricity. Thanks to their rain catchment system, they had water. And thanks to their diverse crops, they still had some fresh food.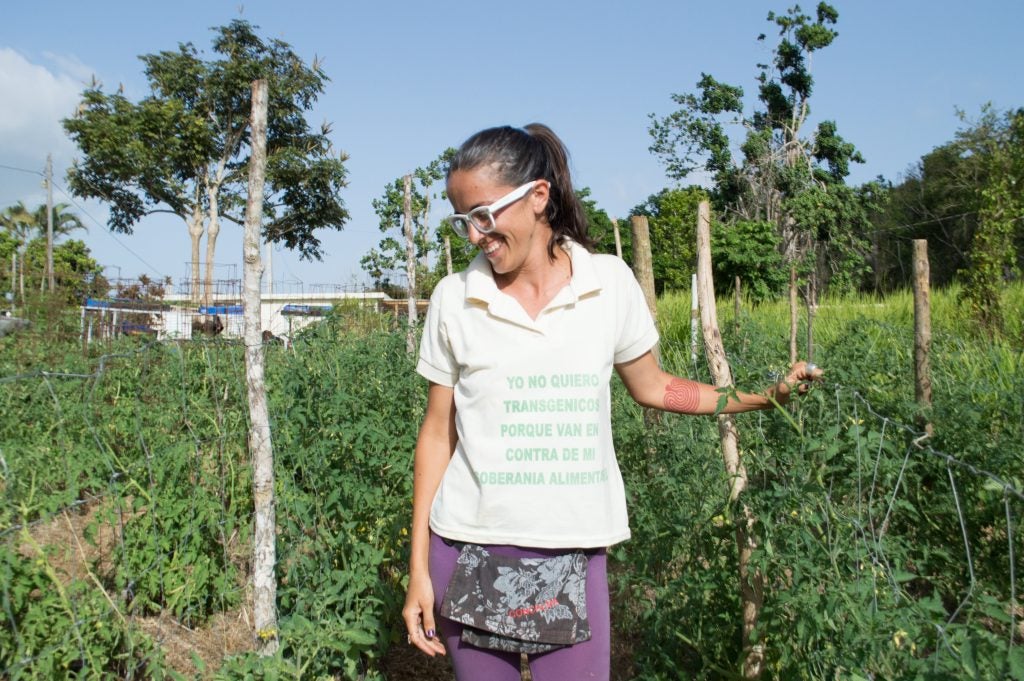 "We felt like the richest people in the world," she says. "To actually have greens on our plate was such a luxury."
That's part of the reason she's turned her farm into an emergency resilience hub for her community. When the next hurricane comes, she'll be able to offer nutritious food, and water. Neighbors will be able to plug in their medical devices. Fellow farmers will be able to put their crops in cold storage so they won't perish. And she'll be ready to share the wealth from farming sustainably.
WHYY is your source for fact-based, in-depth journalism and information. As a nonprofit organization, we rely on financial support from readers like you. Please give today.