Zoe Strauss is everywhere
Philly is in love with Zoe Strauss.
Strauss, a 41-year-old Philly-born photographer, has spent the past decade recording American life, in all its tragicomic complexity. And this weekend, the Philadelphia Museum of Art opens Zoe Strauss: 10 Years, a highly anticipated retrospective of Strauss' work, kicking off with a dance party (sold out) and continuing through April with Strauss holding office hours, workshops, and conversations with other artists.
Strauss' subjects in Philadelphia and beyond are as real as people and places get. Her intimate images reveal moments that she hopes collectively "create an epic narrative that reflects the beauty and struggle of everyday life."
Of late the press has been running wild with enthusiastic support for Strauss, her art, and this exhibit. This week's cover story of Philly Weekly tells the layered tale of Strauss' iconic and well-loved "Mattress Flip" photograph. The story of the image itself is a micro-version of Strauss' artistic realm: fragility, beauty, and the often invisible interconnectivity of our daily lives. Adding to the love, Next American City makes the important argument for "Why Zoe Strauss Matters." Both are must-reads.
The museum exhibit is also extending out into the streets of Philadelphia with The Billboard Project with 54 billboards city-wide sporting Strauss' photographs. The installation feels something like a scattered, city-scale version of one of Strauss' Under I-95 shows. It's at once insurgent and playful, and it is an amazing public gift that encourages us to appreciate our city in all its grit and glory. Look closer, it is a beautiful thing.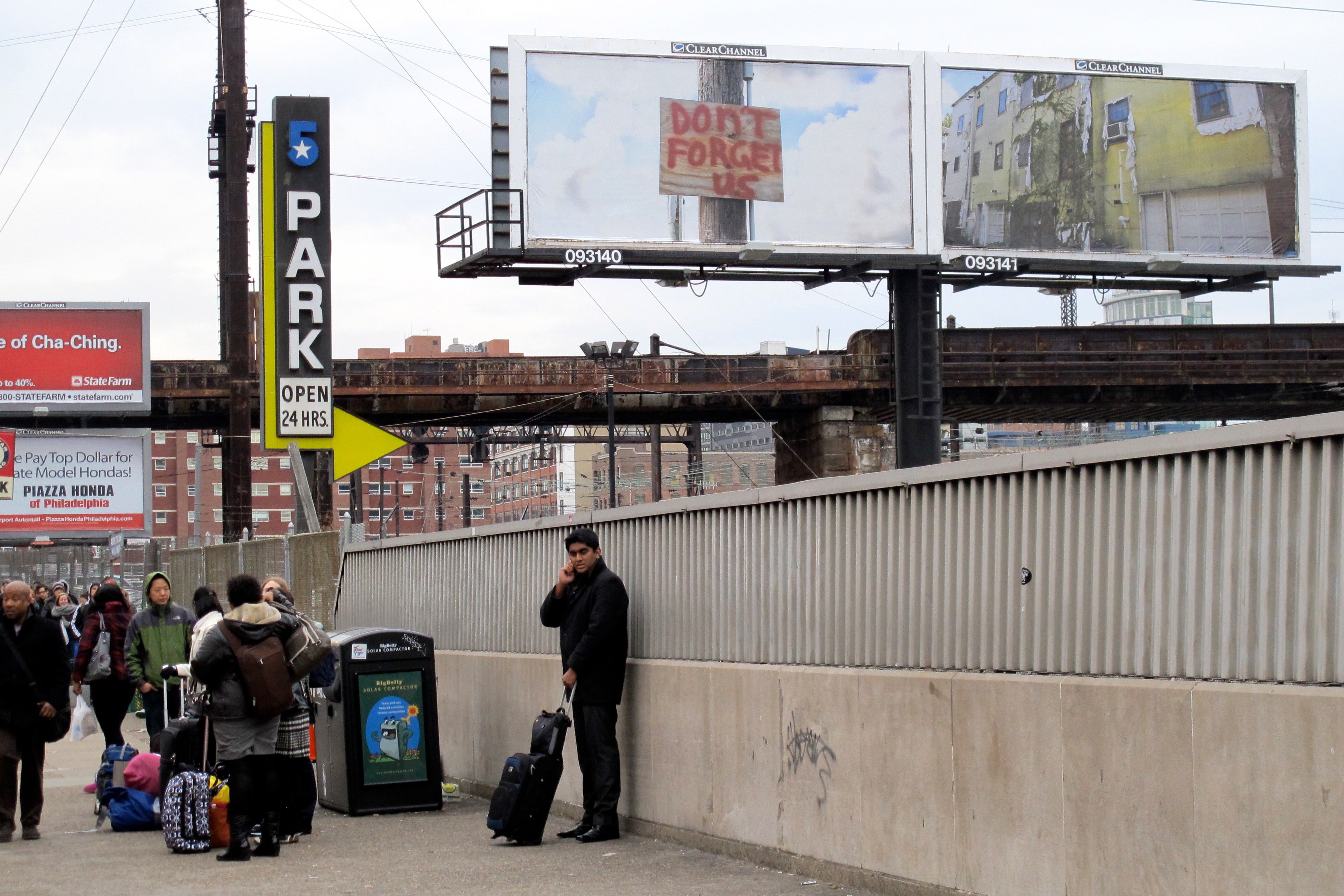 The Philadelphia Museum of Art initially purchased 7 billboards to display Strauss' photography, and amazingly the other 47 billboards were donated by Clear Channel and Krain Outdoor Advertising. On her blog, Strauss commented that working with the mega-media conglomerate Clear Channel was positive. She wrote, "They are supporting an anti-marketing, anti-ad, conceptual art project, filled with subversive and difficult images with incredible generosity. We are the most unlikely partnership in the history of the world."
The Billboard Project sets the faces and places that are Strauss' subjects reflected back into their natural habitat. There, above our city's very real street life, Strauss' subjects are stars.
To help you go billboard hunting, the Philadelphia Museum of Art built a website for the Billboard Project, offering a route or you can use the choose your own adventure option. The map below was made by Michelle Schmitt as a billboard finding aid.