Zoning code work in high speed mode
March 10, 2010
By Thomas J. Walsh
For PlanPhilly
The Zoning Code Commission is in the process of wrapping up its first major module and on the verge of seeing Module 2 (on Classifications), due next month from its hired consultants. In the meantime, yet more public feedback has come in through the latest online survey (taken by 100 people) and more workshops that totaled 125 participants.
"We're really out there as researchers trying to get an unbiased perception of what's going on," said Owen Franklin of Portfolio Associates, a Philadelphia community relations firm subcontracted for the zoning code rewrite.
Franklin said 11 key changes to Module 1 were suggested by the public. They include making clear who can testify at Zoning Board of Adjustment meetings, and more details on public notice requirements, use variances and "design review" policies. For all of the key changes, there were more positive than negative, he said.
For use variances, their effectiveness will hinge on how reclassifications are re-written, Franklin said. The same goes for remapping – the public believes remapping should be conducted periodically. There should also be clearer language, or definitions, of terms such as "reasonable economic use" and "quasi-public."
Subjective terms like that make the public uncomfortable, Franklin said, so better context might in order. Citizens are also skeptical of the value of "accepting" a comprehensive plan submitted by a neighborhood group, versus "adopting" a plan.
Some of that is already being addressed by the Planning Commission, said Planning Commission Executive Director and Acting Deputy Mayor Alan Greenberger, in guidelines it is approving for community group input.
Overall, information is desired in "lay language," Franklin said. To that end, "We've been thinking of changing the term 'design review' to 'project review,'" said Commissioner Daniela Holt Voith, an architect and mayoral appointee to the ZCC.
Downhill from here?
"We're on the luge portion of the ride," said Greenberger, in a nod to the Winter Olympics. But Don Elliott, senior consultant to the ZCC from the Denver-based Clarion Associates, added that the commission is not quite at the "50:50" mark of that ride.
ZCC Executive Director Eva Gladstein said she and her staff continue to meet with city department leaders. Recently, Donald Schwarz, deputy mayor of the city's Office of Health and Opportunity challenged the ZCC to incorporate some of the health office's current campaigns against obesity and tobacco use into the code, if possible. Gladstein said many of the code provisions promote walkability (in a city already considered among the most easily walkable in the country).
'Common Ground'
Recently, the Penn Project for Civic Engagement (PPCE) issued a final report on the results of its "Common Ground" series of meetings held in partnership with AIA Philadelphia and the William Penn Foundation. The three meetings were held in January and engaged, respectively, the development community, representatives of neighborhood groups and civic organizations, and finally a mix from the first two workshops.
"The purpose was to gather input from major stakeholders about what forms public participation should take under the development review process in the new zoning code," the report states.
The results highlight eight "common ground principles" suggested to the ZCC. Greenberger, who is also the ZCC's chairman, commented on all of them, and said the commission disagrees with two of the principles. "The responses may be evolving, as they tend to do," Greenberger said.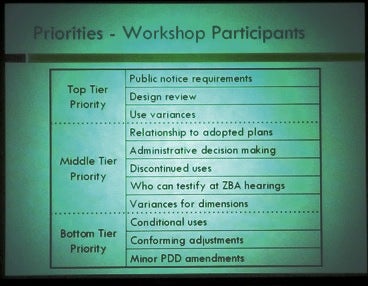 The principles are listed below, followed by some of Greenberger's brief comments (see video for full presentation):
1.) "Every neighborhood should have a similar, widely known way to convene civic groups and concerned individuals for input into project review."
Alan Greenberger: "We fundamentally agree with that." One thought is to establish a system of registration for neighborhood organizations, he said, adding that registration might be seen "as an incentive in a way, not a penalty." He said the commission does not support a "convening civic group" as it would be a whole new layer of bureaucracy and "we're not sure we have the capacity," or even if the communities themselves have that capacity.
2.) "All projects of a certain level of impact, whether as-of-right or requiring variances, would benefit from public input."
AG: "We agree with that" How it gets done obviously is an important question, he said, adding that when a project has sufficient public impact, it is easy to get input. But when on a smaller scale, sometimes "that's just neighborhood business."
3.) "When assessing a project's impact, go beyond size to look at how a project impacts or fits into its surroundings."
AG: "We agree with that." Multiple factors trigger design review, he said.
4.) "Issues of design and aesthetics should be reviewed, but on a basis separate from the parameters of zoning."
AG: "This one we actually don't fully agree with." Design aesthetics, planning and zoning "all come from the same, in a way, creative base," Greenberger said. "There will be judgments of taste – you can't get around that." He used as examples two instances of the use of jarring colors on buildings. One was "blazing purple" trim around windows on a house on a non-historic block of West Philadelphia. The other was a very large building, 10 stories or more, which the owners planned to paint "blazing orange." The former would likely stand because of its "pretty limited impact," despite initial objections from neighbors. The latter has a more obvious, wider effect on the city as a whole. "Zoning defines what you can do on a property. It doesn't define impacts."
5.) "Early and effective notification about project proposals helps improve outcomes both for the neighborhood and the developer."
AG: "We agree with that." It is an issue that "has come out time and time again. Of-right still has to mean of-right, but that doesn't mean we shouldn't have input."
6.) "The project review process should be more transparent and predictable, in ways that inform, invite and engage constructive participation."
AG: "We agree." This could take many forms, but he cautioned there's always going to be a debate. "If people don't like what we're doing, somebody is going to say that we're not being transparent."
7.) "Clear review timelines should be set as part of a predictable public input process. This would reduce uncertainty and cost for the developer while ensuring the community gets sufficient time to assess, discuss and comment."
AG: "We agree. Predictability is, at some level, even more important than the time frame itself." Within the context of the dictum "Time is money," he admitted that, "In the public sector, time is not our number one thing. Accountability is." The instincts of government and to some extent community groups is on accountability, while developers hew closer to business instincts. "Each side has to be cognizant of the other's instincts."
8.) "The role of City Council members in zoning and project review should be made explicit and transparent."
AG: "We don't agree with this principle. That's not the purview of the Zoning Commission. The rules of City Council are the rules of the City of Philadelphia. We're not in a position to propose something different. What we are in a position to do, and what we're going to do, is create a very rational, modern, up-to-date code, that hopefully because we have several Council members who routinely part of this process, can advocate to their own colleagues and say, 'This is in fact kind of a new game here.'"