Assessing the zoning code after one year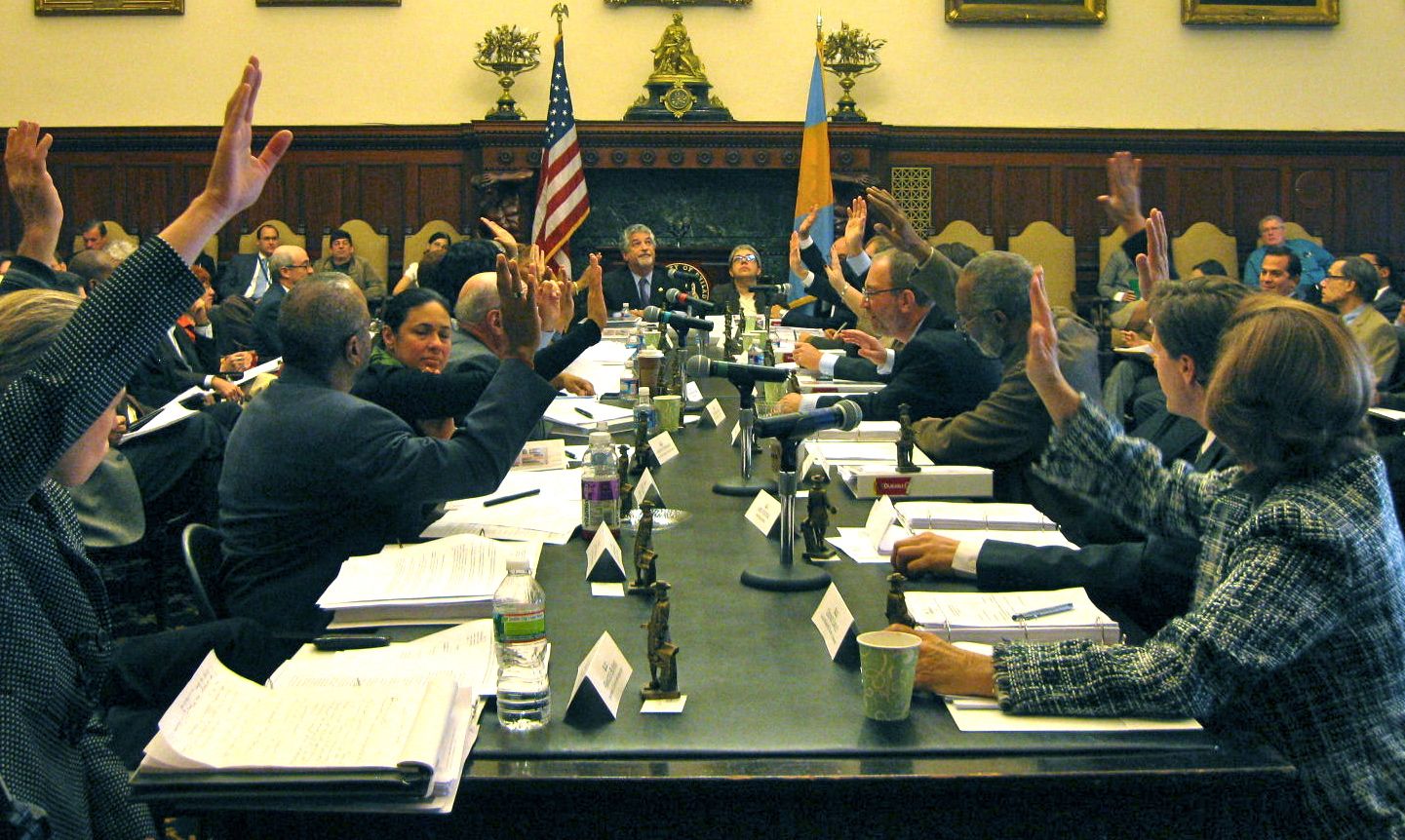 On Thursday, one year after the city's new zoning code was enacted, the Philadelphia City Planning Commission delivered a report to members of City Council describing how well the code is meeting its goals and recommending certain amendments for its improvement.
Natalie Shieh, who works for Deputy Mayor Alan Greenberger, said Thursday afternoon that she had personally delivered copies of the report to each City Council office. It's hard to say how quickly Council will dive into the report—it has other issues to deal with, like the untethering of civilization—but it was Council that asked for the report, and the Planning Commission, L&I, and the Zoning Board of Adjustment obliged.
The report was written with the input of city agencies, community groups, developers, and other code users. Among the items that its authors chose to highlight are an increase of 11 percent in the portion of zoning permits issued by right, a small reduction of variances in the common RM-1 zoning district, a general perception among code users that the new code is easier to understand, and the need to resolve confusion surrounding the Registered Community Organization process as it was amended in January by a bill from Councilwoman Jannie Blackwell.
To review: the purposes of the reformed zoning code, according to the text itself, are to "promote sound planning principles … sustainable and environmentally responsible practices … growth and economic development … [and] fair and consistent procedures for its use."
Some of the report's analysis of zoning permit data was discussed in a previous PlanPhilly post, but some key facts bear repetition: by-right permits are up, special exceptions are down, but the portion of variance requests granted by the zoning board has stayed exactly the same, at just over 90 percent.
Some planning and zoning officials have pointed out that many of the cases the ZBA considered over the past year were actually filed under the old code, and the report notes that many variances are the result of widespread incorrect zoning as the Planning Commission works to remap every neighborhood in the city. The zoning districts with the highest portion of appeals since last August are RM-1 (low-density multifamily residential), RSA-5 (high-density, single-family residential), CMX-2 (neighborhood commercial corridors), I-2 (medium-impact industrial), and ICMX (industrial/commercial mixed-use).
The report includes four major recommendations:
Council should adopt some three dozen "technical amendments," linguistic fixes aimed at cleaning up errors and standardizing definitions, as well as more substantial recommendations related to around twenty sections of the new code.

The second recommendation is a detailed plan to fix the RCO process (see below). The report suggests that the minimum qualifications for becoming an RCO should be augmented, that groups should have to re-certify every year rather than every three years, that overlapping RCOs should convene a single meeting with zoning applicants, and that the notification requirements on developers and community groups should be eased and incorporate a "good faith standard." In essence, the report recommends undoing the bulk of Councilwoman Blackwell's amendments. Natalie Shieh said that City Council members seem to be generally on the same page with the Commission about the need to fix the RCO process. "I would say what we're hearing from [Council] in terms of how they would like the system improved is consistent with our thinking in a lot of respects," Shieh said. "Have we sat down and said, 'OK, what do you think about this one?' We haven't done that yet. That will come later."

Zoning data should be monitored more closely to help agencies understand how the code is working and how it can be improved. The report says that Alan Greenberger's office is considering looking for resources to dedicate one staff member to ZBA administration full time. PlanPhilly asked whether any potential new data gathering would be publicly available. "I honestly haven't thought about that question at all," Shieh said. "It was really more focused on internal process and for us to be able to administer and continue to improve the code so that it didn't fall out of date again. But I don't think we'd be necessarily opposed to a public access version, we just haven't thought about it yet."

Remapping needs to be emphasized so that appeals can be reduced and residents can have a reasonable expectation of and input on what can be built in their neighborhoods. "I think the link between the lack of the drop of variances and the importance of moving ahead with remapping is something that became clearer as we prepared this report," said Alan Urek, the Planning Commission's director of strategic planning and policy. "I wouldn't call it a surprise, but it just added some clarity and made it more urgent in our minds to move ahead with that."
Among the specific proposals for substantive amendments to the code are a set of recommendations for clarifying the Civic Design Review process. The report recommends removing the lowest CDR "trigger"—for projects of 25,000 square feet and 25 dwelling units—and eliminating CDR for Master Plan Districts, to name a few. Natalie Shieh also echoed comments made by CDR Committee Chair Nancy Rogo-Trainer during a Planning Commission meeting on Tuesday about the importance of taking the design review process seriously.
"For the Committee to really have teeth," Shieh said, "we as a city need to start communicating that we expect to see design changes. I don't know how much we've been doing that, because we haven't had that many projects to talk about yet."
The report also suggests allowing community gardens by right in SP-PO (Parks and Open Spaces) districts, adding maximum parking limits in CMX-3, CMX-4, and CMX-5 districts, and limiting the size and number of accessory structures permitted in residential districts.
Several recent project proposals have raised questions about above-ground parking in dense commercial districts.
The current requirement in CMX-4 and CMX-5 districts is that developers need a special exception to build parking garages above grade. A recommendation of the report is that the design of all above-ground parking garages be approved by Planning Commission staff. Additionally, the report calls for removing the special exception requirement for garages in those districts, and instead permitting above-ground parking by right when it includes up to 125 percent of the required parking capacity, and requiring a traffic study and a variance for parking garages that provide more than that.
These are just a few of the substantial recommendations in the report. The report contains many more recommendations, along with the collected responses to the Planning Commission's online survey about the new code and scores of comments from code users. Check it out.
"While the Planning Commission and [Alan Greenberger's] office is kind of at the forefront of this conversation and pushing the agenda along, this really is the city's code," said Natalie Shieh. "This is our code. Countless numbers of people participated in this, and they kind of need to show up, and speak up, and tell City Council, 'These are the changes we want.'"
WHYY is your source for fact-based, in-depth journalism and information. As a nonprofit organization, we rely on financial support from readers like you. Please give today.