ZBA tosses appeal of digital billboard conversion at 5th & Callowhill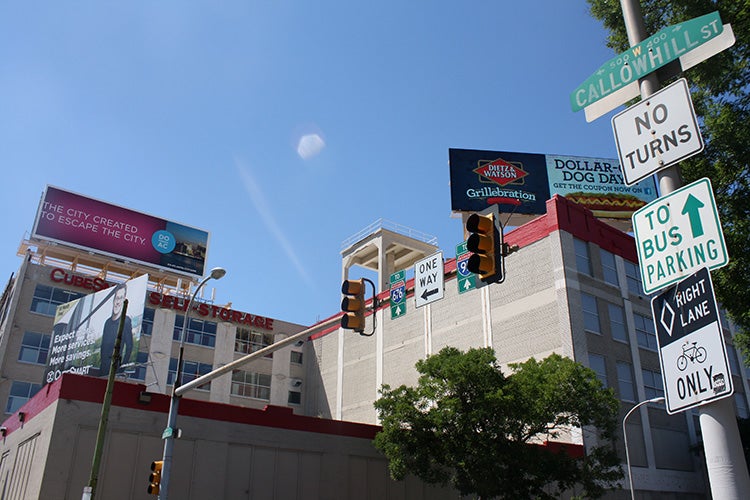 The Zoning Board of Adjustment threw out an appeal Wednesday that was filed last year by Scenic Philadelphia against a permit to convert two non-conforming billboards at 400 N. 5th Street to digital signs.
The first hearing on the matter was held back in July, but attorneys for the sign owner, Keystone Outdoor Advertising, filed a "motion to quash" the appeal just this past Monday. After about an hour of testimony, the Board granted the motion by a vote of 3-1. Greg Pastore voted to deny the motion.
Three out of four members of the ZBA voted to grant the motion because, the applicant argued, the appellants didn't feel the appeal within 30 days of when construction began. Joe Felici, president of Keystone, said that the construction began on March 2nd, 2012. The zoning permit was never posted, however, so the date the construction began has to be based on when a "reasonable person" would notice that it began. A witness for the appellant who lives in an apartment a block away from the site testified that he first noticed the construction on May 2nd and alerted his civic association, which then alerted Scenic. The majority of the board sided with the sign owner's account of when the construction began, and ruled that the application was filed too late.
So the merits of the appeal were not discussed at the hearing.
Scenic Philadelphia filed the appeal based on the idea that the owner had not simply converted the sign faces of the two billboards to digital display, but had in fact replaced and relocated an entire sign. Scenic Attorney Stephanie Kindt and a witness said that one of the signs, which are located on top of a self-storage warehouse, now faces in a different direction than it previously had. Non-conforming uses, signs included, may be maintained but not moved. Stephen Pollock said that the owners had done everything the permit allowed and nothing more.
Stephanie Kindt said that Scenic Philadelphia will likely appeal the case to the Court of Common Pleas as well as pursue the sign conversion/relocation as a violation with 311.
Contact the reporter at jbrey@planphilly.com and follow him on Twitter @jaredbrey