York schools poised for state's first district-wide charterization
Listen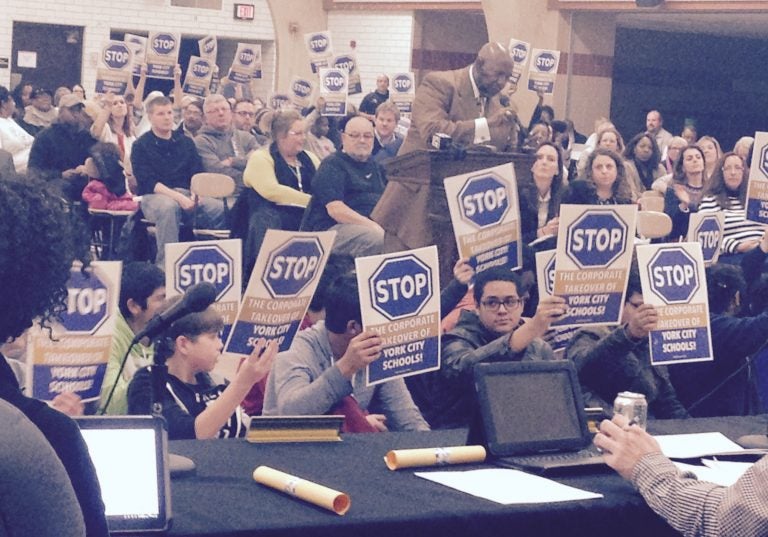 Gov.-elect Tom Wolf has said he's against privatizing York schools, and critics says there's pressure to do that before he takes office.
Students, parents and teachers spent more than two hours Wednesday night protesting the turnover of the city of York's floundering public school district to a private for-profit charter school operator.
"If it is for a public service, for the interests of the children, why does money need to be made off their education?" says teacher Vlonda Kearse.
Distrust was a common theme in the testimony of about three dozen people who testified – some, three or four times during the evening.
Desperation figured prominently, too; specifically, to keep the district intact and convey the social and educational benefits it's conferred upon students.
Ultimately, the school board did not vote on the proposed contract with Charter Schools USA. Instead, members unanimously moved to table the matter so they have time to get more information about the company's plans.
A rare move
Charter Schools USA can't take over York's schools any sooner than next year.
But if that happens, the district could be one of just a few in the nation to be entirely charterized.
The board previously rejected a hybrid plan that would keep some buildings under district control.
District-wide charter conversion seems imminent in a handful of districts nationwide – Buffalo, N.Y., for example, and the Michigan communities of Muskegon Heights and Highland Park, near Detroit.
But that hasn't actually occurred anywhere aside from a couple of rural districts in California – and each of those are comprised of just one or two buildings, according to National Association of Charter School Authorizers spokeswoman Jobi Cates.
Some media reports refer to New Orleans' public schools as all-charter. But Cates says that district retains oversight of 12 schools, which enroll about 15 percent of students.
Gov.-elect Tom Wolf has said he opposes privatizing York schools. His transition team hasn't responded to requests for comment on preparations for the possibility that a receivership and charter school contract could be in place by the time his term starts.
It's also unclear how the city figures into a countywide school consolidation proposal forthcoming next month from a delegation of state lawmakers representing the area.
What's next?
Board members say they'll vote again no later than Dec. 17.
Their autonomy is limited, though, because the district is engaged in Pennsylvania's Act 141 process for struggling public school systems.
York's chronic financial problems drove the district into the program, resulting in the appointment of Chief Recovery Officer David Meckley and development of a recovery plan.
Officials haven't reached the plan's prescribed concessions from the York Education Association.
Meckley says that amounts to noncompliance with the plan. Under the law, that justifies a receivership.
The board attempted to address that by voting 6-3 Wednesday to approve a bargaining agreement with teachers.
But Meckley says the new deal doesn't cut it.
"The collective bargaining agreement, as I understand it, does not provide enough manpower. So it's not a viable internal plan," Meckley says.
Board Vice-President Michael Miller said as much before voting against the contract, despite his desire to maintain the district.
Meckley said previously he'd immediately pursue that if the board rejects the Charter Schools USA contract.
After Wednesday's meeting, he said he might wait.
That way, board members would have the extra time they want to try to get details they and their constituents say are unclear or absent entirely from the company's proposal and latest contract offer.
Charter Schools USA representatives attended Wednesday's meeting, but couldn't provide the specifics people wanted about their plans for providing services such as extracurricular activities.
They also questioned the state's pledge to give the company $2 million during the first half of 2015 to help prepare to start running the district that September.
Another point of contention: why the company's $100,000 of research on York's school system yielded a staff matrix listing just two special education teachers for a district where they're needed for about 300 students.
Representatives say they based the matrix on what's in place in other districts with "similar demographics," but couldn't name them when asked later.School Board President Margie Orr says she's not sure the delay will make any difference, especially in light of hours of protests and Wednesday night's 300-person audience.
"I don't believe our minds are going to be changed," Orr says. "We want this district to survive."
Meckley says he'll decide either way in a few days whether ask the state Department of Education to petition York County District Court for a receivership.