Yes, you can go to your community garden; City deems farms 'essential'
Philadelphia has given community gardens and urban farms the green light to operate during the COVID-19 shutdown with new safety and social distancing measures in place.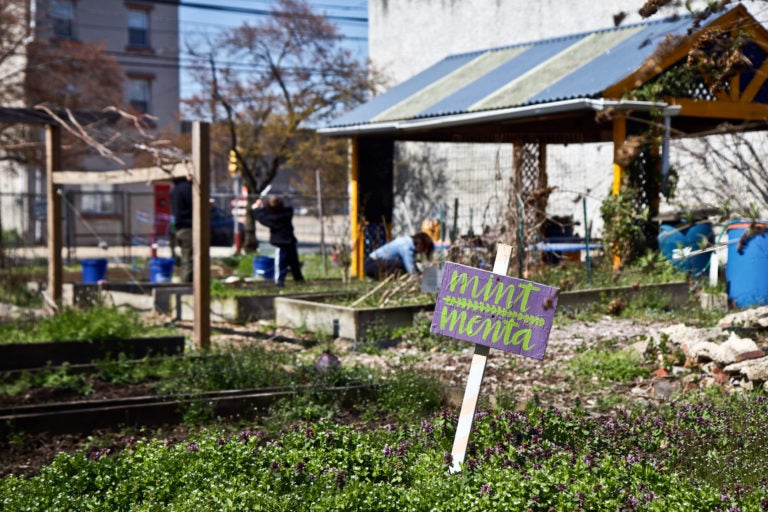 Alicia Rivera visits her community garden every other day. It's a comforting routine at a time when coronavirus has disrupted so much of her life.
The garden, Las Parcelas, near Norris Square in Kensington, has about 30 garden plots for neighbors to grow food, a chicken coop, a little version of a typical Puerto Rican house with a kitchen, colorful murals, benches, tables, hammocks and much more.
"It's like going into another realm," Rivera said.
Working from home while taking care of her 8-year-old son has been stressful. Now the family's whole life happens indoors and online. But weeding her plot and watching her son running around the garden brings the family a sense of normalcy and joy.
"It feels like fresh air. Like walking into somewhere else, after being between four walls in my row home for 23 hours," Rivera said.
But Rivera and hundreds of other growers across the city did not know until this week if they would be able to continue gardening through the state- and city-enforced COVID-19 shutdown. Neither local nor state government had included specific regulations for gardens in their closure orders, leaving garden leaders and members without a clear path. Could they start planting? Would they be arrested by the police if they went to their plots?
Meanwhile, 60,000 seedlings of different kinds of kale, lettuce, broccoli and other hardy greens grown by the Pennsylvania Horticultural Society were sitting at Bartram's Gardens and the Awbury Arboretum waiting to be distributed to 130 sites across the city.
The future was unknown for the plant starters, given annually in batches of 250 to gardens across the city to become food for garden members, pantries and shelters.
Finally, on Wednesday, the city's Parks and Recreation department clarified the situation. Yes, gardens are essential and life-sustaining, thus OK to operate during the current emergency.
"Philadelphia's community gardens provide many residents opportunities for physical exercise and production of food," said Maita Soukup, a spokesperson for the city's Parks and Rec Department.
New rules for communal green spaces
To protect everyone from COVID-19, the city together with the State Department of Agriculture and local garden advocates put together protocols and guidance for residents to operate the nearly 400 communal green spaces across the city.
As of Friday, a maximum of five people will be allowed in a garden at a time, and they will each need to maintain six feet of distance. All shared tools and surfaces will need to be sanitized after every use, and all meetings or events are prohibited.
Gardens who operate farmer's markets will also need to abide by special guidance, such as spacing tables six feet away from each other and ensuring minimal or no person-to-person contact. Crowds are to be staggered and no food shall be sold other than whole, uncut produce. Gloves and hand sanitizer use will also be enforced.
Gardens that do not play by the rules could get closed by the city.
"It's been a wild week," said Justin Trezza, director of community garden programs at the Pennsylvania Horticultural Society.
Usually, gardens pick up the seedlings grown by PHS. But this year, because of the coronavirus, PHS decided to switch to a delivery system. The operation was set to start this Thursday, but because of a possible case of the virus at Bartram's Garden, growing spaces across the city will have to wait until next week to start planting.
The importance of a place to grow your own
Now is when community gardens are most needed, Trezza said.
"Public health crises like this expose the fragility of our food system here in the United States, especially in the urban areas. So, if we're able to get more people gardening it's getting food into the hands of people that might most need it," he said.
Jenny Greenberg, executive director of Neighborhood Garden Trust, a land trust affiliated with PHS that acquires and preserves community gardens in Philadelphia, said the situation shows the importance of having protected open spaces for the community to grow food.
"The more cooped-up we are, the more desperate we all feel for that time outdoors. The community gardens offer a really unique space in our city and an opportunity to put the hands in the earth and connect with nature," Greenberg said.
For Rivera, not having access to her garden this season would have been devastating.
"We've been part of this community garden for 10 years and we really, truly rely on food that we grow in that garden," she said.
That need for fresh produce is even stronger now, she said, with the current uncertainty of jobs, food availability and safety.
"It gives more of a sense of … OK, whatever comes, we're going to have some delicious eggplant, we're going to have some fresh salads," she said.
WHYY is your source for fact-based, in-depth journalism and information. As a nonprofit organization, we rely on financial support from readers like you. Please give today.