Women slowly boosting numbers on Philly boards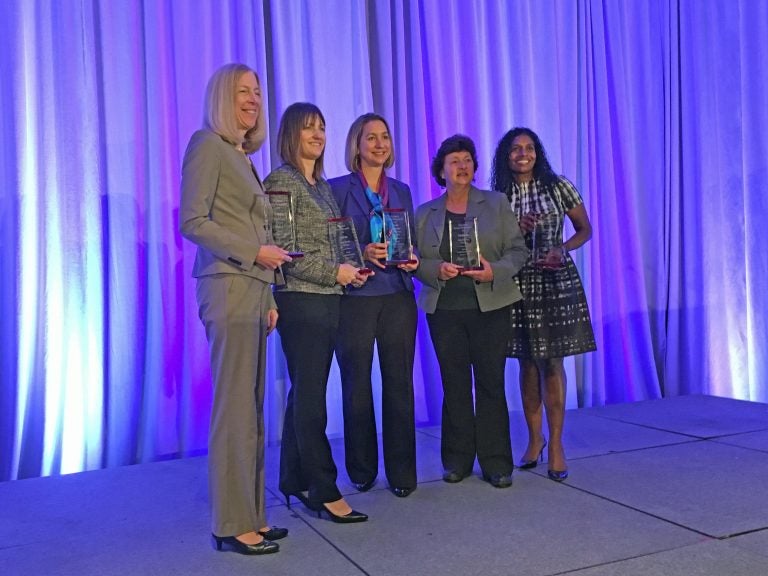 While more women have a seat at board tables in the Philadelphia region, the ranks of women leaders and top earners are still slim, according to the annual Women in Leadership report.
Looking at gender representation of the boards of directors and senior executives at the top 100 public companies in the Philadelphia region from 2011 to 2016, the report found that the percentage of board seats held by women increased from 11 to 16 percent.
Deanna Byrne, managing partner with PricewaterhouseCoopers, a sponsor of the report, delivered the results to a crowd of about 600 professionals at the Forum of Executive Women Annual Leadership Breakfast this week at Philadelphia's Crystal Tea Room.
While Byrne is proud that 80 percent of the companies surveyed have at least one woman board member, she said the number of women who get the highest-paid positions is "clearly disappointing." In the five-year period, the percentage of female top earners inched up from 10 to 11 percent. And in 2016, only five companies were headed by women.
"There does continue to be progress being made on women moving into the boardrooms and the C-suites, but it's at a really slow pace," Byrne said, referring to the chief company positions. "We can't be content because there's still clearly a long way to go."
In April, the Pennsylvania House of Representatives unanimously passed a resolution, sponsored by Rep. Kate Harper, R-Montgomery, urging public and private companies and nonprofits to have at least 30 percent representation of women on their boards by 2020.
Eleven regional public companies at the breakfast were recognized for having 30 percent or more women on their boards.
Patricia Nash Christel, vice president of corporate communications at Navient — one of two companies in the region with a majority of women in the boardroom, said it doesn't happen by accident.
"We see having diversity makes us stronger. We listen better, we strive higher," she said. "It's part of our culture, and we're excited to be honored today."
In 2014, Navient was created as a spinoff company of Sallie Mae and had the chance to redesign the board. Christel said the board chair and CEO actively worked with a search firm to identify diverse and qualified candidates. Over the years, the company has planned for long-term growth, considering board member term limits, to sustain strong and diverse leadership.
Marie Hendrixson, vice president of internal audit with Teleflex, a global manufacturer of medical devices headquartered in King of Prussia, said the former head of the board "made a very conscious effort" to raise representation from 25 to 30 percent by ensuring recognition of qualified women candidates.
"She was instrumental in promoting diversity in Teleflex's board, as well as promoting diversity within management," Hendrixson said. "It wasn't just about adding women, it was about adding the right candidate, but being more open minded to looking at diversity within the board."
Since the chair of the board retired, however, Teleflex is now again just under 30 percent representation.
Peggy McCausland, president of The Forum of Executive Women, said she's glad to see progress, but warned it's important not to become complacent.
"What I want to see is getting us to the point where we don't need to do that report. It's just a given that women are in the C-suite and women are in the boardroom and nobody needs a report to remind them of the importance of that," she said. "And I'm not talking about tokenism, there are plenty of well-qualified women out there. People just need to recognize the importance of looking for them."