Wolf wins re-election, says it's time to 'get back to work'
When Gov. Tom Wolf took the stage to make his victory speech in York Tuesday night, he seemed like a man who hadn't been sweating the win.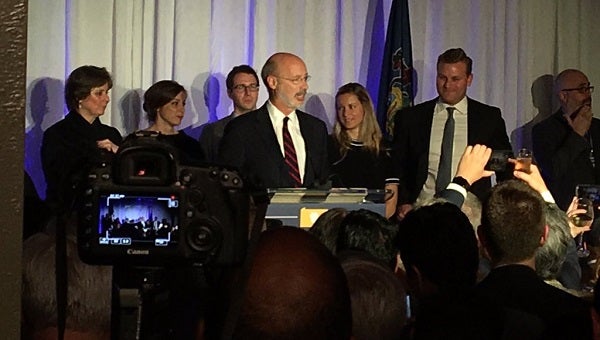 When Gov. Tom Wolf took the stage to make his victory speech in York Tuesday night, he seemed like a man who hadn't been sweating the win.
Wolf, a businessman from York County and onetime state revenue secretary, held a comfortable lead in polls throughout his campaign against former state Sen. Scott Wagner. As of 11:20 p.m. with 92.2 percent of precincts reporting, Wolf led with 57.9 percent of the vote to Wagner's 40.5 percent.
"You voted to continue to make our schools better, you voted for access to quality and affordable health care," Wolf, a Democrat, told his supporters in a victory speech just a little over an hour after polls closed.
"You voted to make Pennsylvania a fairer place for everybody, regardless of the color of your skin, regardless of who you love, regardless of the religion you profess, regardless of your gender."
The two gubernatorial candidates have a lot in common. Like Wolf, Wagner is an independently wealthy businessman from York County. Wolf's trade was building products. Wagner's is trash hauling.
But they were fundamentally divided on everything from policy to personality.
Wolf has placed a moratorium on Pennsylvania's death penalty. Wagner supports capital punishment, even advocating for mandatory death sentences for school shooters (a proposition that has been declared unconstitutional).
Wolf supports increasing school funding to the point where additional money can be routed to struggling districts without cutting into allocations elsewhere. Wagner called for a holistic review of education spending and attempted to paint Wolf's approach as one that could mean cuts for certain districts.
Wolf wants to put a severance tax on oil and gas drillers. Wagner opposed it and promised to review all state spending from the ground up.
But time and again, the candidates' personalities took center stage over their policy positions. The taciturn, professorial Wolf stood in sharp contrast to the often-bombastic Wagner — who made headlines late in the campaign for vowing — he says, metaphorically — to "stomp all over [Wolf's] face with golf spikes."
Major news organizations projected Wolf the winner soon after polls closed. Wagner called Wolf around 10 p.m. to offer his concession.
In a speech at his York election headquarters — just fifteen minutes from Wolf's — Wagner told the crowd that his run had been a "great journey" and that he had no regrets.
Though Wolf will largely be returning to business as usual in Harrisburg come January, he will have to adjust to some changes — chiefly, a new lieutenant governor.
The new LG-elect is Braddock Mayor John Fetterman, who beat embattled incumbent Mike Stack in a hotly contested primary election.
Wolf and Fetterman have campaigned extensively together. When Fetterman introduced Wolf for his victory speech, he ran through a list of issues that were central to their joint platform: the strength of unions, abortion choice, public education, and LGBTQ rights.
Wolf, for his part, ended his speech with an allusion to the reality he'll be facing for the next four years: a state House and Senate that are still heavily Republican and prone to gridlock.
"We still have a lot of work to do," he said. "So let's get back to work."
WHYY is your source for fact-based, in-depth journalism and information. As a nonprofit organization, we rely on financial support from readers like you. Please give today.