WHYY Listening Post: "The Gang Goes to Burholme"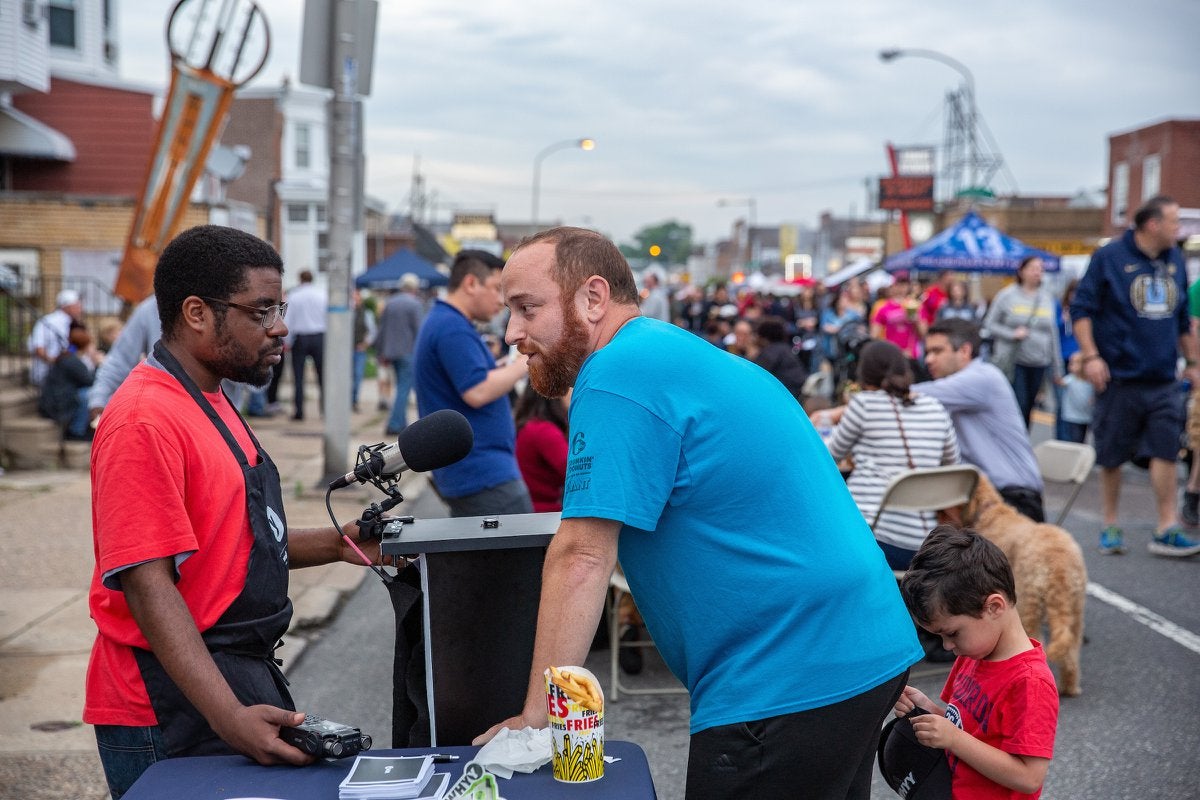 What happens when people have access to a microphone and a platform, with an invitation to tell the invisible listener about their neighborhoods?
PlanPhilly decided to find out.
Last Thursday, we took the WHYY Listening Post out for a spin to Burholme, where the Food Trust closed off some of the major streets in Northeast Philly and opened it up to pedestrians, food vendors, and live music at the Night Market.
The Listening Post is low-tech: It is essentially a wooden podium with a recording device attached. People controlled when to start and stop recording, just as they would with a home video camera. And, like the private experiences that home movies reveal, the recordings left with WHYY were personal recommendations and nuggets of insight, from one Philadelphian to another.
An early participant in Philadelphia's roaming food festival scene, the Night Market has drawn crowds from across the city to a neighborhood some consider off the beaten path. It surprised and delighted neighbors that the Night Market came to Burholme in 2017, and even more that it was so popular the festival returned in 2018.
Seasoned pop-up followers and food-truck aficionados expect the Night Market to attract thousands. Why was it such a big deal to Burholme?
Folks from Fox Chase to Frankford shared some perceptions of their Northeast Philadelphia neighborhoods in relation to the rest of the city. Observations naturally turned to accessibility, developments that are changing the Northeast, and civic assets worth protecting.
April Brown, a School District of Philadelphia principal, noted the opportunity to bring people out of their homes to interact with one another. In an area facing changing demographics, she pointed out, the Night Market put Burholme in a powerful position: that of host. Burholme controlled the narrative, and residents showcased their best to their neighbors and city.
Local and family-owned businesses emerged as something that ground people to Burholme. There was deep pride in supporting businesses that served the community and employed people who live there.
Ashley Coby, a Mayfair resident, emphasized that the specific mix of businesses in Burholme showed him the diversity of the neighborhood, both as a entrepreneur and resident.
For Michelle Price-Randall, the commercial corridors in the Northeast are key to life and community. In particular, she throws love to Rising Sun, Castor, and Cottman Avenues.
Scott Yusem, who lives around the corner, found himself discovering gems in his own backyard. He mentioned Chase's Hop Shop, a local "gastro deli" that opened only a few years earlier but has quickly become known as a community hub.
School-age children also appreciated the local businesses and institutions that shaped their upbringing in the neighborhood, highlighting their favorite after-school programs, local pool, and boxing gym.
Across the board, one thing was clear from our jaunt with the Listening Post: Neighbors referred to local businesses and community spaces like friends, with familiarity and affection.
Some in the Northeast were particularly proud to host, having long felt overlooked by the explosive excitement that's affiliated with Center City.
"I don't like Craig LaBan because he'd never come to a place like this," Betty Woods, a longtime waitress at the Mayfair Diner, told the Philadelphia Inquirer restaurant critic in 2017. "He only writes about fancy, expensive places in Center City, and he'd look down his nose at us. But this is where the real people eat!"
Woods was not alone in her sentiment. Zada Watson, who strolled the Night Market with her little sister, was delighted to run around at a food truck festival in her own neighborhood. Watson, who is not even old enough to drive, had already accepted that fancy things she had never tasted before, like "cheese curds," usually come to Center City but not the Northeast.
Northeast Philly residents shared what they cherished about their neighborhoods, as well as what they are fighting to save.
Wilbert Kilgore took to the mic to talk about the campaign to preserve the Parish House at Trinity Church, Oxford at Rising Sun and Longshore Avenues, home to the former Gibbons Police Athletic League center. Lawndale community members and preservation activists have been fighting plans to demolish the historic Parish House to make way for a new Royal Farms gas station and fried-chicken emporium. The intersection already has two gas stations, Kilgore said. Trinity Church, Oxford itself dates back to 1711, making it the second oldest church in the city as well as one of the oldest churches in the country.
"We are fighting for green space," Heather Miller, a Lawncrest neighbor, told PlanPhilly's Jake Blumgart in August. "This is the only open area in the neighborhood that is safe to walk to. It's a gathering space, which is something this community lacks."
The Philadelphia Historical Commission voted unanimously to add the Parish House buildings to the Philadelphia Register of Historic Places in November, the Northeast Times reported, effectively killing the Royal Farms proposal. Despite the designation, "officials say the church will close in two years without a tenant willing to pay high rent, such as Royal Farms," the Northeast Times' report said.
What the community needs, Kilgore explained, is a place where kids and the next generation can play.
The WHYY Listening Post on Rising Sun Avenue in Burholme. Credit: Dave Tavani for The Food Trust (Dave Tavani for The Food Trust.)

Favorite things in Philly! Recorded on the WHYY Listening Post during Night Market Burholme. Credit: Dave Tavani for The Food Trust (Dave Tavani for The Food Trust)
Where should the WHYY Listening Post go next? We are mobile!
Your neighborhood has a story. We want to hear it.
*WHYY contributor Peak Johnson assembled the audio for this article.
WHYY is your source for fact-based, in-depth journalism and information. As a nonprofit organization, we rely on financial support from readers like you. Please give today.