Dozens of 'defund-the-police' protesters arrested for occupying Municipal Services Building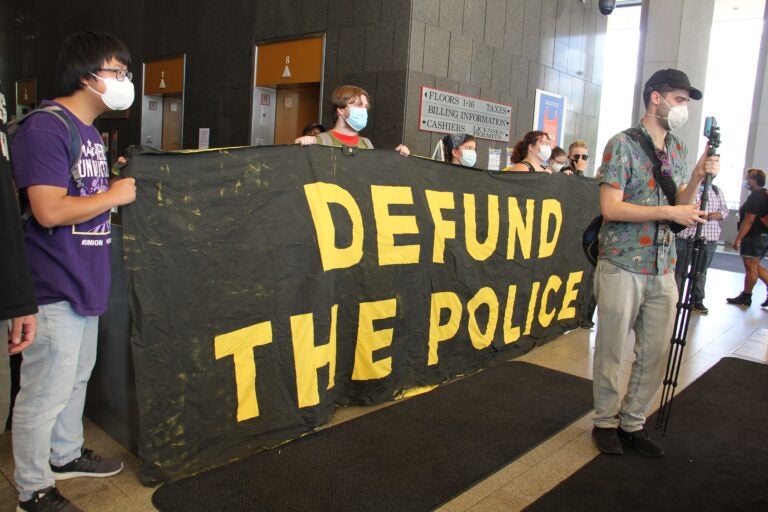 Updated 6:15 p.m.
A couple dozen protesters were arrested for occupying the Municipal Services Building in Philadelphia, across from City Hall, including – briefly – a reporter for The Philadelphia Inquirer.
People had trespassed into the building, which is closed to the public because of the COVID-19 pandemic, where WHYY's Billy Penn reports the group staged a sit-in to demand City Council cut the police department budget by $120 million. Council is set to take a final vote on the budget Thursday.
At one point, the group sang songs together.
Initially, police gave the protesters space but after about an hour, they systematically arrested them, catching reporter Samantha Melamed in the sweep and handcuffing her with zip ties. She was released shortly afterward. A spokesperson for the police department said Internal Affairs is investigating Melamed's detainment, which appears to violate department policy on press access to protests.
Asked Deputy Wilson again about Inquirer reporter who was detained.

He now tells me Melamed has been released pic.twitter.com/VTSuHZPaiW

— Max M. Marin (@MaxMMarin) June 23, 2020
Those not arrested spilled outside the building, joining another, larger group of several hundred protestors that had marched up Broad Street from South Philadelphia. Both groups shared a demand to defund the police.
MSB cleared out (about two dozen protesters arrested). Now another protest converging on City Hall pic.twitter.com/abtS7jNL9K

— Max M. Marin (@MaxMMarin) June 23, 2020
The other march began around 3 p.m. at Broad and Snyder streets in South Philadelphia to protest neighborhood vigilante-style groups and the police they say are aligning themselves with them.
During the recent period of social unrest following the killing of George Floyd by a Minneapolis police officer, there have been at least two incidents in as many weeks in Philadelphia wherein  groups of mostly white men wielding baseball bats, and in one case a hatchet, have amassed to defend a police station in Fishtown and a statue of Christopher Columbus in South Philly.
"Vigilantes claiming to do jobs of police, menacing Black and brown people walking on the street, and sending people to the hospital while police stood by or actively encouraged the violence," said Molly Lawrence with the group Socialist Alternative.
Traffic on Broad Street was diverted as protestors marched north en masse toward City Hall, demanding City Council divert funding away from the police department and toward more community services.
Kenny Golson, of Southwest Philadelphia, joined the protest because he just graduated from Haverford College and wants a better future.
"I'm broke, I'm Black, I'm struggling," he said. "I'm out here fighting for my people, for all people, for humanity. The cops are not part of that whatsoever. They are murdering and pillaging our communities."
City Council has removed $33 million from the police department in its upcoming budget plan, which originally was going to increase police funding by $19 million. Some protestors say the reduced funding is merely reshuffling certain duties that had been done by the police. The council budget moved $14 million from the police department to the Managing Director's office, including $12.3 million for crossing guards and $1.9 million for a new type of public safety officer.
Postal workers rally in Philly for COVID-19 stimulus aid
About 50 people, many of them postal workers, rallied at the historic post office on Market Street in Old City,
Philadelphia Tuesday morning to demand the U.S. Senate pass a stimulus package that includes $25 billion for the United State Postal Service.
"We're disrespected by Trump and the government," said Nick Casselli, president of the local American Postal Workers union (APW). "We're considered essential workers, risking our lives every day, and Trump won't give us a dime to give us funding and keep it alive."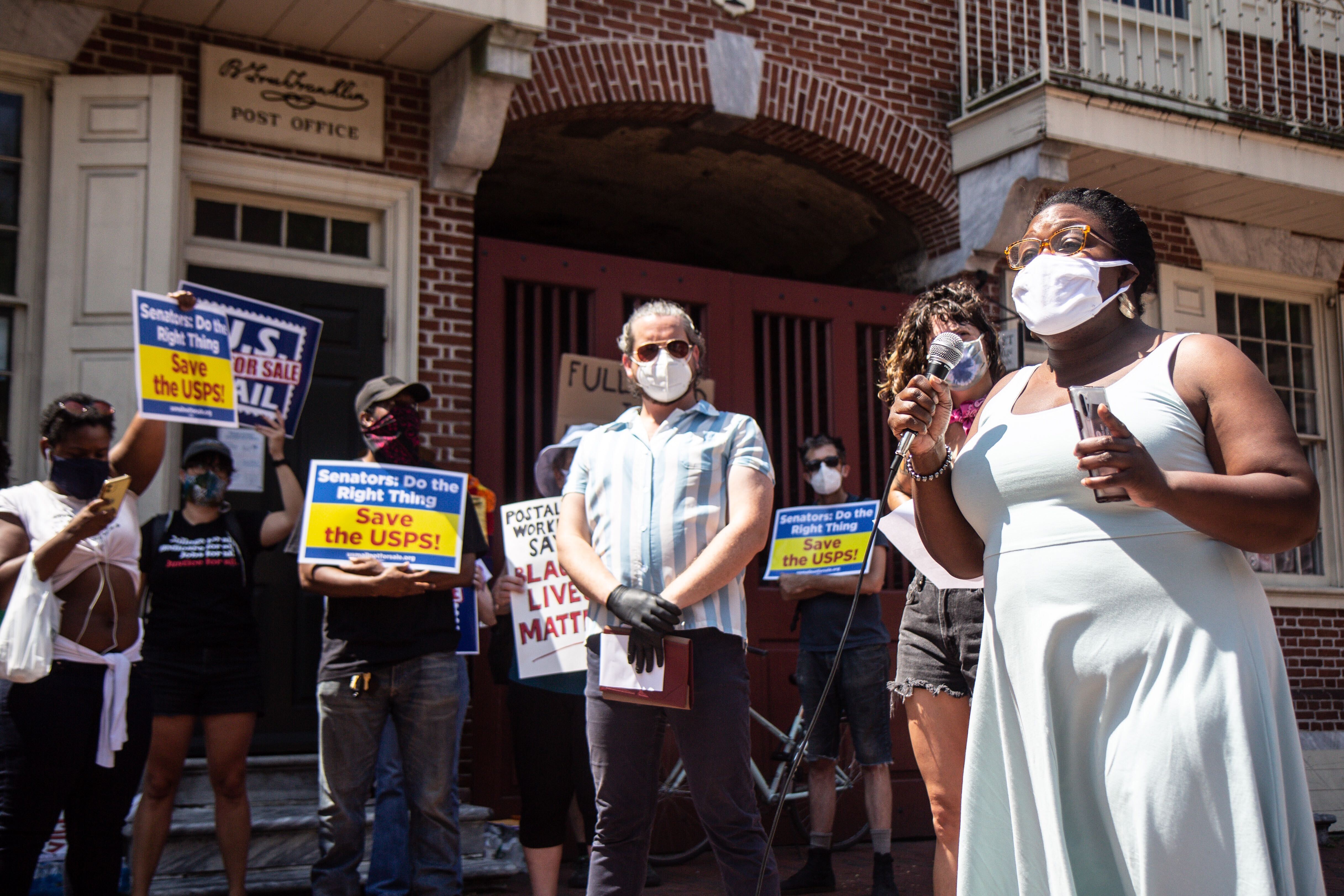 As the coronavirus pandemic has hit the USPS' bottom line, President Trump has threatened to withhold COVID-19 stimulus money from the agency to force it to quadruple the rates it charges large customers like Amazon. Trump has publicly disputed with Amazon's owner, Jeff Bezos.
Protesters called out to Republican U.S. Sen. Pat Toomey specifically to support the USPS stimulus, asking a caravan of motorists to drive between the Ben Franklin Post Office and Toomey's office a few blocks away at 2nd and Chestnut streets.
Casselli believes the USPS is being groomed for private takeover, something many conservatives have championed for years.
"[Trump] wants to privatize the postal service, and this is one of his mad methods to do it," he said. "We're the number one rated customer service government agency in the country, and he's going to allow us to go bankrupt."
According to the Pew Research Center, the Postal Service has operated at an annual deficit since 2007, in large part because of a Congressional requirement that the agency prepay retirement benefits for its workers.
It also has one of the most diverse workforces of any government agency, with more than 40% people of color (about a quarter African American).
Retired letter carrier Joe Piette, of Upper Darby, came to support the action. He believes the USPS is too essential to privatize.
"The Postal Service gives everyone the same wages according to position. Doesn't matter what gender or race you are," he said. "That's very different from society in general."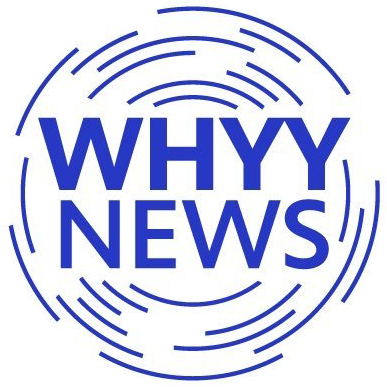 Get daily updates from WHYY News!
WHYY is your source for fact-based, in-depth journalism and information. As a nonprofit organization, we rely on financial support from readers like you. Please give today.