Weekly Entertainment Guide – Paint the Revolution
Robin Bloom offers 16 things to do this week in the Philadelphia region!
What's Happening
Pennsylvania Ballet's "Cinderella"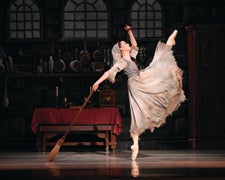 The Pennsylvania Ballet opens a new season with Ben Stevenson's Cinderella. The British choreographer's production was first premiered in 1970 by the National Ballet of Washington and the dramatic and romantic performance is set to a score by Sergei Prokofiev, with performances through October 23, Academy of Music, Broad Street, Philadelphia. Photo by Alexander Iziliaev.
25th annual Philadelphia Film Festival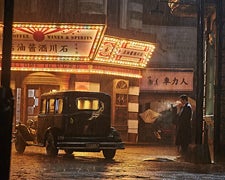 The Philadelphia Film Society celebrates a quarter century with the 25th annual Philadelphia Film Festival, October 20-30, offering approximately 100 films from all over the world at venues throughout Philadelphia. The festival opens with "La La Land" by Damien Chazelle. Closing film is Denis Villeneuve's "Arrival." Special events include an opening night party, festival lounge, industry panels, special events and special guests including Academy Award-nominated writer and director M. Night Shyamalan. Pictured: the film "The Age of Shadows" by Jee-Woon Kim, South Korea, 2016.
"Thomas Eakins: Photographer" at PAFA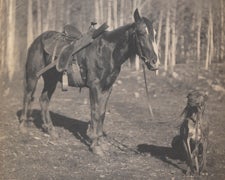 Honoring the centenary of Thomas Eakins' death, the Pennsylvania Academy of the Fine Arts examines the detail and depth of the artist's involvement with photography through an exhibit of rarely-seen photographs, paintings and sculpture. Thomas Eakins: Photographer explores how the painter's early adoption of the new art and science of photography changed his career and the course of American art. Eakins taught and exhibited at PAFA and many of the photographs on display were taken at the Academy by Eakins and his circle, and touch upon issues of representation, gender, and sexuality that are still relevant today. Works include over 60 formal portraits of the artist, nude figures, landscapes, and more, October 20 through January 29, 118 North Broad Street, Philadelphia. Pictured: Dog and pony in Dakota Territory, 1887 Platinum print, 9 5/16 x 7 7/16 in. (23.65375 x 18.89125 cm.) 1985.68.2.277.
Philadelphia Shell Show and Festival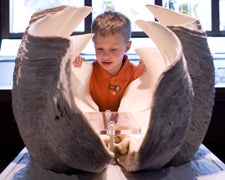 The annual Philadelphia Shell Show, called the largest show of its kind in the Northeast, returns Saturday and Sunday, Oct. 22-23, featuring an international shell market, shell jewelry, shell books, knickknacks, tours of the Academy of Natural Sciences of Drexel University's Malacology Collection of about 10 million shells, and much more, 1900 Benjamin Franklin Parkway, Philadelphia. Included with museum admission. Photo courtesy of ANSP.
Chrysanthemum Festival at Longwood Gardens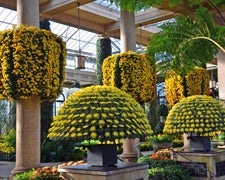 Longwood Gardens' annual Chrysanthemum Festival is on view October 22 through November 20, offering more than 17,000 blooming mums, the largest display of exhibition chrysanthemums in the United States, including the largest Thousand Bloom Mum outside of Asia, which showcases more than 1500 perfectly arranged blooms. Also, take tours, see the Garden Railway, visit the Pumpkin Playground for the largest pumpkin on display weighing more than 800 pounds, and stay for Nightscape, 1001 Longwood Road, Kennett Square, PA. Photo by Candie Ward/courtesy of Longwood Gardens.
"Paint the Revolution: Mexican Modernism" at the Philadelphia Museum of Art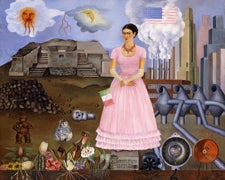 The Philadelphia Museum of Art expands its dedication to the acquisition and display of modern Mexican art with a landmark exhibition, Paint the Revolution: Mexican Modernism, 1910-1950. The most comprehensive display of Mexican modernism to be seen in the United States in more than seven decades takes a new look at a moment in history of Mexican art, spanning four decades and featuring a range of images, from portable murals and large and small paintings to print and photographs, books and broadsheets. Artists include Diego Rivera, José Clemente Orozco, David Alfaro Siqueiros, Frida Kahlo, and Rufino Tamayo, highlighting the contributions of Mexico during this period that was central to the development of modern art, October 25 through January 8, Benjamin Franklin Parkway, Philadelphia. Titled from an essay by the American novelist John Dos Passos, the landmark exhibition will only be seen in Philadelphia before traveling to the Museo del Palacio de Bellas Artes in Mexico City. Pictured: Self-Portrait on the Border Line Between Mexico and the United States, 1932, Frida Kahlo, Oil on metal, 12-1/2 x 13-3/4 inches (31.8 x 34.9 cm), (Colección Maria y Manuel Reyero, New York) © Banco de México Diego Rivera Frida Kahlo Museums Trust, Mexico, D.F./Artists Rights Society (ARS), New York.
"Mexicanismo: Expressions of Identity" at Indigo Arts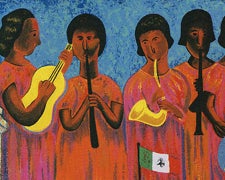 Indigo Arts' 30th anniversary show focuses on many of the artistic movements set forth by the Mexican Revolution and the advent of Mexican modernism over a century ago. Mexicanismo: Expressions of Identity features works by Enrique Flores, Nicolas de Jesus, Eddie Martinez, Felipe Morales, Rodolfo Morales, Fernando Olivera, Carlomagno Pedro, Mario Romero and Shinzaburo Takeda, through January 28, Crane Arts Building #104, 1400 North American Street, Philadelphia. Pictured: Como Notas a la Patria, serigraph, 1996, by Rodolfo Morales (Ocotlan, Oaxaca, Mexico, 1925-2001).
Inis Nua's "Radiant Vermin"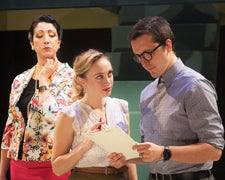 Inis Nua Theatre Company continues its mission of producing contemporary, provocative plays from Ireland, England, Scotland and Wales with the Philadelphia premiere of Radiant Vermin. The dark comedy by internationally acclaimed playwright, author and screenwriter Philip Ridley, tells the story of a young English couple's quest for a dream house that turns into a literal nightmare, through November 6. The funny satire is directed by Claire Moyer and stars Eleni Delopoulos, Adam Hammet and Emilie Krause, Louis Bluver Theater at The Drake, 302 South Hicks Street, Philadelphia. Related programs and events include "setting the scene" talks preceding performances on October 26 and November 2. Photo by Katie Reing.
Curio Theatre Company's "The Birds"
The Birds, a gripping, unsettling, and moving look at human relationships in the face of societal collapse, is onstage at Curio Theatre Company. Daphne Du Maurier's short story "The Birds" was the basis for Alfred Hitchcock's classic film by the same name and it was adapted for the stage by Conor McPherson for Dublin's Gate Theatre. In an isolated house, strangers Nat and Diane take shelter from relentless masses of attacking birds. Elizabeth Carlson-Guerin directs a cast including Tessa Kuhn, Ken Opdenaker, Aetna Gallagher, and Rich Bradford, through October 29, Calvary Center for Culture and Community, 4740 Baltimore Avenue, Philadelphia.
Poe Performances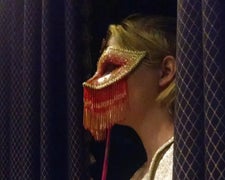 The Mechanical Theater hosts The Cask of Amontillado, a wine tasting and performances of spine-tingling Edgar Allan Poe tales, Thursday, October 20 and 27, 7pm, Bistro Romano, 120 Lombard Street, Philadelphia. Photo courtesy of Mechanical Theater.The Delaware Shakespeare Festival presents Shakespeare/Poe, a night of readings from "the dark side," by two masters of the macabre, Saturday, October 22 and Sunday, October 23 in two locations at the Rockwood Mansion in Wilmington and the Read House and Gardens in New Castle. Only 30 seats available each night.
PAWS Mutt Strut
The 10th annual PAWS Mutt Strut, Dog Walk and Adoption Festival is Saturday, October 22, to raise funds and awareness for PAWS' efforts to save Philadelphia's homeless, abandoned, and unwanted animals. Check-in begins at 9am, strutting starts at 11am, with music, food, pet costume contest, training tips, pet activities, grooming and more at the Navy Yard, 4500 South Broad Street, Philadelphia. If you don't have a pet, you can "rent" a PAWS dog. Photo courtesy of PAWS. #SassySays
Center City Residents' Association (CCRA) Fall House Tour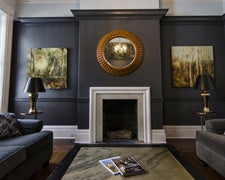 The 58th annual Center City Residents' Association (CCRA) Fall House Tour takes place Sunday, October 23, 1pm-5pm, rain or shine, offering the rare opportunity to take a look inside some of Philadelphia's most interesting residences. The self-guided tour beings at Trinity Center for Urban Life, 2212 Spruce Street in Fitler Square or Beth Zion Beth Israel at 18th and Spruce Streets. Participants receive a booklet with complete tour information, house descriptions and route map. Restaurant and parking discounts available. Judy Wicks opens her Fitler Square home, focusing on its eco-friendly features, including a rain barrel, reclaimed wood floors, induction stove top, heat pump, and total conversion to solar energy, with in depth presentations from 4pm-5pm. Pictured: Dwight D Guest Lounge. Photo courtesy of CCRA.
Fun Fall Festivities
Halloween in Manayunk takes place Saturday, October 22, with a farmer's market, vendors, children's activities, a dog and kid Costume parade, live music, trick or treating, and more. Photo courtesy of Manayunk Development Corporation. #SassySaysWagner Free Institute of Science hosts Bones! A Spooky Creature Feature, a Halloween family open house featuring activities related to skeletons and paleontology with scientists from the Academy of Natural Sciences, crafts and more, Saturday, October 22, 12pm-4pm. Visitors are encouraged to come in costume, 1700 West Montgomery Avenue, Philadelphia. Free. Enjoy a Halloween Celebration at Glen Foerd on the Delaware, Saturday, October 22, 10am-1pm, with children's activities, crafts, food, tours of the mansion, and more, 5001 Grant Avenue, Philadelphia.
Look for #SassySays for pet friendly events. Let us know if your event is pet-friendly! Email artscalendar@whyy.org and put #SassySays in the subject line.
Each week, the Entertainment Guide spotlights interesting local arts offerings happening now, including music, dance, theater, museums, special exhibitions and other arts events from across the region.
To submit an event to be considered, email Robin Bloom at artscalendar@whyy.org.