At least two people presumed dead in South Philadelphia rowhouse fire, search for missing residents continues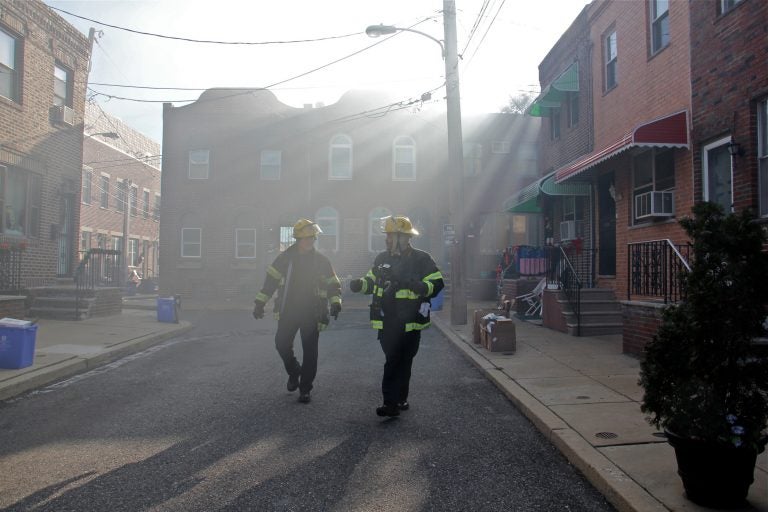 Updated 10:01 pm
A fire collapsed multiple South Philadelphia homes Thursday, leaving as many as three people trapped in the smoldering rubble. At least two residents are presumed dead. 
Thiel said Thursday afternoon that firefighters had found one person, but could not extricate them out from under the debris.
Officials received reports of one or two other people trapped in adjacent buildings ripped through by fire, but officials haven't yet located them in the partially collapsed structures.
The blaze started with an explosion on the 1400 block of South 8th Street that neighbors heard from blocks away.  The fire quickly spread to three or four rowhouses, causing significant structural damage.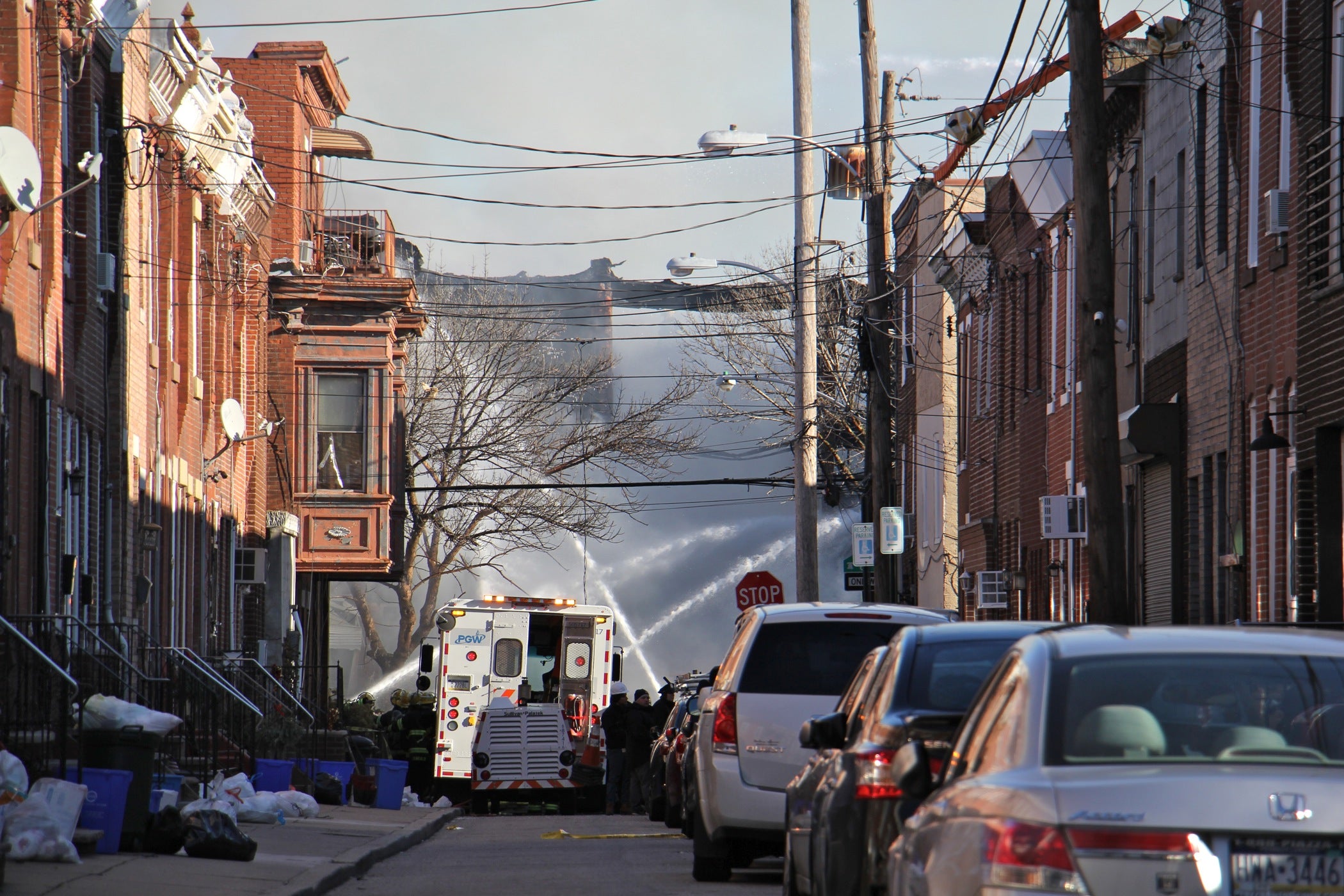 More than 100 firefighters battled the flames shooting out the top of the collapsed home near the intersection of Reed Street, a short walk from the famous Termini Bakery.  Standing on rowhouse rooftops and the street, they pumped water on neighboring buildings.
Firefighters "went into a fully collapsed building that was on fire to try to rescue somebody," Thiel said.
Lisa Marie Cerra,  a neighbor, told The Philadelphia Inquirer that she and other residents tried to rescue the person trapped under debris when firefighters arrived.
"We saw her feet, and then they couldn't get to her," she said.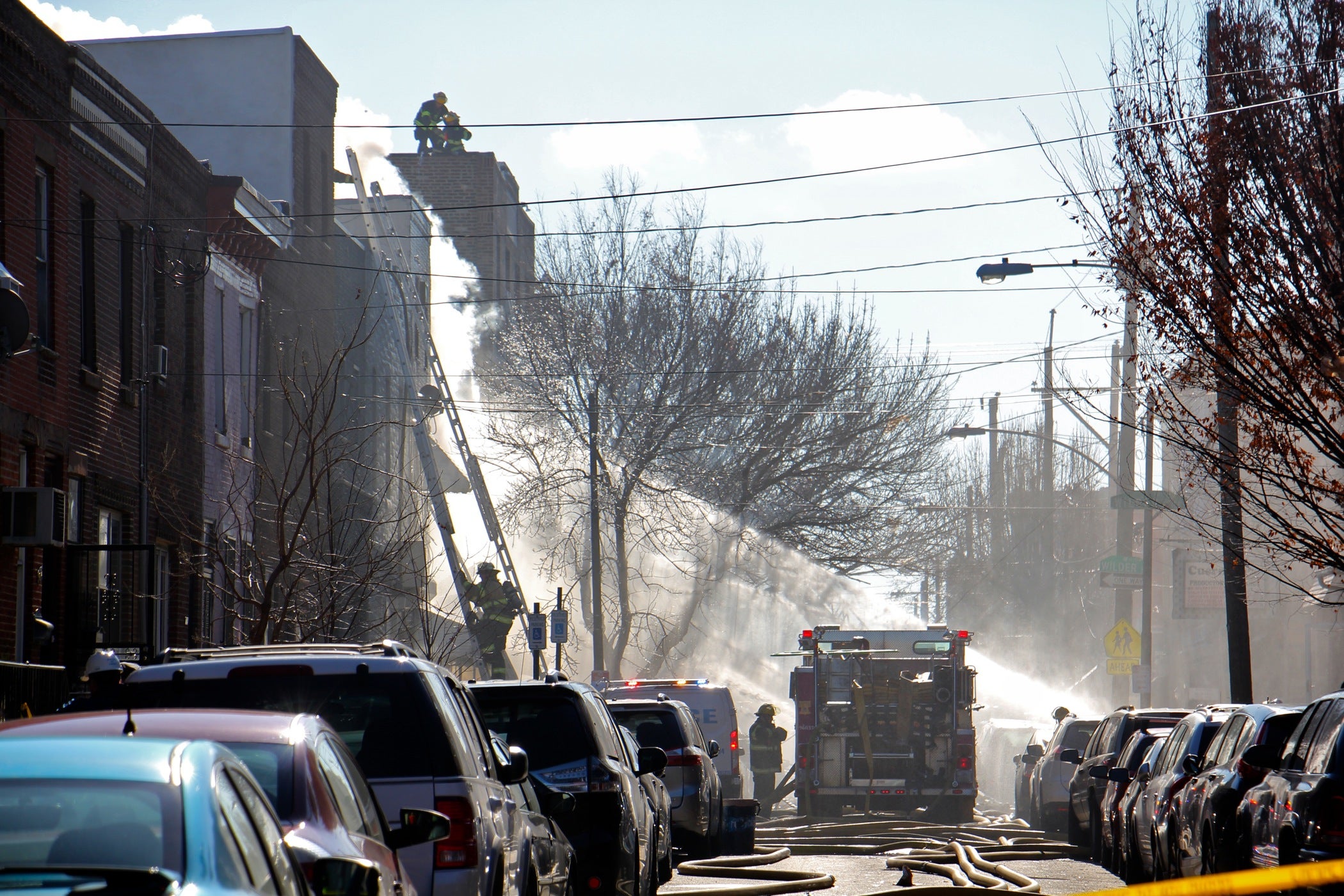 Gas to the area was shut off, and more than 60 residents were evacuated in case of another explosion. SEPTA buses were used to keep evacuated residents warm in the subfreezing temperatures.
"We thought a bomb went off," said Nick Castellucci, a neighbor who heard the explosion Thursday morning.
Firefighters succeeded in getting the fire under control by 2:45 pm.
The commissioner described the rescue operation as  "extremely risky and dangerous." 
A gas leak may have caused the fire. Officials said they received multiple calls about a house explosion and the possible smell of gas shortly after 11:30 a.m. Thursday.
Officials fear the fire may have caused a sinkhole to open in the street.  Those who live in the historic neighborhood of 150-year rowhouses say the fire comes as a tragic signal of the city's dire infrastructure needs.
Keith Dunbar was inside his 8th Street rowhouse with his partner and child when he heard the blast emanating from halfway down his block. 
"We heard a big explosion. Thought it was a car but it was too big to be a car," he said. "I went outside and the front of two properties had collapsed on the street. They were smoldering."
Dunbar and his family were evacuated, along with neighbors on both sides of the block. 
"We've been sitting out since," he said as firefighters shot water out of hoses onto his neighbor's home.  
The Associated Press contributed reporting.