Wawa set for Krewstown/Grant intersection
Demolition for the BP gas station at Grant Avenue and Krewstown Road is set to begin in the next two to three weeks. A full service Wawa will replace it.
E. June Spring, a senior real estate manager for Wawa followed up at last night's Greater Bustleton Civic League meeting on the presentation the convenience store made at the group's last general meeting. With approval from the GBCL, Wawa will now go before the Zoning Board of Adjustment for a variance and a certificate.
GBCL members put up little fight for the variance required to change the name on the existing sign from BP to Wawa and the certificate to allow for the sale of food.
It was traffic that most concerned the approximately 60 people in attendance.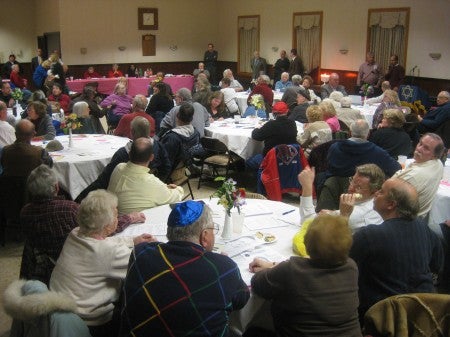 Reps for Wawa said a study shows the expected traffic will be 75 percent passby, meaning those who normally commute in the area will stop in and only a quarter of its customers will come to area specifically to patronize Wawa.
Briefs from the GBCL
The applicant for a variance for 9608 Hayden St. was a no-show at a ZBA hearing today. A continuance was set for Jan. 26. The applicant wants a backyard addition.
Paris Restaurant, 9309 Krewstown Rd., will seek formal approval next month for pre-recorded music, karaoke and patron dancing in the BYOB.
The area in question is the Grant Avenue entrance and the westbound left turning lane onto Krewstown Road.
While Wawa and adjacent Northeast Racquet Club have gotten approval from the city to lengthen the time of the left turning light if traffic warrants that, drivers worried customers turning left into the Grant Avenue entrance will impede the flow of traffic in the left-hand turning lane.
Several courses of action were discussed, including replacing the concrete island that used to be on the avenue and installing a no turning sign at the driveway. Councilman Brian O'Neill said he'd work with the city agencies and Wawa to find a happy medium that residents approve of.