Voices behind the walkout: Mastery Charter School
Editor's note: On Wednesday, students around the country will walk out of their schools to demand lawmakers do more to protect the nation from gun violence. The National School Walkout will start at 10 a.m. and last 17 minutes — one minute for each person gunned down at Parkland High School in Florida last month. We talked to students, parents, and educators in the region about school safety and will post their thoughts each day leading up to Wednesday's walkout.
—
At Mastery Charter School's Shoemaker campus in West Philly, activism is ingrained in the school culture.
Eighth-graders take a social justice class to fulfill their history requirement. Mastery students have trekked everywhere from Harrisburg to Philadelphia City Hall to the school district's headquarters to protest school funding inequities, mass incarceration, the criminalization of communities of color, and other issues, including school safety. The school also has a club, called Raised Woke, aimed at engaging students in community service, social justice, local government and education reform.
Many Mastery students stand divided on the walkout: Some plan to participate, while others at the predominantly black school are more reluctant, wondering what took their suburban, predominantly white peers so long to mobilize — and why so many lawmakers, journalists, and citizens only began paying attention when white students joined the conversation.
Here's what students and principals there had to say.
---
About Mastery Charter School-Shoemaker Campus
Public neighborhood charter school.
Enrollment: About 800 students in grades 7 to 12. Ninety-five percent of the students are black.
Location: 53rd and Media streets in West Philadelphia's Parkside neighborhood.
---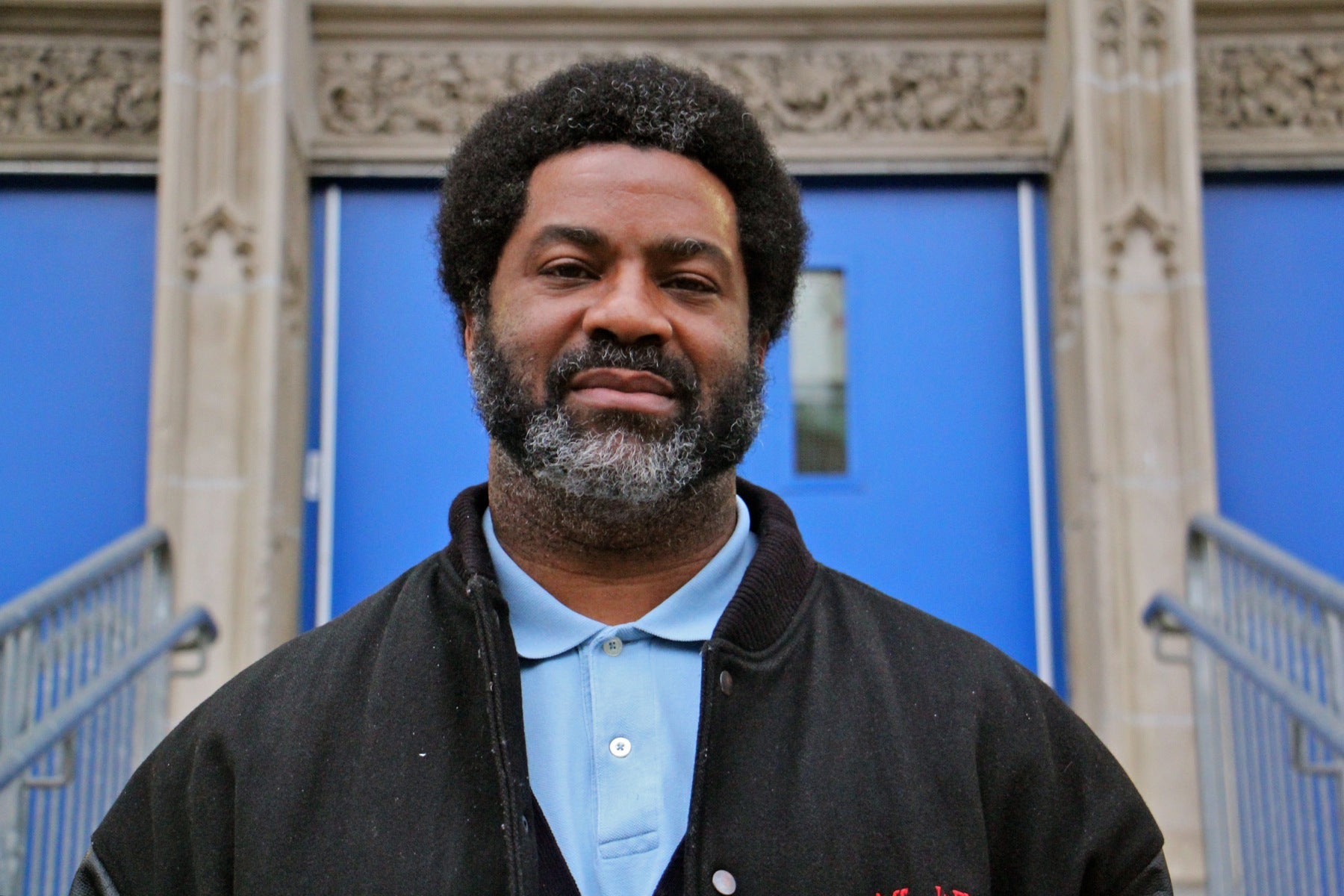 Sharif El-Mekki, 46, principal
Home: West Philly
Personal connections: When he was a student at the Indiana University of Pennsylvania, a white man threatened El-Mekki and his roommates with a shotgun. El-Mekki said state troopers did little to investigate the gunman, who was never caught. Then, shortly after El-Mekki graduated college, he got shot while playing football with friends in Southwest Philly. The gunman was angry that El-Mekki had "tackled him too hard," El-Mekki said. The incident set El-Mekki on his life's path: "He was 19, and he had dropped out of eighth grade. It made me want to work with students who didn't finish high school, students who maybe had anger management issues, decision-making challenges, far too easy access to guns." El-Mekki also lost a cousin to gun violence in West Philly around that time. And as the child of two Black Panther members, he became aware at a very early age of injustice, gun violence and police brutality in black communities. "For me, it's always been an issue of perpetuating violence against people. For our youth, I'm very concerned about conflict resolution and communication and opportunities, and that's what led me to education."
How to fix it: "Any complex issue requires complex responses." Gun violence should be investigated as a public health issue, El-Mekki said. And access also deserves scrutiny. "Even as a gun owner, I feel like it's far too easy for people to obtain guns." He supports waiting periods and background checks — but definitely not arming teachers. "It's very interesting that you can go to urban environments and see metal detectors and guards and police, but where these kind of incidents are occurring, people aren't even proposing that. They say: 'oh, arm teachers!' But that's America's response to everything: You have a problem with somebody, add more guns. You have a problem with another country, add more guns. America's response to anything is add guns to the situation, and they don't care about the proximity of children or the sanctity of a school." Keeping schools safe requires a commitment to community-building, he said. "Our context is how do we build community, and how do we build a culture that we're all invested in? Safety is a universal issue. It's not just the adults that keep this school safe. It's surely not some superhero principal. It's the community that says this is a sacred place."
What the future holds: "What I'm hopeful for is that people continue to rise up, and people continue to be angry. Malcolm X said when people are sad, they don't do as much, but when people get angry, that's when they really take action. I'm hoping that people are pissed off enough that they really demand change."
Courtney Phillips Ricketts, 15, freshman
Home: West Philly
Personal connection: When was 12, police pulled his father over and asked if he had any firearms in the car. Courtney was in the passenger seat, so it fell to him to retrieve his dad's gun from the glove compartment, unload it in a hurry and pass it to his father for the officers' inspection. But "the cops pulled out their guns because they thought he was going to shoot them. I'm usually calm." But Courtney vividly remembers every anxious moment of that episode, and his uncertainty over whether he should get out of the car, speak up, sit still, make eye contact, or what. The police eventually holstered their handguns, and Courtney and his father left the car stop without further incident.
How to fix it: "I think every school should have a metal detector in front of the school, no matter where your school is or how good your students are. Because anything can happen. I actually agree with President Trump saying how teachers should be skillfully armed with handguns and rifles, because if anyone can get into a school with a gun, teachers should be able to protect the kids inside the building."
Protecting himself: "I usually walk in a group with my friends. When I'm going home with my little brother (who's 9), I make sure he walks in front of me, so if anything happens, I'm walking in back."
What the future holds: "People will forget about it, and it will die down."
Shayna Terrell-Brown, 33, assistant principal of school culture
Personal connection: "As an educator, when you talk about children hurting, that affects me in an authentic way." Terrell-Brown said she's equally concerned about the students slain, their classmates who survived the horrors of such violence, and the young shooters whose mental health problems went unaddressed.
How to fix it: "There is no one answer to this problem. People have made the Parkland shooting about guns in America. That's part of the problem. We also have a problem with mental health in America. We also have a problem with student safety in America. We also have a problem with the value of the lives of youths in America. I think about the best strategic way to get something done. When it comes to politics, the best strategic way to get something done is to play in someone's pockets. So when you start talking about banning guns or how someone's election is going to be affected, that begins to move the wills and turn the wheels." She also supports expanding mental health services. "That's not a natural thought to want to physically harm someone. We all get mad. But if your feelings of anger are so intense that you want to pick up a gun and actually end someone's life, that's a larger problem that needs to be studied and tackled."
On voting: "I look at what politicians do to elevate our youth. And gun control is part of that."
What the future holds: "People care for a couple months, then they forget. The impact dies down and it becomes just another thing that happened." But she thinks this time, things will be different. "The students of Parkland are angry, hurt and traumatized, and they're using their voices to make traction. We haven't seen a movement like that after a mass shooting in years. I don't think those young students will allow us to forget them. I hope their spirits carry on. If they continue to fight, I do think that will be large game-changer for gun control."
Essi Gasonu, 15, sophomore
Home: West Philly
Personal connection: None.
How to fix it: "What Trump suggested is that all teachers have guns, but that's not helpful at all. If you were being defiant to a teacher, and that teacher didn't like you, that teacher would actually pull out the gun and shoot you with it, and that's not going to solve any problems."
On voting: "I do wish I could vote. This might be a trite expression, but people say kids are the future. So if we're going to be the future, we should be able to vote."
Bryce Jhourydn Thompson, 15, freshman
Home: Wynnefield
Personal connection: "School shootings take a toll on me mentally. I feel like it's unfair to the parents and the children, because they come to school to get an education. If I was in the parents' shoes, I would want my child to come home safe, happy and excited to learn, excited to do their homework, and excited to go back to school the next day. I shouldn't have to bury my child because of an incident with a disabled man. Hearing these things on the news, it terrifies me and keeps me up at night. I shouldn't be nervous and feel like my life is in danger every time I leave my home."
How to fix it: Bryce supports "community-building." We should be uplifting each other. It all comes down to an emotional thing." He also supports expanding mental health services.
On voting: "If we had better politicians, getting guns would be harder. If we tighten up gun laws, I feel like we wouldn't have as many tragedies as we do now."
What the future holds: "People will move on until they are affected personally, rather than just seeing it on the news."
WHYY is your source for fact-based, in-depth journalism and information. As a nonprofit organization, we rely on financial support from readers like you. Please give today.