Using items found on streets, artist hopes to raise awareness on homelessness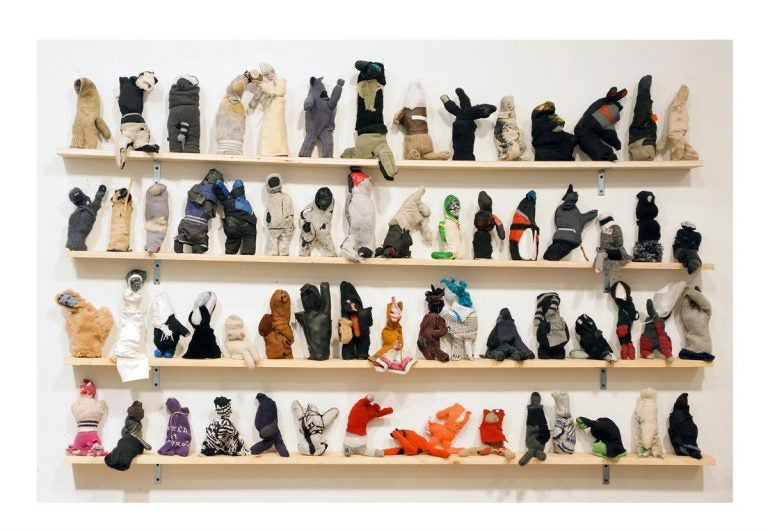 Are those sock puppets lining the shelves at Princeton University's Bernstein Gallery? They look like sock puppets from a distance, but on closer inspection they echo piles of rags along the street. Cloth mounded on a subway bench or a hot air duct that suddenly moves. Little eyes peer out, a reminder that there's life inside the carcass, a person keeping warm or otherwise sheltered.
Sidewalk Sightings: People Without Homes, mixed media works by Brooklyn-based artist Fanny Allié, is on view at the Bernstein Gallery through April 12.
The little cloth figures are made from gloves and other fibers the artist has found on the street. They represent young and old, figures tall and squat, upright and hunched. Gender is no barrier.
These miniature piles of humanity remind us that street people were once lovable, just as the materials they are made of were once new.
Allié stitches together their lives — literally — on paper, on fabric, even on plastic garbage bags. Two walls are filled with black canvas-stuffed silhouettes, like shadows, carrying their sacks, their bundles.
Works on paper depict these figures in a more intimate way, showing faces, fingers and toes. The works on paper have dangling threads, as if to show their lives unraveling, coming apart at the seams.
"My work shows traces of a fleeting moment, an ephemeral existence and, most of all, a narrative that links us to each other in our daily life," wrote the artist. "A city is made by all the individuals who inhabit it; the ones that we see everyday and the invisible ones who merge with facades and sidewalks and who become the street itself. My practice is based on my own subjective experience of the city through the people I cross paths with, on a daily basis."
Her materials include found paper, fabric, strips of plastic or scraps of wall paint, and little objects found on the street. "My imaginary characters inspired by underground and unseen human figures often carry and develop alternative economies, in an urban context."
Several works on display were made during and after participation in the Engaging Artists Residency, a project organized by Artist Volunteer Center and More Art, New York City, which focused on homelessness. The fellowship aims to harness artists' abilities to solve problems and use public art as a way to talk about community issues.
Born in 1981 in Montpellier, France, Allié earned a master's degree in visual arts from Ecole Nationale Supérieure de la Photographie (The National School of Photography) in Arles in 2005. After meeting her future husband, an architect from Japan, in Paris, she moved to New York City to be with him. Allié's studio is in Brooklyn's Bushwick neighborhood.
Having trained in photography and videography, Allié decided she wanted to work more with her hands, with materials. She played around with clay and papier-mache, and some of her earlier works addressing homelessness were done in steel and neon. She made an actual bench for the homeless to sleep on near MoMA PS1 in Long Island City.
Allié knew she wanted to use the sewing skills she'd learned from her grandmother, and ingeniously developed a technique that begins with photography and works into sewing.
"The hand-sewn pieces were inspired by my observation of people inhabiting specific hangout locations" in such New York neighborhoods as Union Square and Washington Square. "I was taking various pictures of people in a particular site and reassembling the outlines of their body doing various actions to create a new narration, sometimes by blurring the lines between figurative and abstract, movement and stillness, individual and collective. The people that I photograph are usually considered to be in the margins of society and create their own alternative way of spending their time."
From photography, she learned observation. "There are always people in photography, it's about my relationship with other human beings. It's the same idea behind what I'm doing now, but using a different medium. It's always me behind the lens. I'm interested in daily life and people and objects around me."
In France, Allié had lived in villages, so "being in a big city environment had an impact on my work. There were homeless people in big cities in France, too, and you feel helpless, there's nothing we can do to help them, yet those are human beings lying on the street, making it their home." A childhood fear of not having a home "stays with me."
For the Engaging Artists residency, she worked with formerly homeless women, teaching photography and collage workshops. It was a way to gather weekly and talk with them, but it was short term, she said, and it would be presumptuous to assume lasting impact. "It was a moment to relax, to do something creative."
From these clients, she learned about being transient, about the idea of life as a journey, and the connections people make along the way. One client had been a fashion photographer before losing his home. The roots of homelessness are complex, resulting from loss (a job, a loved one, a treatment, a home that burned in a fire), to mental illness and disability.
In many ways, the homeless are not so different from you and me, Allié pointed out. "That's why I'm affected — it could very much be us. We are the same. It's frightening, it's life, who knows what could happen, it could be you on the other side. I don't feel the difference. They work, and then something happens, they're out of luck."
________________________________________________
The Artful Blogger is written by Ilene Dube and offers a look inside the art world of the greater Princeton area. Dube is an award-winning arts writer and editor, as well as an artist, curator and arts activist.
WHYY is your source for fact-based, in-depth journalism and information. As a nonprofit organization, we rely on financial support from readers like you. Please give today.