1911 Walnut tower plans updated as project nears final legislative approval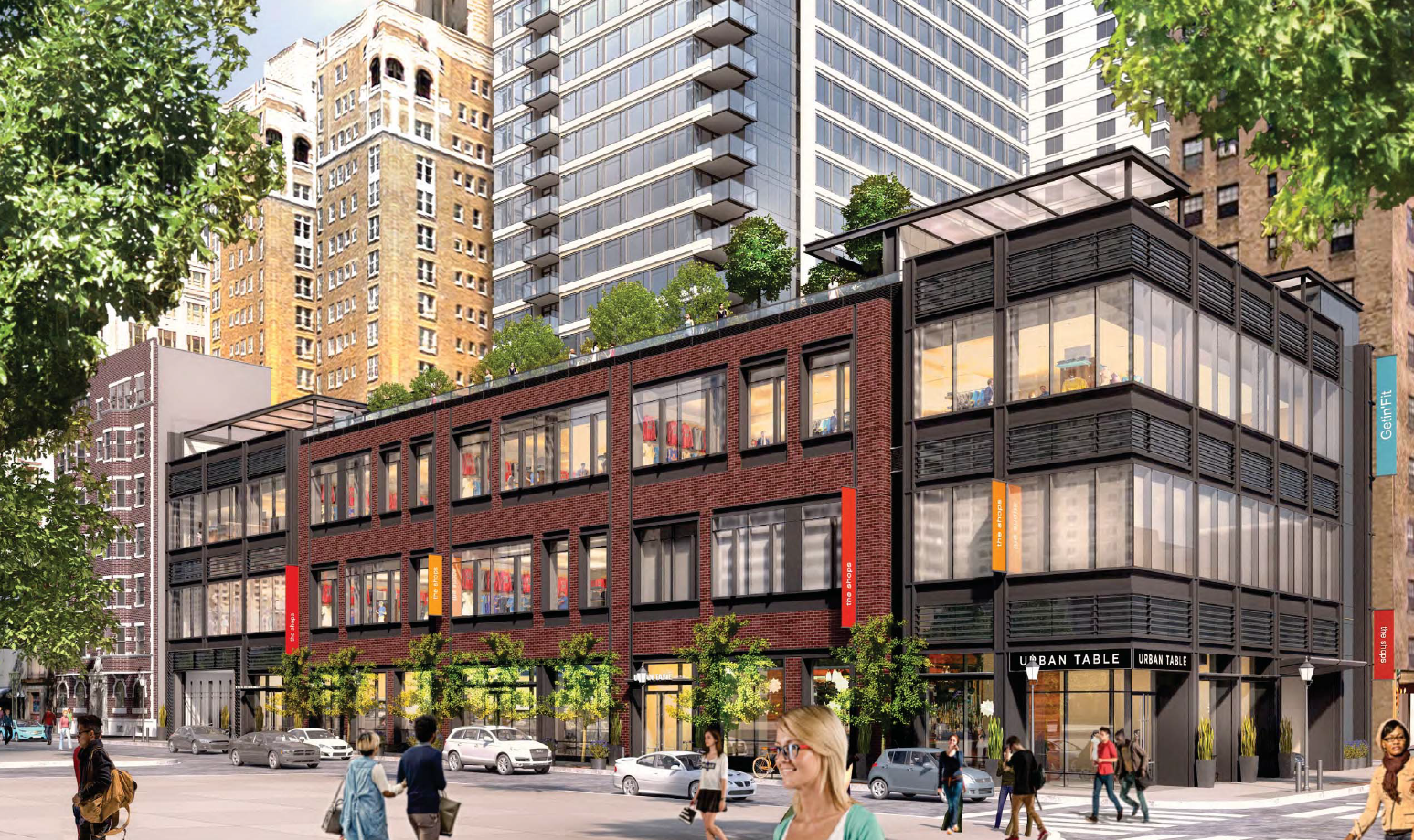 The Southern Land Company's final plan for the development at 1911 Walnut Street came into clear focus at Tuesday's meeting of the Philadelphia City Planning Commission.
The project will fill in the only major undeveloped parcel of land in the vicinity of Rittenhouse Square, one of the most desirable corners of the city. The new proposal comes a year and a half after Southern Land's last presentation before the commission, and was attended by two bills for the body's consideration. One would tweak several aspects of the city's zoning code, as well as the Center City Overlay, and one would give control of tiny Moravian Street to the company, which will be used for maintenance.
After Southern Land released an earlier version of the proposal in 2015, it faced vigorous pushback from a variety of stakeholders. These included local neighbors concerned about the size of the building and preservationists who feared for the fate of three historic buildings along Sansom Street slated for demolition.
After years of negotiations, Southern Land will not only preserve two of the three historic buildings but has scaled back the size of the tower and offered to provide dozens of affordable housing units.
"After three years of working with the community on this, I'm really proud of the consensus," said Tim Downey, CEO of the Southern Land Company. "I'm not sure in my career if I've ever been able to put together anything like this. I think the affordable housing at this location is really neat. My personal belief is that sometimes dollars can't be measured in terms of putting affordable in a nice part of town."
The project's current form and the zoning and streets bills the commission reviewed Tuesday were forged in a two-year negotiation process between Southern Land, near neighbors advised by architect Cecil Baker, non-profit stakeholders like the Preservation Alliance, the Planning Commission, and City Council President Darrell Clarke's office.
Some changes hammered out in negotiations are addressed in a zoning bill, which tweaks the mixed-income housing bonus to include categories for developers who wish to offer moderate-income and/or low-income housing. The bonuses for moderate-income units would be the same as the current mixed-income housing bonus, while those for low-income housing would be more generous.
Both the zoning bill and a streets bill related to the project passed the Rules Committee Tuesday while the Planning Commission was in session.
The project includes three historic buildings, two of which—the Warwick Apartments and the Rittenhouse Coffee Shop—are being adapted into affordable housing. For many months, Project HOME has been in discussions with the developer to run these units for individuals transitioning out of homelessness.
"Regardless of whether that partnership ends up working we are going to commit ourselves to provide that affordable housing," said Neil Sklaroff, a veteran zoning lawyer who represents the Southern Land Company in this case. "Even if we have to do it ourselves, which we are certainly willing to do. A tremendous commitment has been made to Project Home but there's no final agreement at this time."
Southern Land also revealed that it would be offering at least eight units of below-market-rate housing in the tower itself.
The location of the affordable units caused slight controversy. The historic buildings are meant to contain 28 units that will be 100 percent affordable, while the other non-market rate units will be among the new high-end units. Commissioner Maria Gonzalez argued that true mixed-income housing entails people of different incomes living among each other, not in two separate buildings. She recommended they be proportionally spread between the buildings, or that there should at least be more affordable units in the tower.
Sklaroff noted that the developer is required to include at least 10 percent of its units as affordable to access the zoning bonuses. He said that they have done so in the 28 units slated for the historic buildings and the eight, if not more, to be spread among the first ten floors of the tower 48-story tower.
"We have made promises that at least eight units will be in the tower, whether moderate or low income," said Sklaroff. "We could end up with more than 36 units of affordable. We are likely to have more than just that 10 percent, but that's our minimum."
Tiny Moravian Street, which is basically an alley behind the Warwick Apartments and the Rittenhouse Coffee Shop, will be struck from the city plan and no longer will be the city's responsibility. But only under the condition that Southern Land agree to clean and maintain it.
The zoning bill also makes a few citywide changes to the code and a few within the Center City Overlay.
Developers who want to take advantage of the mixed-income housing bonuses for Floor Area Ratio (FAR) and height will now have two categories to choose from: low-income and moderate income.
Moderate income will be defined as units that are 80 percent of Area Median Income (AMI) for renters or 100 percent for owners. Developers offering moderate-income units will receive the same incentives that the overall mixed income category enables now, but those who offer low-income housing–defined as 60 percent AMI for rental units and 80 percent for ownership–will be offered more generous bonuses.
There are non-affordable housing-related tweaks to the code as well. In a bid to ensure mixed-use development, three of the densest zoning categories (RMX-3, CMX-4, and CMX-5) don't count retail uses against a development's gross floor area calculation. The bill will extend that benefit to personal services, like the fancy gym Southern Land wants for Sansom Street.
Body art and fortune telling services will not be counted as personal services, however, and to achieve this benefit the businesses must be open to the public and managed by a third party. Also, the FAR bonus for underground parking will be doubled in CMX-4 zones.
Ian Litwin of the Planning Commission's staff said that a rezoning of the parcel as CMX-5, the category that allows the densest development, would have been preferable to the complexities of all these zoning alterations. But the staff nonetheless recommended both bills and the commission voted to recommend them unanimously.
"We understand it's very difficult to make all sorts of different groups happy and when certain groups lay lines in the sand you do all sorts of maneuvers," said Anne Fadullon, director of Planning and Development for Philadelphia. "We wish we could have just gone the straight and narrow path to CMX-5, but we understand that in this case the ends justify the means."
1911 Walnut | Southern Land Company, June 2017

1911 Walnut site plan | Southern Land Company, June 2017

1911 Walnut | Southern Land Company, June 2017

1911 Walnut entry | Southern Land Company, June 2017

1911 Walnut – Sansom Street rendering | Southern Land Company, June 2017
The Planning Commission pushed the project's presentation until the end of its session, waiting for word about whether City Council's Rules Committee had passed amendments to the bills. This article will be updated if amendments introduced at Rules Committee during Planning Commission yesterday have altered the bill currently available on Legistar.
WHYY is your source for fact-based, in-depth journalism and information. As a nonprofit organization, we rely on financial support from readers like you. Please give today.